In the mood for a melt-in-your-mouth cookie? Pudding cookies are deliciously soft and delightful. Whip up a batch of these Strawberry Shortcake Pudding Cookies for your sweetie. (Don't forget to treat yourself!)
As I continue to teach my daughter that it is possible to bake cookies without a box mix, we've been trying a variety of cookie recipes. It's amazing how different the texture and flavor can be simply by using different sugars. There are lots of ways to tweak and customize cookies, making baking all the more fun. For too long, I was afraid to alter ingredients because baking seemed to require more rigorous direction following.
While I may not fully understand baking chemistry, I must say that instant pudding is an incredible secret ingredient. Okay, more like not-so-secret. Still, I love trying new base recipes in order to have fun with various mix-ins. If my daughter had her way, these would have been loaded with sprinkles too. Maybe next time. Alright, are you ready to get baking?

Strawberry Shortcake Pudding Cookies Recipe
This post contains affiliate links to baking supplies.
Ingredients:
1 cup butter (2 sticks), room temperature
1 cup powdered sugar
1 teaspoon vanilla extract
2 eggs
2-1/4 cups all purpose flour
1-3.4oz box French Vanilla instant pudding mix
1 teaspoon baking soda
1/2 cup white chocolate morsels
Directions:
Using an electric mixer (hand or stand), beat butter, powdered sugar and vanilla until light and fluffy.
Add the eggs and whisk until combined.
Slowly add the flour, pudding mix and baking soda. (If using a stand mixer, use the paddle attachment and turn it on low.) Mix ingredients until combined, then stir in white chocolate morsels.
Refrigerate the dough and heat your oven to 375 degrees F.
Line a cookie sheet with parchment paper.
Using a medium sized cookie scoop, scoop out the dough into balls spaced 2 inches apart.
Press the M&Ms candies randomly onto the top of the cookie dough balls.
Bake for 10-12 minutes or until your cookies are golden brown on the edges.
Remove from the oven and allow cookies to cool for 1 minute on the pan, then transfer to a wire cooling rack for 30 minutes.
Wrap these pudding sugar cookies up as a gift or slip them into the kids' lunchbox for a lovely surprise. Swap the strawberry shortcake M&Ms for other flavors making them special for every holiday.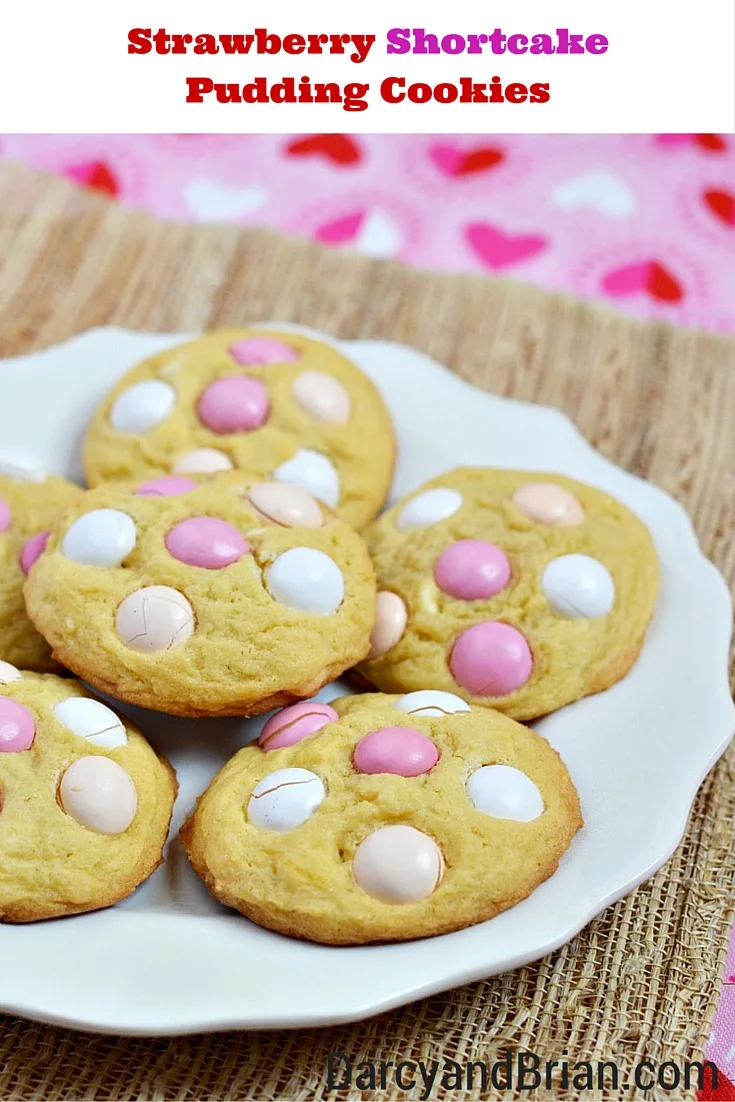 Love these pudding cookies? Try our other cookie recipes:
Valentine's Day Snickerdoodle Cookies