As much as we love to grill our dinner, we sometimes fall into a pattern of only making steaks, burgers, and brats. If you get tired of cooking the same old recipes at every cookout too, then get ready to fire up the grill and ignite your taste buds with one of these grilling recipes!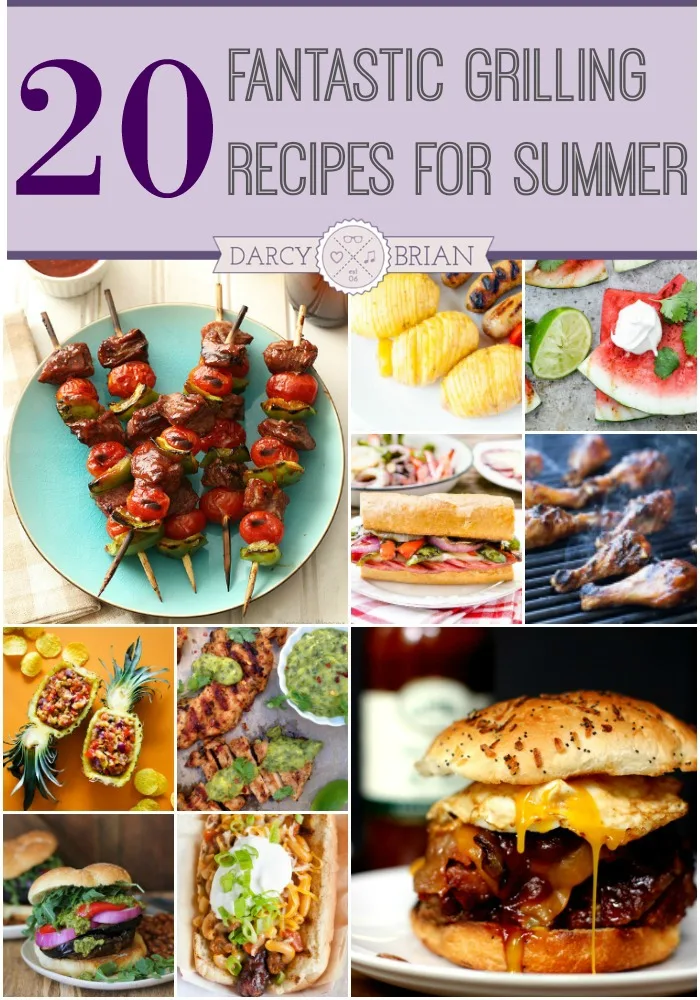 20 Fantastic Grilling Recipes to Try This Summer
Grilled Hasselback Potatoes by Heather's French Press – Agrilled version of the delicious hasselback potatoes you see all over the internet! No need to heat up the oven for these ones.
Loaded Chili Mac and Cheese Grilled Hot Dogs by Neighbor Food Blog – These dogs will have you thinking you just stopped by a tailgate party at the local sports stadium, only elevated even more by adding mac n cheese!
Spicy Grilled Chicken Drumsticks by Lemons for Lulu – Drumsticks are great for the grill, they cook up fast and are easy for kids to hold onto while running around at the family BBQ! If you don't like spicy, skip that ingredient.
Grilled BBQ Short Ribs by Running to the Kitchen– Who wants to cook short ribs low and slow indoors during the heat of summer? Well, with this recipe you don't have to!
Grilled Coffee Balsamic Flank Steak by Cooking on the Weekends – Yes, I said coffee. I bet you will be surprised at the flavor the different applications of coffee give this finished steak.
Spicy Grilled Watermelon with Creme Fraiche by Floating Kitchen – Even though this sounds like a watermelon recipe only the adults will love, it really is a refreshing, sweet and savory side or snack that will be loved by all ages!
Perfect Grilled Chicken by Ciao Florentina – There are two things I think about when I hear "grilled" or "BBQ" and that is ribs and chicken. My summer BBQ is not complete without chicken.
Grilled Pizza by Amanda's Cookin'– OK, so we already know running the oven makes the house crazy hot during the summer, but that isn't the only reason to grill your pizza. Grilling takes the dough the closest it can get to traditional brick oven flavor!
Mexican Street Corn Grilled Polenta Bites by Snixy Kitchen – This is a fantastic idea for an appetizer that will wow your guests, or for simply something different to have the next time you grill out. I would never have thought to grill polenta and they really look easy!
Grilled Salami Sandwich by Magnolia Days– There is not much time involved with this delicious sandwich. Veggies and salami cook up fast on the grill! Perfect for a lunch or dinner when you do not feel like cooking.
Vietnamese Pork Chops by Manus Menu – These chops will tingle all your taste buds! A combination of just a bit spicy with sour, sweet and salty. With, of course, that char flavor you can not be beat from grilling a pork chop.
Easy Pineapple Salsa by Amanda's Cookin' – If you want an easy, beautiful appetizer for your next BBQ check this one out! Easy to make and served right in the pineapple. Stunning.
Ultimate Grilled Portobello Burger by The Roasted Root – A flavorful and satisfying vegetarian burger! Not a vegetarian? No problem, still you won't even miss the meat.
Chipotle BBQ Lamb Kabobs by Chocolate Moosey – The smokey, BBQ sauce on these tender lamb pieces put this recipe over the top.
Grilled BBQ Bacon Meatloaf Sandwich by Melanie Makes – Well this one has it all! A hearty sandwich grilled sandwich that will certainly satisfy any big appetite after a fun filled summer day.
Grilled Pork Tacos with Charred Eggplant & Tomatoes by Avocado A Day Nutrition – Here is one way to get your kiddos to eat some vegetables.
Tandoori Grilled Chicken by A Cedar Spoon – The marinade for this chicken is packed with turmeric and can be prepared the day before. Longer marinating time equals more flavor!
Grilled Broccoli and Vidalia Onions with Pine Nuts & Parmesan by Aggie's Kitchen – A great side dish that pairs the flavor of grilling with sweet onions and crunchy pine nuts. The perfect compliment to chicken, beef or pork!
Grilled Lemon Basil Vinaigrette by Culinary Ginger – Grilled lemon basil what? No not chicken, or fish…. vinaigrette! Yes, a dressing made from grilling lemons. Can you taste the added smokey flavor already? I can.
Coffee Rubbed Grilled Tri Tip Tacos by The Roasted Root – I know the star of the show here is the Tri Tip, but we already know that is going to be fantastic. How about those pickled onions? Taking it over the top!
Are you ready to fire up the grill now and try something new? Don't settle for a boring cookout again!