I've tweaked this recipe from Kraft Foods just a bit and it is a big hit at family gatherings. I'm often asked to bring along my Jello, so I thought I'd share it with all of you! It's pretty easy. Most of the prep time is just fridge time!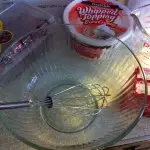 Ingredients:
1 pk (8-serving size) or 2 pks (4-serving size each) Jwll-O Strawberry Banana Flavor
1-1/2 cups boiling water
1-1/2 cups cold water
1 tub (8 oz.) Whipped Topping
1 cup chopped strawberries
1 – Stir boiling water into dry Jello mix in a large bowl for about 2 minutes until completely dissolved. I use a wire whisk.
2 – Stir in cold water.
3 – Refrigerate for about 1 hour and 15 minutes or until slightly thickened.
4 – Gently stir in the whipped topping with wire whisk until well blended.
5 – Refrigerate 15 minutes or until thickened (spoon drawn through leaves definite impression). (This is is usually when I wash and cut the strawberries)
6 – Add strawberries and stir them in.
7 – Refrigerate for about 4 hours or until firm.
Enjoy!