When it starts getting hot outside, I begin looking for summer slow cooker recipes so I don't have to be standing over a hot stove or turning the oven on. Using my slow cooker makes it super easy to manage great meals we all love, without working up a sweat!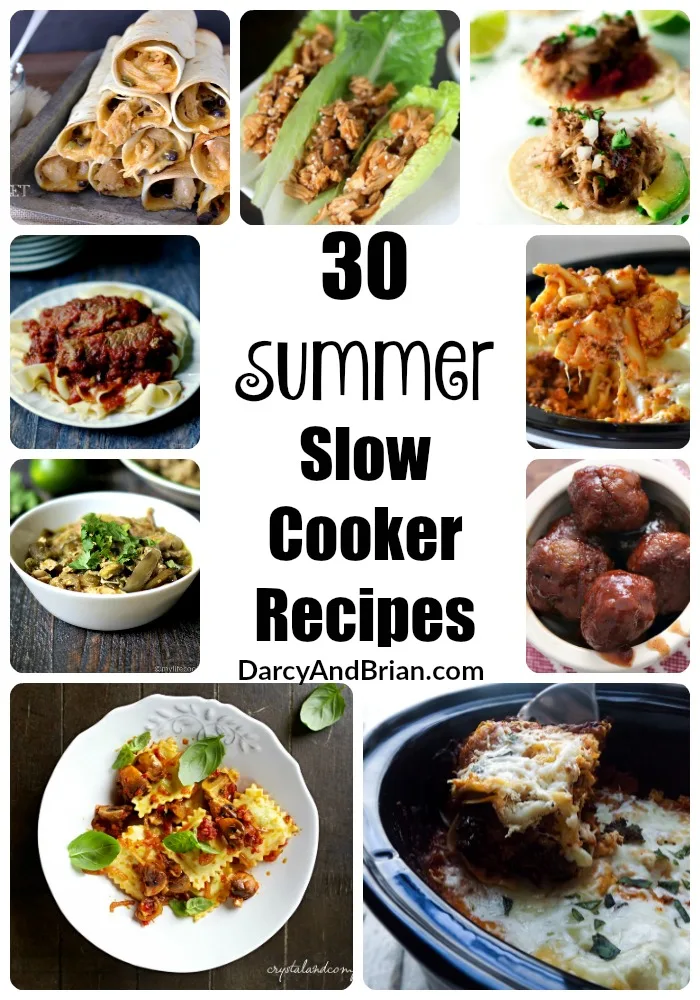 30 Summer Slow Cooker Recipes
This post contains affiliate links.
I love summer slow cooker recipes that are simple versions of our family favorites. Pasta dishes, barbecue chicken, and of course the classic slow cooker pot roast are all regulars on my menu plan. In the summer, I keep my slow cooker out all the time since I use it so often!
I use my 6 quart slow cooker more than any other, but you may want to invest in a smaller 3 quart slow cooker for side dishes, and a larger 8 quart slow cooker if planning to feed a larger family.
Slow Cooker Pasta Dishes:
Crockpot Cheeseburger Spaghetti Recipe from Darcy & Brian
Crockpot Ravioli from Crystal & Co.
Crockpot Baked Ziti from Flour On My Face
Crockpot Lasagna from Frugality Gal
Crockpot Macaroni & Cheese from Women Living Well
Slow Cooker Beef Dishes:
Crockpot Root Beer Sandwiches from Midwest Modern Momma
Crockpot Sloppy Joes from You Brew My Tea
Classic Crockpot Roast from Moms Confession
Crockpot Meatloaf from Flour On My Face
Salisbury Steak Crockpot Meatballs from Daily DIY Life
Slow Cooker Beef and Barley Soup Recipe from Six Dollar Family
Slow Cooker Sriracha Meatballs from DIY Budget Gal
Slow Cooker Braciole from My Life Cookbook
Slow Cooker Beef & Bean Enchiladas from Frugal Family Home
Slow Cooker Chicken Dishes:
Crockpot Balsamic Peach Chicken from Sublime Reflection
Easy Slow Cooker Chicken And Potatoes from Darcy & Brian
Crockpot Chicken Curry from I Love My Disorganized Life
Slow Cooker Chicken Teriyaki Cups from Midwest Modern Momma
Creamy Crockpot Mexican Chicken from Thrifty Frugal Mom
Easy Tex-Mex Slow Cooker Chicken from Midwest Modern Momma
Slow Cooker Chicken Nacho Taquitos from DIY Budget Girl
Slow Cooker BBQ Chicken & Potatoes from Frugality Gal
Slow Cooker Tex-Mex Chicken Soup from Almost Supermom
Slow Cooker Garlic Ranch Chicken from Cooking Mimi
Slow Cooker Indian Butter Chicken from Busy At Home
Slow Cooker Chicken Verde from My Life Cookbook
Slow Cooker Pork Dishes:
Slow Cooker Mexican Pork Carnitas from A Simple Pantry
Slow Cooker Garlic Pork Roast from Frugal Family Home
Easy Slow Cooker Pulled Pork from Women Living Well
Crockpot Hawaiian BBQ Ribs from Flour On My Face
If this list doesn't have what you are looking for, check out some of our favorite Slow Cooker Cookbooks for other great ideas! The cookbooks listed below have a wide variety of summer slow cooker recipes that suit your preferences, but also have great ideas for slow cooker breakfast and even slow cooker desserts!
It's pretty easy to make these summer slow cooker recipes on hot days when the idea of standing over the stove or turning on the oven seems suffocating. There is such a great variety in this list that you can easily build a menu plan that will suit your family individual preferences! When dinner time comes around this summer, you'll have no worries about what to easily prepare for your family to enjoy!