Being a mom is one of the most difficult jobs ever. For many mothers (myself included), winding down after a long, hard day with a nice glass of wine is relaxing. Two of my favorite activities to pair with wine are painting and reading. As you're looking for the perfect Mother's Day gift you might want to consider something wine related. If you know a java-loving mom, we also curated a fun selection of coffee mugs for moms too.
Mother's Day Gifts for Moms Who Love Wine
This post contains affiliate links.
For moms who love wine, there are plenty of presents out there to choose from. Below you'll discover 10 great gift ideas that she's really going to appreciate.
1. Wine Rack
Give her a place to store her essential wine collection in the form of a stylish wine rack. Available in numerous sizes, wine racks come in a variety of designs. From simplistic, standalone wine racks to wall mounted and stackable racks; there's something to suit all wine lovers. Think about where she might put it and how many bottles she typically has in at any one time. This will help you to choose the best rack to fit her needs.
2. Wine Thermometer
Help her really enjoy her wine by giving her a useful wine thermometer. She won't even need to open the bottle in order to check its temperature. This would be an especially good gift for moms who are particular about the wine they drink. It helps to make sure the wine is at its optimum temperature, allowing her to enjoy it to its full potential.
3. Corkscrew or Wine Opener
Does your mom love corked wine? A corkscrew could be a useful present. Over time, corkscrews can start to lose their effectiveness. When you visit and she is struggling to open a bottle, or her current corkscrew is looking a little worn down, a new one could be just what she needs.
There's a huge variety of bottle openers and corkscrews available. From screw pull levers to wing corkscrews and automatic bottle openers; take your time to look through the different types before choosing one. You can even find novelty corkscrews that make opening wine a more fun task.
4. Wine Decanter
Wine decanters were once associated with the rich and famous, but these days they are considered an essential for every wine lover. Helping to not only present the wine in a more elegant way, decanters can also help improve its flavor and remove any solid materials left over from the cork.
There's a massive choice of decanters available including stunning crystal varieties. For a more traditional taste you should be sure to choose one of the more antique design decanters.
5. Wine Fridge
If you want to splurge on your mother's day gift, a wine fridge is perfect. Not only will it give her a place to store her wine, it will also keep it at the right temperature. This is a something for moms who love white or Rosé Wine.
6. Wine Taste & Aroma Kit
Another extravagant gift, a wine taste and aroma kit is designed for the serious wine lover in mind. Does your mom want to learn more about? These kits are fantastic. This item will help her distinguish between different wines. Helping her to make the best wine choices when dining or when she is pairing it with a dinner in.
There are various kits available with some focusing more on aroma than taste. So consider what she'd most like to learn about before choosing a kit.
7. Décor
Does she already have wine and all the equipment needed to enjoy it? You could always get her wine-related home décor. Help her personalize the home with a wine themed picture. This would look especially great in the kitchen. Or you could buy wine mats. These prevent any wine running down the glass from staining the surface it's placed on.
8. Wine Glasses
Add to her enjoyment at the end of a long day by giving her a beautiful set of wine glasses! When choosing a glass, think about her style preferences. Does she like classic décor? Crystal glasses would be a wonderful item to give her then. Is she more of a modern mom? Then a set of 4 retro colored glasses would be a better choice.
Or if you want to make her laugh, why not buy one of the extra-large, novelty wine glasses? They come in a wide range of designs so it really does help to know what she likes to narrow down your search.
9. Vacu Vin Wine Saver
Make it a more unique gift. A Vacu Vin wine saver is worth considering. This will help ensure her wine doesn't lose its flavor. That way she can savor her wine and not worry about it not tasting as good as when she first opened it.
It's difficult to reseal a corked bottle of wine as the cork very rarely fits back inside. This wine saver does more than just seal the bottle; it also eliminates any air via its powerful vacuum pump.
10. Wine
Of course, one of the most obvious items you can give a mom who loves wine is a bottle or crate of wine. However, choosing the perfect wine to give her might not be as easy as you think. Does she have a favorite region or type of wine? Is she a red wine lover or does she prefer a glass of white? You'll need to figure out exactly what she likes before buying a bottle.
Wine prices vary significantly and you'll usually find the older it is, the more expensive it is. It's definitely worth doing your research before buying wine for Mother's Day. This way you'll make sure you're getting her something she'll really like.
Download our Mother's Day wine label! Click, save, and print it out on a label sheet to easily stick it on a bottle of wine.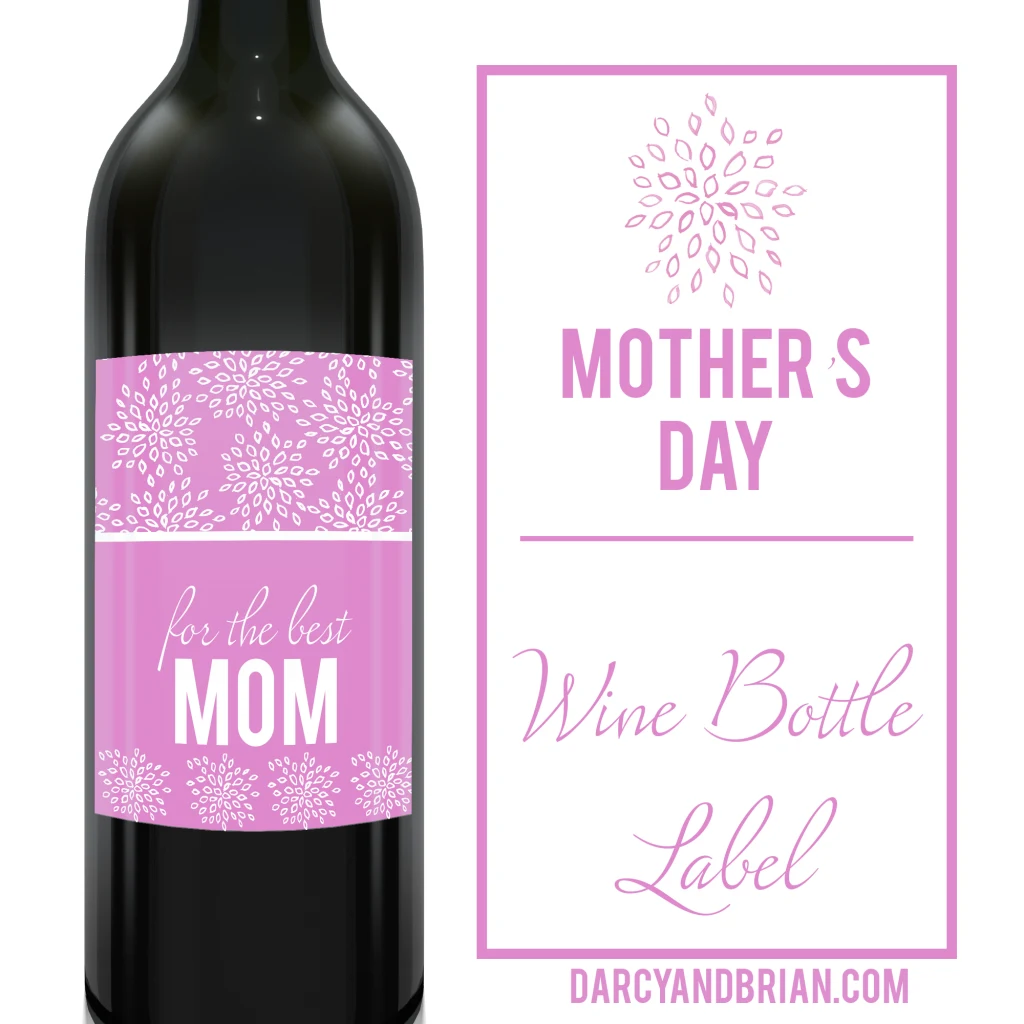 The gifts above are just a small selection of the type of wine gifts available. If she loves wine, one of the items above will make a fantastic Mother's Day gift! Whether she's a lover of white, red or rosé, there's a gift above to suit her preferences. Another option would be to select a couple bottles of wine (a red and a white, for example) and a couple wine accessories to create a Mother's Day wine gift basket.