Make your Halloween candy a little extra special with these Maleficent lollipop covers and pillow box printables.
They are perfect for classroom parties, Halloween party favors, or handing out to neighborhood trick-or-treaters!
The best part? They make last minute party treats seem well planned out.
If you also love The Nightmare Before Christmas, we have Jack Skellington inspired pillow boxes too!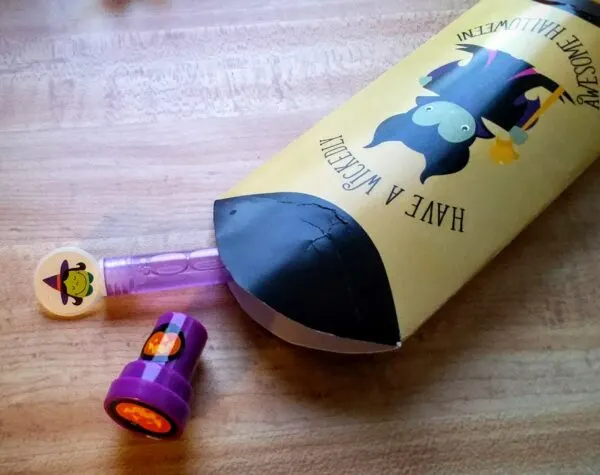 The first time I helped hand out goodies at my daughter's school Halloween party, I felt completely out of the loop.
Several moms did an amazing job decorating their trunks and putting together adorable packages of candy.
I wanted an easy and cute way to package up treat boxes for my daughter's next school party like these lollipop covers and pillow boxes.
Ever since I watched Disney's Sleeping Beauty movie as a little girl, Maleficent has been my favorite villain.
(OK, my favorite female villain. As some of you know, I'm quite partial to Loki from Marvel's Avengers and Thor movies.)
Someday, I hope to put together the perfect Maleficent cosplay costume, but for now, I'll dress up our Halloween treats. Villain style.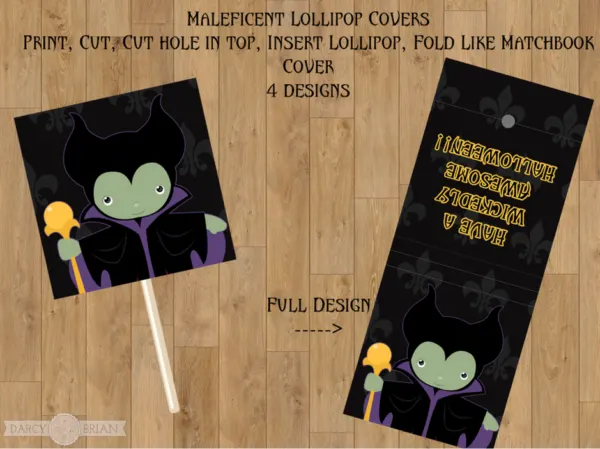 This post contains affiliate links. As an Amazon Associate and a participant in other affiliate programs, we earn a commission on qualifying purchases.
Maleficent Lollipop Covers
Use these printable lollipop covers to make plain suckers wicked fun!
Supplies for Lollipop Covers
Maleficent lollipop cover printables (download below)
Scissors
Glue or tape
Hole punch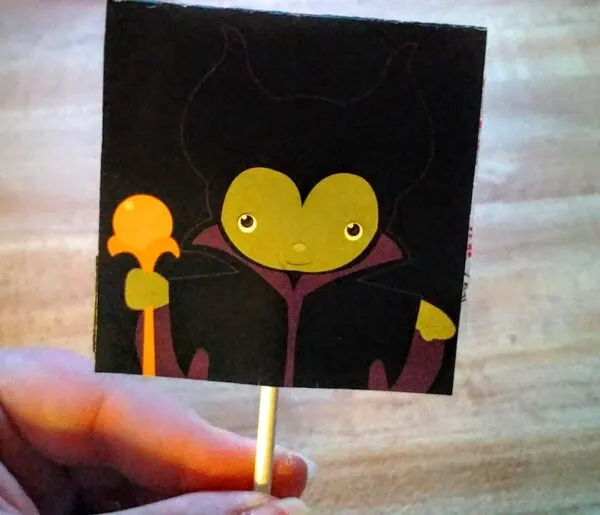 Printable Lollipop Covers Directions
Print out the lollipop cover templates on card stock.
Cut out the templates.
Use a small hole punch on the dot on the bottom of the template. The sucker stick will go through there.
Fold along the lines as marked. (You may need to score the paper lightly with scissors or an X-Acto knife to make nicer folds.)
Slide the lollipop stick through the hole and fold the cover around it like a matchbook. We absolutely love YumEarth lollipops (they are safe for our friends with food allergies) and the fit wonderfully in these covers!
Glue or tape the cover closed if you want to make sure it doesn't slide off before handing out.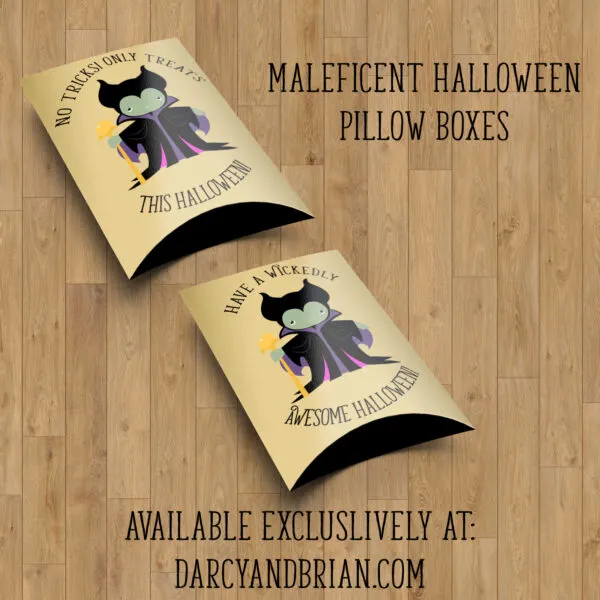 Maleficent Pillow Boxes
These printable treat boxes are an excellent way to hand out party favors!
Supplies for Pillow Boxes
Maleficent pillow box printables (download below)
Scissors
Glue
Tape
Halloween candy, treats, or toys
Optional X-Acto knife
How to Make Maleficent Pillow Boxes
Print out the pillow box templates on card stock.
Cut out each treat box.
Lightly score the fold lines with scissors or an X-Acto knife. (I tried folding these without scoring and it's difficult to get the ends to fold down nicely.)
Fold in half, then fold and glue together where it says glue.
Make sure to pinch the glued section together and let it dry before moving on.
With your fingers along one folded side and your thumb on the other, gently squeeze to open and round the box.
Fold the ends of the bottom and tape it shut.
Fill with Halloween candy, Halloween stickers, mini bubbles, erasers, temporary tattoos, etc.
Fold the other ends down and tape closed.
If you have the time and do not want to use up your printer ink, I recommend getting these printed at your local OfficeMax/Office Depot, Kinkos, etc.
I printed mine at Office Depot on 65 lb white card stock paper. It took a couple days for them to be ready, but it was affordable.
These Maleficent printable lollipop covers and pillow boxes are a fun way to hand out Halloween candy. They work great as a last minute idea for party favors too!
More Halloween Ideas
Maleficent Party!
Download our Maleficent printables party pack and receive our weekly newsletter with tips, resources, and access to new printables.