Be ready for trick-or-treaters with these printable Jack Skellington inspired pillow boxes.
Are you counting down to Halloween?
We are! Halloween is our favorite holiday and we love finding ways to make it fun and special for the kids.
These Halloween pillow box printables with Jack Skellington's iconic grin are perfect for party favors or handing out during trick or treating. We also have cute Maleficent pillow box and lollipop cover printables.
This post contains affiliate links. If you make a purchase, we may earn a small commission at no extra cost to you.
One of my favorite movies is The Nightmare Before Christmas. Some would say it is a Christmas movie, while others call it a Halloween movie.
I love that it works as both which gives me an excuse to watch it repeatedly from October through December.
Either way, I'm happy to see it on 31 Days of Halloween on Freeform!
What to put in Halloween pillow boxes
You can use these pillow boxes to give out candy and treats to trick-or-treaters. Pillow boxes are like little gift boxes. Small Halloween candies, stickers, stamps, and other small party favors will fit inside.
We know that food allergies can be a concern when giving out Halloween candy. Check out our list of allergy friendly candy and non-candy goodies for ideas!
They are perfect to use for Halloween class parties or for a trunk or treat event. Another idea is to fill these pillow boxes with prizes kids can win playing Halloween games at a party or school event.
How to Make Jack Skellington Pillow Boxes
First you will need to download our free pillow box printable templates.
These printables are for your personal (or classroom) use only.
After you download and save the pillow box template printable, you can print them out at home or at a local print shop. These work best when printed out on cardstock paper.
You will receive both versions and can choose which you'd prefer to print. If you print them at home, please note the black boxes will use a lot of printer ink.
For projects like this, I prefer to have them printed at a place like Office Depot or Office Max.
Once they are printed out, use an X-acto knife to lightly score along the dotted lines. This makes it easier to fold them down.
Fold and glue along the side.
After they dry, fold the bottom flaps, fill with goodies, and then fold down the top flaps.
Now you are all set! I personally like these as an alternative to treat bags, especially since the paper is recyclable.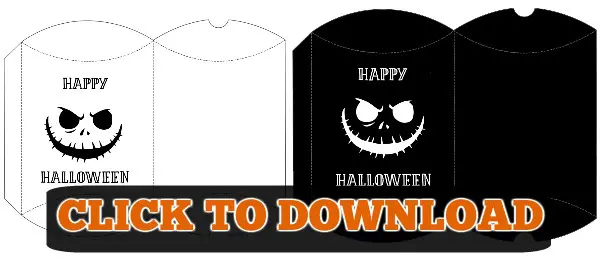 We hope you enjoy filling these printable Jack Skellington pillow boxes for Halloween!
More Halloween printables you may enjoy: