This set of Father's Day Directed Drawing printables is a great way for kindergarten through elementary school age kids to learn how to draw something for dad.
Helping kids make something homemade is one of the best Father's Day gifts they can give this June. They could also make it for grandpa or another important person in their life.
We share a few ideas on how you can use these easy dad drawing ideas to create a unique present or to use just for drawing practice.
Be sure to download the free printable pack at the end of this post!
Using these printable Father's Day themed drawing ideas for kids is perfect for sparking their creativity.
Drawing freely or following step-by-step instructions has many benefits for children. It helps with creative thinking, relieves stress, and provides an outlet to express themselves.
Directed drawing, which is following a step by step tutorial, provides children with practice following directions and paying attention to details. This can help build confidence in their artistic skill as well.
Things to Draw for Father's Day
This Father's Day directed drawing printable shows you how to draw a trophy, how to draw a super dad and several other things.
Each one is broken down into six steps. The printable pack includes a printer-friendly black and white set as well as a color version for a total of 18 pages.
There is a how to draw page for each of the following items:
Best Dad Ever Trophy
Necktie
Super Dad
Crown
Coffee Cup
Sunglasses
Hat
Briefcase
Bowtie
Children can follow the directions to draw each one. Younger children may also like tracing the drawing lines as part of their practice.
This post contains affiliate links. As an Amazon Associate and a participant in other affiliate programs, we earn a commission on qualifying purchases.
Wondering what the best printer is to use? We print out a lot of educational resources with homeschooling, so we upgraded to an Epson EcoTank printer a few years ago and love it!
I got tired of constantly running out of ink and inconsistent print quality.
You can keep these in a binder or folder along with other drawing prompts and tutorials for your kids to reference.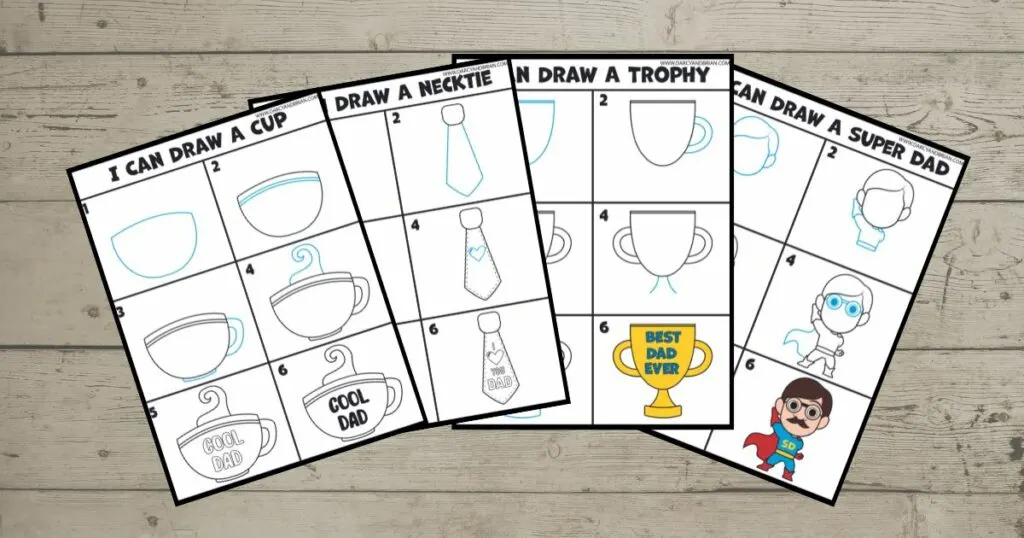 Then when they claim they are bored or don't know what to make for dad, they have a handy resource full of ideas!
Easy Father's Day Drawing Ideas
Have you ever wondered what to draw on the front of a Father's Day card? You can use any of the items within in the drawing packet to decorate a handmade card.
The printable drawing worksheets are an excellent way to help kids practice before making a card. They provide a nice reference as they work on their own artwork. They may also spark other ideas.
Another idea is to take your best dad drawing and put it in a frame. One of these frames that stores and displays kids' artwork would be perfect!
If your child loves graphic novels, encourage them to draw their own comic book starring Dad! You can assemble it yourself or get a blank comic book to draw in.
Besides the nine drawing prompts in the printable, your child could draw anything their dad likes.
This could include tools, computers, video games, sports, music, cars, fishing, grilling, and more!
No matter what the kids decide to draw, they will need art supplies. My daughter is constantly drawing and sketching so I recommend getting Arteza colored pencils. They are her absolute favorite.
The kids could also fill out a Father's Day questionnaire and attach a couple of their drawings to it.
The possibilities are endless! Although, sometimes children need our help by giving them a few choices, even if they don't pick anything we listed.
More Father's Day Craft Ideas
We have plenty of easy Father's Day crafts for kids to make during June. Many of these also work for Grandpa as well.
You can work on these at home or at school with a small group of children. Dad will appreciate receiving whatever their kids made!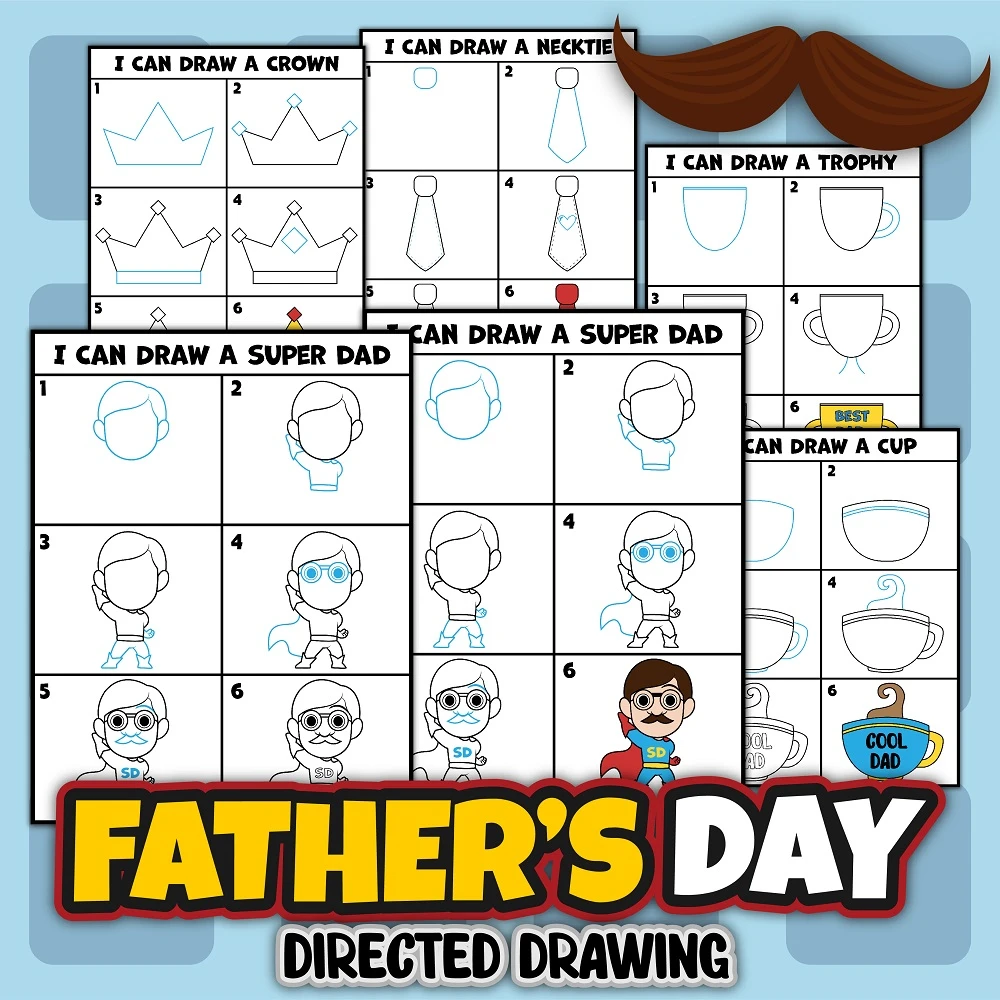 Fun Drawing Activities for Kids
As I previously mentioned, drawing has a lot of positive benefits for kids. It's a fantastic way to encourage their artistic creativity and imagination. Drawing and coloring can also be relaxing for children.
Directed drawing not only shows kids how to draw something through a series of steps, it helps them focus on following directions as well as pay attention to details.
If your kids enjoy drawing and sketching, they may also enjoy playing drawing games. These can be a great addition to a family game night!
Printable Summer Pictionary – Print out a set of summer themed drawing prompts for this classic guess and draw game!
Telestrations – My kids giggle the entire time we play this. It's an entertaining cross between playing telephone and pictionary. It's super fun!
Reverse Coloring Book – Provide a truly unique drawing experience with this book. The pages have watercolors in them, but no lines, allowing you to draw whatever you want.
Hopefully you found a new activity to try that will spark your child's creativity.
We hope you enjoy using these printable Father's Day directed drawing sheets. Please share this post with others who would enjoy this activity!