Does your kid LOVE the Disney Channel ZOMBIES movie?
Do they want to dress up like a zombie without the scare factor?
Here are a few ideas on how to dress up in Disney Zombies costumes for Halloween or pretend play. You may be able to create your own homemade versions of these costumes as well.
This post contains affiliate links which means we may earn a small commission if you make a purchase at no extra cost to you.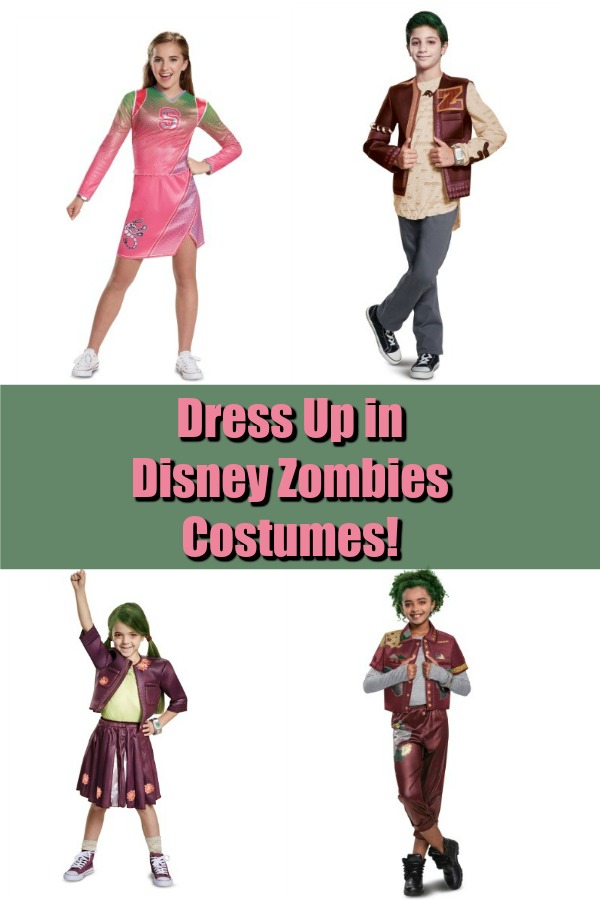 Disney Zombies Costumes
In the popular 2018 Disney Channel Z-O-M-B-I-E-S movie, the town of Seabrook is divided between Zombies and humans. The zombies are finally allowed to attend a human high school, though not everyone is happy about it. It takes work by Addison and Zed to help bring their classmates together.
Dressing up as the Disney Zombies characters is a fun way for kids to walk around as the undead – but without scary makeup. One of the most popular costumes available is the one for Addison.
Disney Zombies Addison Costume
Addison is a cheerleader on the human side of Seabrook and one of the main characters in the movie. The Addison costume is the pink cheerleader's uniform that Addison wears through most of the movie.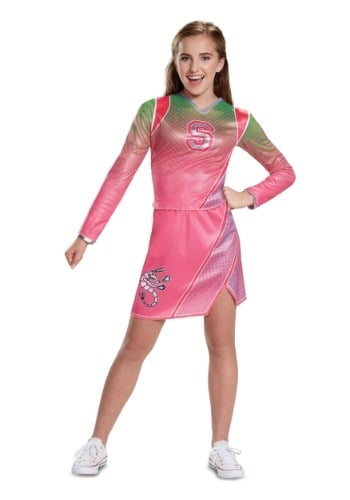 Some of them have a purple stripe on the left side of the skirt and green coloring across the shoulders. There's also a slight slit in the skirt, depending on the costume you get.
You can get it with the Mighty Shrimp mascot picture on the side of the skirt, and the large S on the front of the top. Some also come with pom-poms like the ones in the movie. We also have a Disney Zombies DIY Pom Pom craft you can make out of tissue paper.
Once you have the cheerleading outfit and pom poms, just add white shoes to complete Addison's look!
Addison also had white hair, which she covered up using a blonde wig. Some costumes come with this white wig to complete the look or you may have to buy it separately.
Where to buy:
Zombies Addison Cheerleader Costume at HalloweenCostumes
Zombies Addison Cheerleader Costume on Amazon
Metallic pink cheerleading pom poms
Disney Zombies Zed Costume
Another popular costume is Zed's. He's the main zombie character from the movie. You can find Zed's costume in two different styles.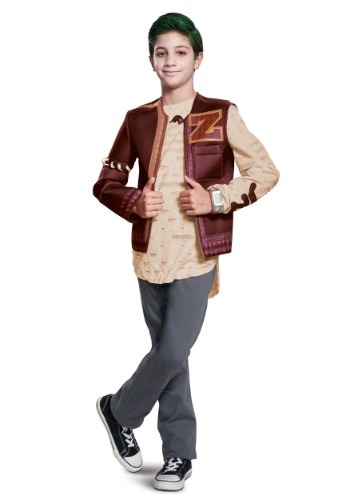 The first one is Zed's every day clothing. This costume can come with the torn jacket he wore through most of the movie, a white undershirt, and a light up Z band. Find a pair of gray pants or dark red pants that match his jacket to complete Zed's look.
The Z bracelet is what keeps zombies from wanting to eat brains. Some styles of the jacket will have the eyelets and shoelaces through the sleeve near the elbow. The shirt is designed to look worn and ripped in several places.
The other Zed costume is his football jersey. It's tailored to look like the one in the movie, so it's the pink and green colors that match Addison's cheerleading costume. It comes with the football jersey and shoulder pads.
Where to buy:
Zombies Zed Everyday Costume at HalloweenCostumes
Zombies Zed Everyday Costume on Amazon
Disney Zombies Eliza Costume
One of Zed's closest friends is Eliza, who eventually becomes Addison's friend as well. She has curly hair that she wears up, so you can use temporary green hair spray or wear a green wig with the hair pinned up.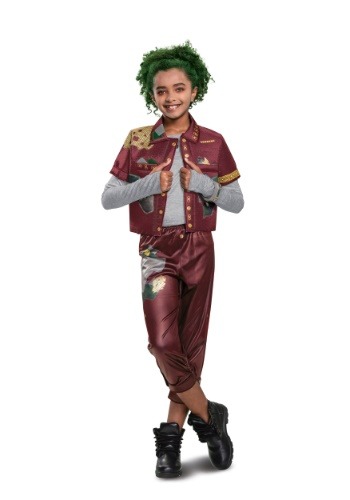 Eliza's outfit can come with her brown pants and jacket with the patches sewn on. It can also come with the gray undershirt, and a Z band like the zombies wear in the movie. The costume does not come with her shoes.
Where to buy:
Zombies Eliza Costume at HalloweenCostumes
Zombies Eliza Costume on Amazon
Temporary green hair spray or a green wig and pin the hair up
Disney Zombies Zoey Costume
Another great costume – especially for little kids – is the one for Zoey. She is Zed's little sister and helped Addison and Zed perform a routine during the cheer competition. Zoey's costume can come with a jacket and matching skirt.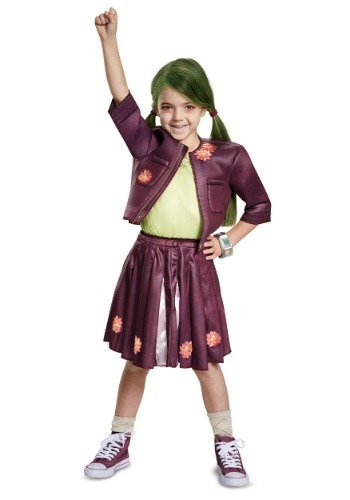 The skirt and jacket both may have printed graphics on them that are similar to the ones Zoey had on her outfit in the movie. There may also be an attached undershirt so the jacket can be worn open.
Like Zed's and Eliza's costume, Zoey's can also include the Z band. The outfit may or may not include a working zipper.
Where to buy:
Zombies Zoey Costume at HalloweenCostumes
Zombies Zoey Costume on Amazon
Temporary green hair spray or a green wig and give her loose ponytails
Whether you dress up as a human or zombie from Seabrook, these Disney Zombies costumes are perfect for Halloween or pretend play.
You can purchase their complete costumes or make your own version. Another option is to DIY parts of these costumes and purchase some accessories to help complete the look.
Who is your favorite character from the Disney Channel ZOMBIES movie?
More Halloween costumes ideas:
Top Fortnite Halloween Costumes and Accessories
25 Popular Disney Halloween Costumes for Kids and Tweens
The Secret Life of Pets Costumes for Kids
Subscribe
Get weekly sanity saving parenting tips, recipes, and kids activities.