Looking for screen-free activities and toys that engage the senses? We received these Wubble Fulla Slime and Wubble Fulla Marbles to review and share our thoughts with you. Kids love playing with these and won't want to put them down! These make perfect gifts for Easter baskets and stocking stuffers too.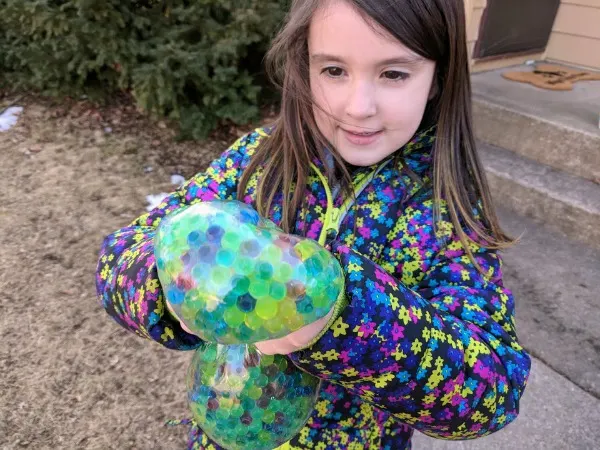 Even though our family plays a lot of video games and we enjoy our tech time, my husband and I continually work on teaching our kids how to balance their screen time with screen-free activities. It's important to engage kids in different types of play!
Screen-Free Play for Kids: Wubble Fulla Slime and Wubble Fulla Marbles Review
My kids were super excited when I opened the package containing huge and tiny sized Wubble Fulla Slime and huge and tiny sized Wubble Fulla Marbles. Honestly, they didn't know exactly what it was, but they were intrigued. I could barely get them out of the packaging before they were claiming them.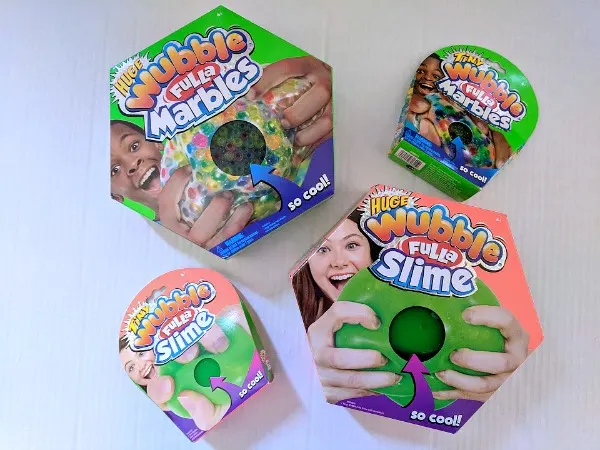 Of course, Xander wanted the green ones (his favorite color is green). Rissa only wanted the huge ones at first, but she thought the tiny ones were adorable.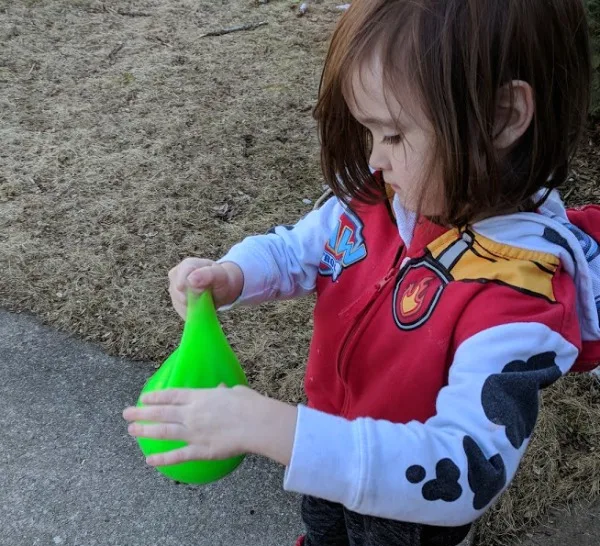 Although it was chilly here in southeast Wisconsin, we decided to take them outside to play with in the sunshine.
So what is a Wubble Fulla anyway?
Wubble Fulla is the newest ball in the Wubble family of products that includes Super Wubble, Tiny Wubble, Super Wubble Brite (a light-up Wubble for playing in the dark), Wubble X (a helium-filled "anti-gravity" ball that can hover in mid-air) and Water Wubble (refillable water balloon balls that splash, but don't pop).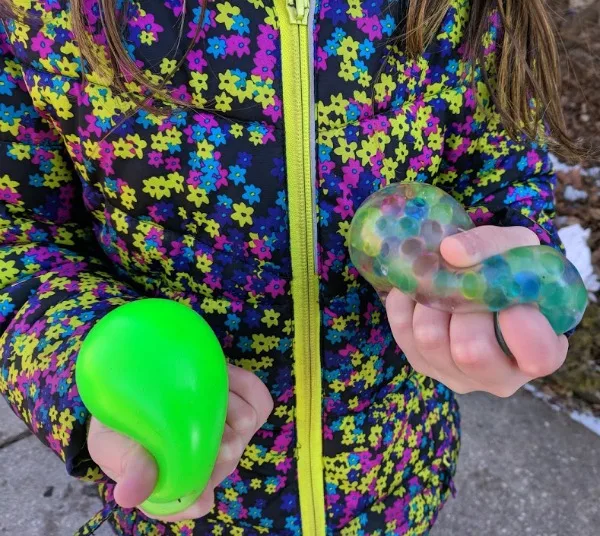 It comes in three super squooshy sizes: Huge (5″), Big (4″) or Tiny (just under 2 ½")! We liked playing with the huge size outside. The tiny size is perfect for kids's hands and works great for playing with inside.
Each size comes stuffed with either slime or Magic Marbles which makes it so fun to squeeze! The Magic Marbles are colorful and squishy round balls made of a super-absorbent polymer that absorbs water. Whichever you choose, once you pick up Wubble Fulla, you won't want to put it down!
Playing with Wubble Fulla
When I first asked the kids to join me outside to play with their new Wubble Fulla balls, I wasn't sure how long it would keep their interest. I'm telling you right now that these balls held their attention much longer than I expected.
We all took turns squeezing, stretching, and squishing the Wubble Fulla Slime and Wubble Fulla Marbles. The kids attempted to play catch together with them, but they were awkward to catch which resulted in plenty of giggles!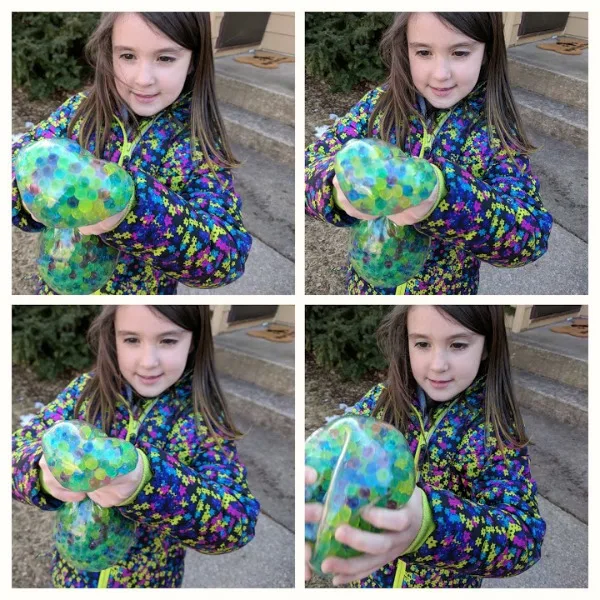 One of the favorite activities was dropping the Wubble Fulla balls on the ground and watching how it flattens out before returning to its ball shape. You do need to be careful not to drop it on top of sharp sticks and rocks. Even the sidewalk can be little rough on the Wubble Fulla ball.
Ours were getting dirty – leaves, grass, and dirt love sticking to it. The Wubble Fulla balls are super easy to clean though. Simply rinse them off and either pat them dry or set them on a towel to dry.
We did have one casualty while playing outside. Our Huge Wubble Fulla Marbles ball popped. My daughter said she was holding it while spinning around. It may have weakened from slamming it on the sidewalk or landed on a sharp stick. My husband grabbed our wet/dry vacuum and cleaned up the Magic Marbles.
The kids continue to be drawn to their Wubble Fulla balls. Xander likes to poke and squish them every chance he gets. Encourage screen-free play for kids and engage them in fun, sensory play. I think they would make a great addition to Easter baskets or to bring out as a surprise on a rainy day!
Where to buy Wubble Fulla balls
Wubble Fulla Slime and Wubble Fulla Marbles are recommended for children ages 6 and up and retail for $14.99 (Huge), $9.99 (Big) and $7.99 (Tiny). A combo set is currently available at www.WubbleBall.com, which includes two Huge Wubble Fullas (one of each) for $19.99, plus $8.99 shipping and handling. The balls are coming soon to Target and Walgreens.