Visiting LEGOLAND® Discovery Center in Chicago has been on our family's bucket list since our kids began piecing bricks together. We were invited to a private VIP preview event to see two new exhibits and experience LEGOLAND for ourselves. We didn't let the kids know about the trip until the night before.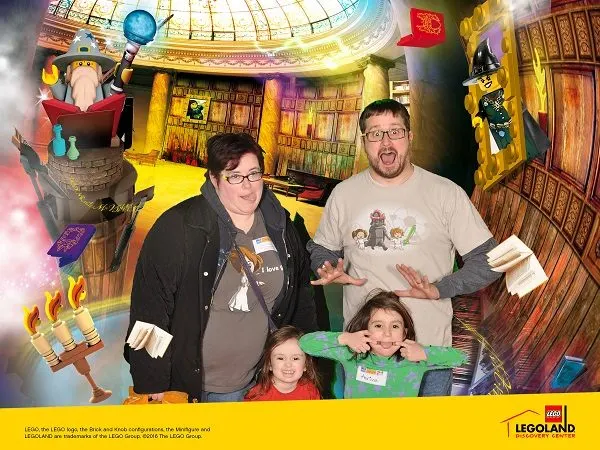 So, if you have a family full of LEGO® fans, find out why you should plan a trip to visit LEGOLAND with your family, too! Don't miss the promo code below to save on your tickets.
Reasons to Visit LEGOLAND® Discovery Center in Chicago
This post contains affiliate links.
Whether you are planning a day trip or a family weekend getaway in the Chicago area, visiting LEGOLAND Discovery Center is an excellent family activity. It is located at the Streets of Woodfield, 601 N. Martingale Rd. in Schaumburg, which is about a 30 minute drive from downtown Chicago. It's a fun indoor place with over 3 million bricks and 12 attractions, which makes it perfect to visit any time of year.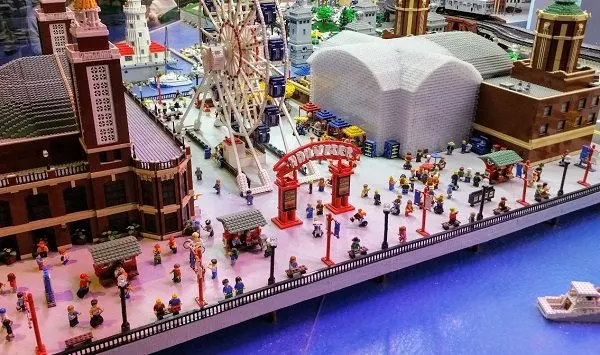 Be inspired by MINILAND
This is the first area we walked through after getting our picture taken. And it is a great way place to start!
I don't know about you, but I am not much of a Master Builder. I'm more like Emmet before he became The Special – give me the instructions. I love that my kids create things on their own as well as follow building instructions. Whether I can build it or not, I'm always fascinated by intricate and complex LEGO models. It was amazing to see a miniature version of Chicago.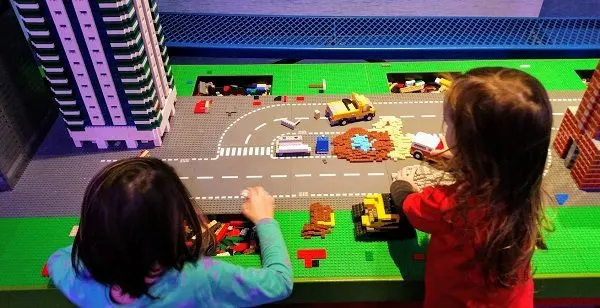 Explore engineering with building challenges
There are plenty of places for kids to make their own creations. The kids stopped briefly at a table to build in Chicago MINILAND. There are fun little challenges set up throughout LEGOLAND.
Xander had a lot of fun adding wheels to an axle and watching it zoom down a track. He tested a few different creations, though he wasn't too focused on the building part. He just loved taking partially assembled cars that were not in use and letting them roll down.
Aerissa tried her hand at creating a pirate ship then seeing how well it floated. It crashed before reaching the end, but what a fun activity!
Fun activities for the whole family
While I enjoy taking my kids to indoor play places, it's nice when there are things for adults to do too (besides follow the kids around). There is more to do than just build at LEGOLAND!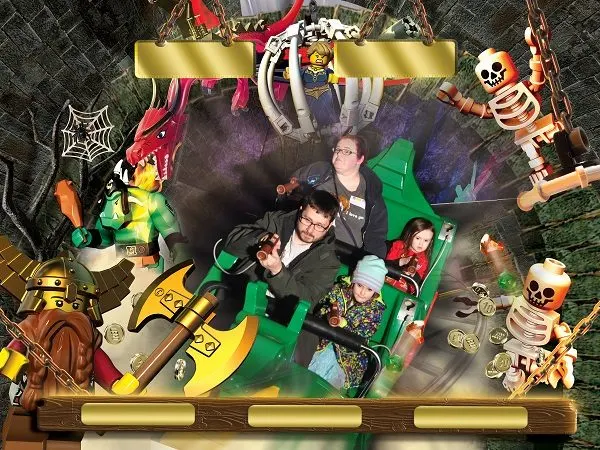 We went on the Kingdom Quest Laser Ride, one of two rides. All four of us went on this mild ride and tried our hand at blasting evil skeletons, bats, and other bad guys. I'm pretty sure I racked up the high score among our crew!
The kids experienced their first 4D movie. Since they both love The LEGO Movie, we knew they would enjoy watching a short movie with their favorite characters. And truthfully, I found it refreshing to sit and relax for a moment knowing my kids were also sitting in one spot! They got a kick out of feeling the wind and water during the show.
After sitting through the movie, we knew the kids needed to move around some more. The play structure in the Pirate Adventure Island area is perfect for this. The kids were able to climb around and play for awhile before we headed out. This is also where they can build boats at a water table.
New Featured Attractions
During our visit we received the opportunity to preview two new attractions: LEGO® Star Wars™ Episode IV MINILAND Display and LEGO Friends Heartlake City. Here's what you need to know about them:
The LEGO® Star Wars™ Episode IV MINILAND Display is returning for a limited time.
As part of the popular exhibit from a galaxy far far away, guests can help the Rebel Alliance destroy the Galactic Empire's powerful Death Star, experience the epic duel between Obi-Wan Kenobi and Darth Vader, watch in awe as the Millennium Falcon rises from the deserts of Tatooine, discover the bustling city of Mos Eisley, and take in the busy cantina where the band plays its familiar tune and dangerous characters lurk in dark corners." Plus, the attraction features life-size LEGO models of Darth Vader and R2-D2.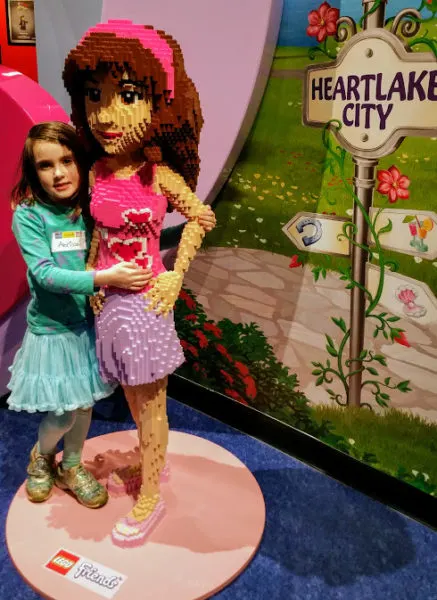 LEGO® Friends Heartlake City is brand new!
Guests can help Olivia, Emma, Stephanie, Mia and Andrea build some of their favorite things to add to Heartlake City. This brand new LEGO Friends themed area includes six build tables, the giant interactive Heartlake City display, and life-size LEGO Friends models to snap photos with.
The kids loved checking out Darth Vader and R2-D2. I found the Star Wars MINILAND fascinating. Not only did they recreate Tatooine, but the Millennium Falcon moves around. My daughter was excited to check out Heartlake City. She watches LEGO Friends on Netflix plus has a few LEGO Friends building sets at home. While there, she completed a building challenge to build her favorite animal plus had her picture taken with a few of the LEGO Friends models.
Upcoming 2017 Events at LEGOLAND® Discovery Center Chicago
May 14: Moms are free on Mother's Day
May 27-29: LEGO® Star Wars™
June 18: Dads are free on Father's Day
September: Ninjago Weekends
September-Janauary: Toddler Tuesdays
October 21-31: Brick-or-Treat
November 11: Veterans are free on Veteran's Day
December: Holiday Bricktacular
December 31: New Year's Eve Balloon Drop
Ready to plan a family visit to LEGOLAND® Discovery Center Chicago? Save money when you grab your tickets online at LEGOLANDDiscoveryCenter.com/Chicago. Use promo code: SPBLG2017 for $5 off your admission.
Wondering what else you should see while in Chicago? Make it a fun weekend and save up to 53% on Chicago's 5 best attractions with CityPASS. Shop Now!
More family travel posts: