This 4th of July clay pot craft is just one of many craft ideas for kids that they can work on to be part of the festivities. With the parades, cookouts, and fireworks, it's no surprise kids get excited to celebrate Independence Day!
We'll show you how to make your own that you can use as a table centerpiece for wrapped candy treats or even tea lights.
If your child loves to paint then they will enjoy this craft project! The 4th of July clay pots look like Uncle Sam's hat, which makes a nice decoration and can double as a mini candy dish.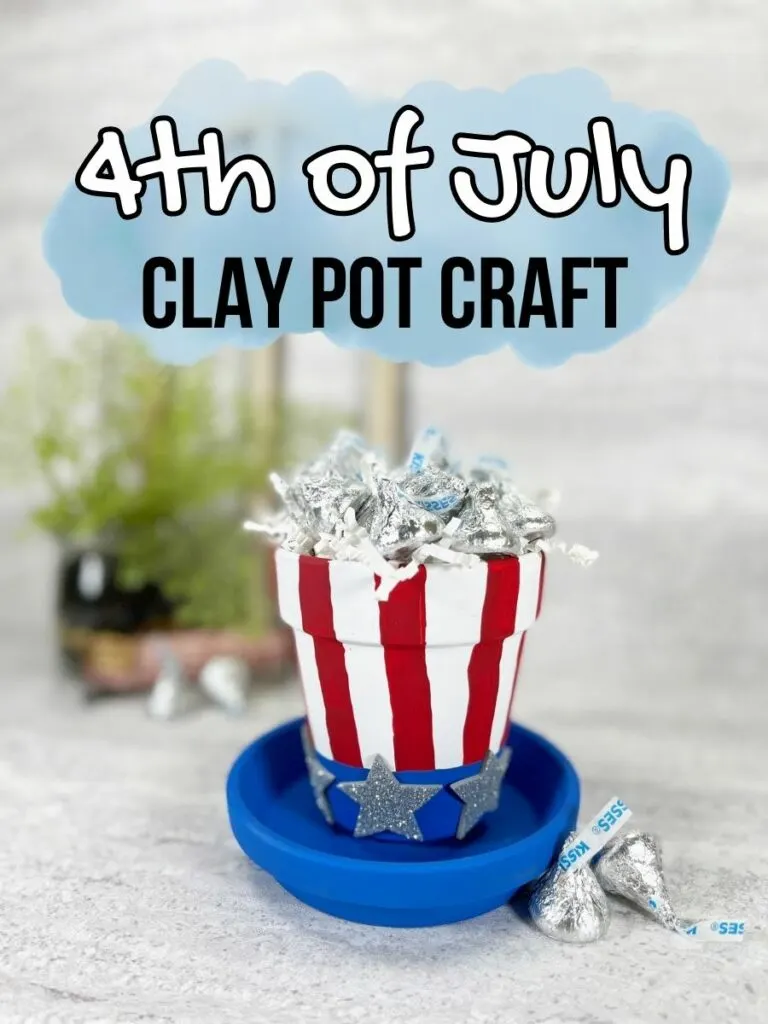 After painting a small terracotta pot, don't be surprised if they are inspired to decorate large flower pots too!
Want more patriotic craft ideas? Check out our popsicle stick Uncle Sam craft.
More Flower Pot Crafts for Kids
Fourth of July Clay Pot Craft Supplies
This post contains affiliate links. As an Amazon Associate and a participant in other affiliate programs, we earn a commission on qualifying purchases.
Painting can get messy no matter how careful you try to be, so don't forget to grab an art smock before you get started!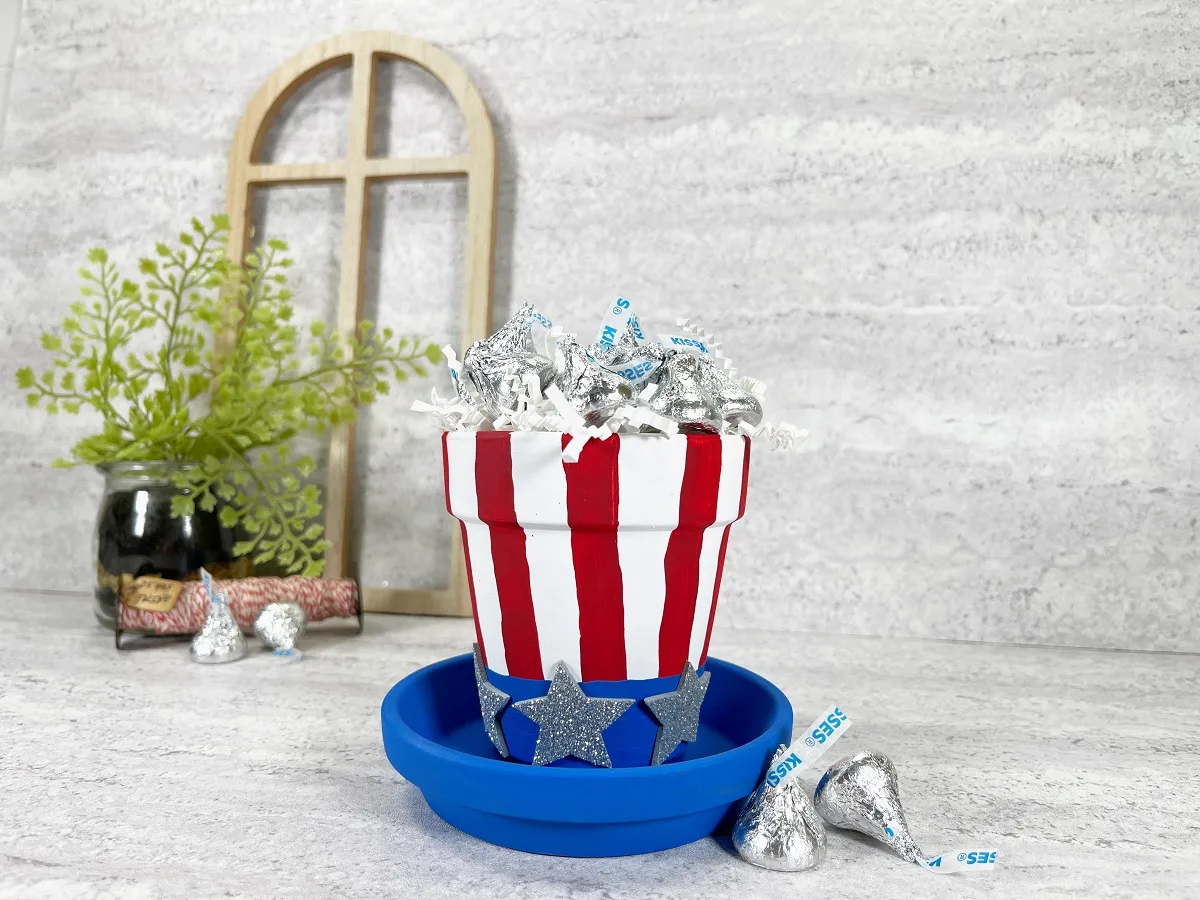 You can use any size terracotta pots you would like, but to achieve the look of a hat brim, the saucer will need to be slightly larger.
We've listed candy in the supply list, but you can fill your 4th of July clay pot with anything you'd like. For example, instead of treats, try placing a tea light inside for low lighting at the table.
Another idea is to place decorations that stick up out of them. You could even use them to hold pens and pencils on your desk.
How to Make a 4th of July Clay Pot
Start by preparing your clay pot and saucer. Remove any tags on them. Paint the clay pot white inside and out and set aside to dry. Paint another coat if needed.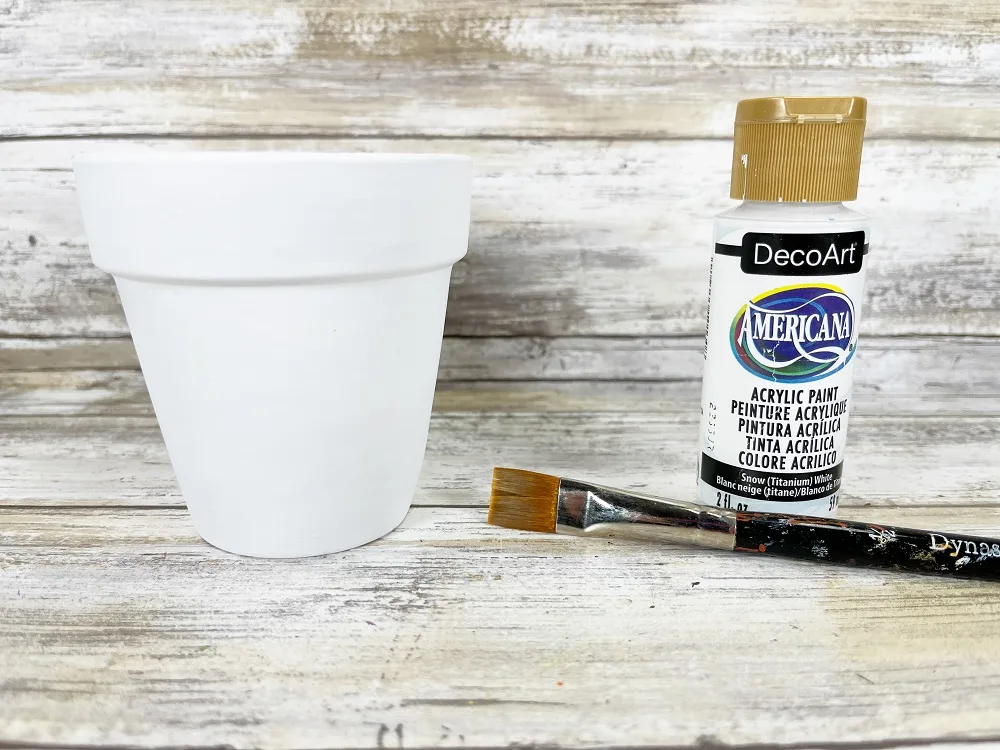 Next, paint the terracotta saucer completely blue. After it dries add a second coat if needed. While both the flower pot and saucer will need time to dry in between steps, the paint dries fairly quickly on the clay surface. Drying times will still vary depending on how thick each coat of paint is.
With a small flat paintbrush, paint red stripes vertically around the flower pot. Allow time to dry then apply another coat if necessary. To help younger children with painting the stripes, you can use painters tape to block off white stripes.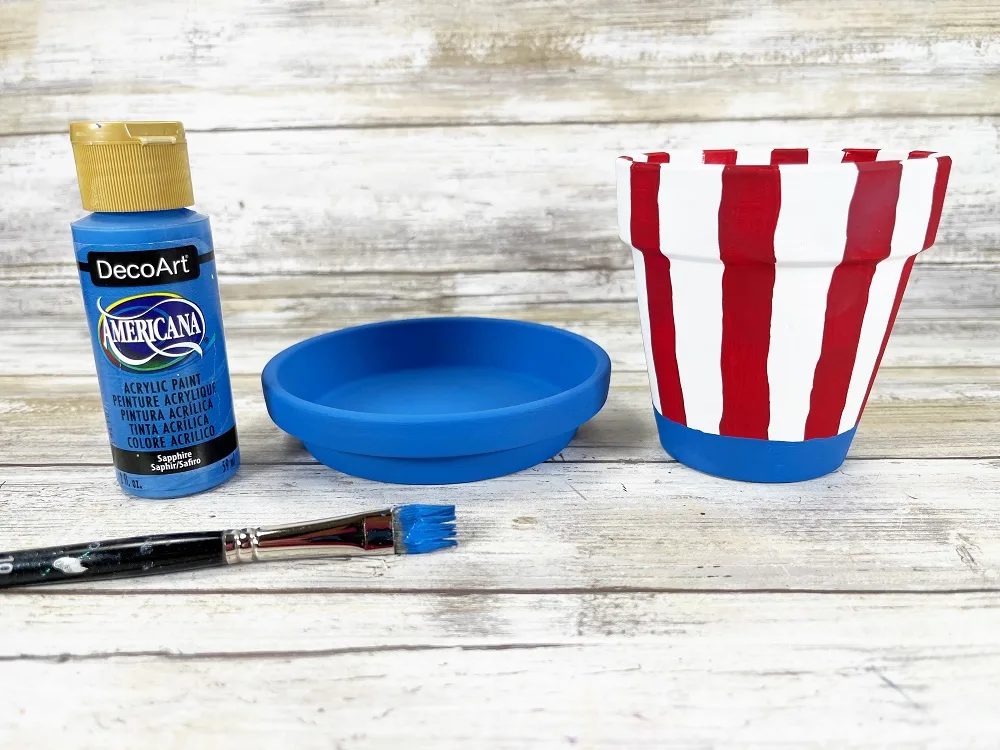 After the red paint has dried, paint a blue strip about one inch wide around the base of the flower pot. You may need a second coat to ensure the white and red aren't showing through.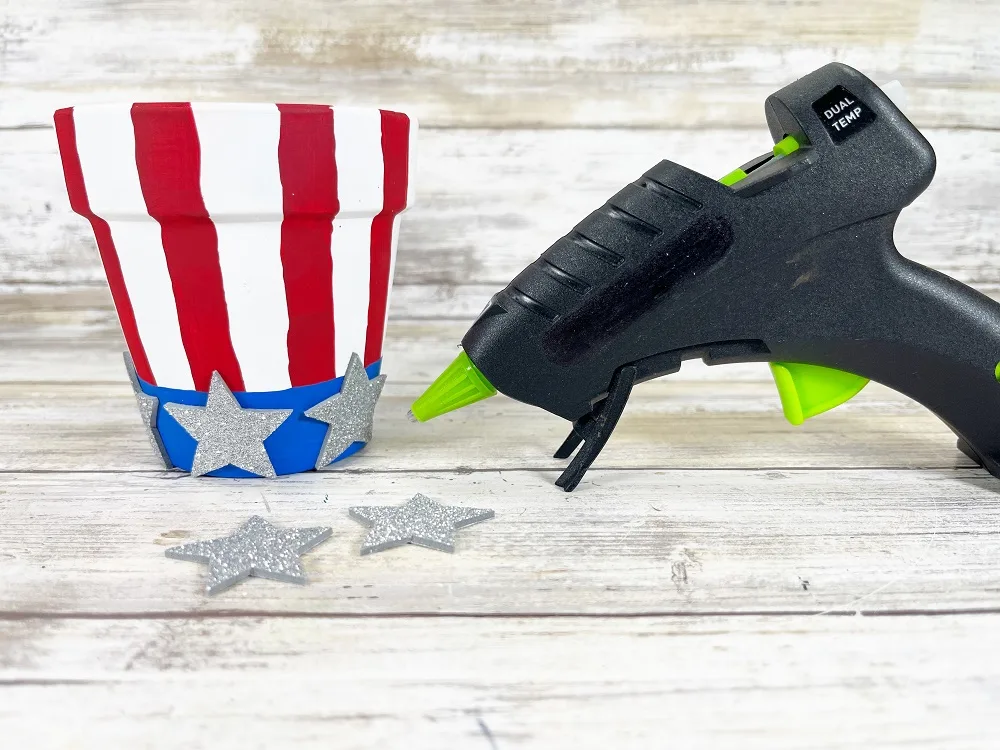 For the stars, you can cut out five star shapes from silver glitter craft foam or use about 5 silver star stickers. Glue the stars on the blue band you painted around the bottom of the clay pot. If you'd prefer to paint your stars on, you are welcome to do that too!
To keep this all together, we recommend using a glue gun to secure the painted flower pot to the painted saucer. Now it looks like Uncle Sam's hat!
You can add white paper shred and wrapped candy inside for a festive, patriotic candy dish decoration.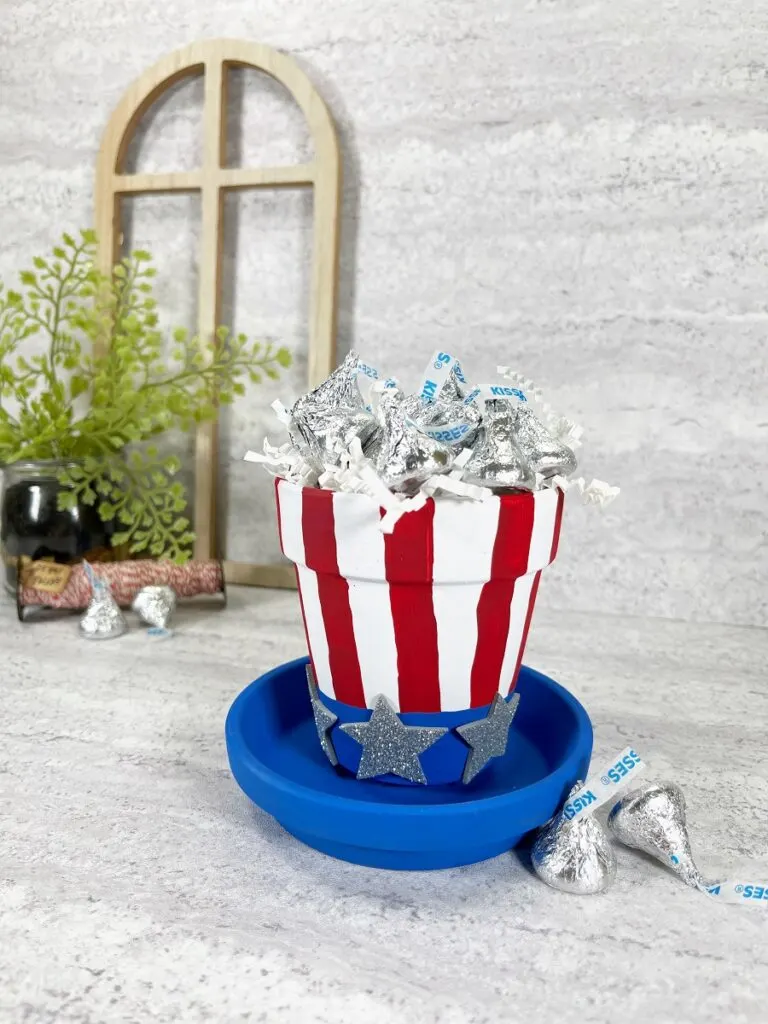 Additional Fourth of July Kids Activities
It may be summer, but that doesn't mean the learning stops until fall. Whether you homeschool or your kids attend traditional school, it's important to continue some educational activities to avoid the dreaded "summer slide."
The good news is it's possible to work on skills without it feeling like work! Kids love holiday themed activities, especially if they are fun and engaging. Offer a variety of options such as books, printables, games, and crafts.
4th of July Books for Kids
Pick one or more of these books about the Fourth of July to read aloud with your child. Reading is a great activity for bonding as well as to help your child learn how to read and expand their vocabulary.
If your child looks forward to the different ways people celebrate this holiday, then they will enjoy The Night Before the Fourth of July by Natasha Wing. It's about the excitement and preparation for the holiday festivities.
The Fourth of July Story by Alice Dalgliesh is a story that introduces children to the historical events of the American Revolution and the creation of the Declaration of Independence.
Is your child interested in learning about the history of the American flag and how it came to look like it does today? Then they might like to read Red, White, and Blue: The Story of the American Flag by John Herman.
Learn about the historical document that officially separated the United States colonies from Britain and led to independence in the book, What Is The Declaration of Independence? by Michael C. Harris. It is part of the What Was? series, which has lots of books to engage children in learning about history.
4th of July Printables
Preschoolers will love these 4th of July Do a Dot printables from my friend Crystal. Using Do a Dot markers or other manipulatives to cover the circles is an easy fine motor activity.
A fun way to work on number recognition is to use our Patriotic Stars Roll and Cover printable math game. Just roll the die and cover up the number until the sheet is full.
More July Kids Crafts
4th of July Clay Pot Craft for Kids
Estimated Cost:
$10 or less
Paint a 4th of July clay pot for a fun and easy patriotic craft for kids!
Materials
Clay Flower Pot (3.5 inch)
Clay Flower Pot Saucer (4.5 inch)
Red, White and Blue Craft Paints
Silver Glitter Craft Foam or Star Shaped Stickers
Wrapped Candy of Choice
White Paper Shred
Tools
Low Temp Glue Gun
Paintbrush
Scissors
Instructions
Completely paint the clay pot white (inside and out).
Paint the saucer entirely blue.
After the paint dries, apply another coat of paint if needed before continuing to the next step.
Paint red vertical stripes around the flower pot using a small flat paintbrush. Use painters tape if needed to guide you.
Paint a blue stripe around the base of the clay pot that is about one inch wide.
Cut out and glue on five silver glitter stars along the blue band.
Use a glue gun to attach the clay flower pot to the saucer.