School is upon us again, and we are all faced with the annual task of getting the supplies on our children's back-to-school lists. My oldest is about to start kindergarten! Even though she went to preschool, getting ready for back to school this year feels different. Like it is OFFICIAL and kind of a big deal.
On the plus side, it's not the first time I've shopped for school supplies. Besides shopping for my own throughout high school and college, I've helped past clients get their kids prepared for school and have purchased supplies to donate almost every year.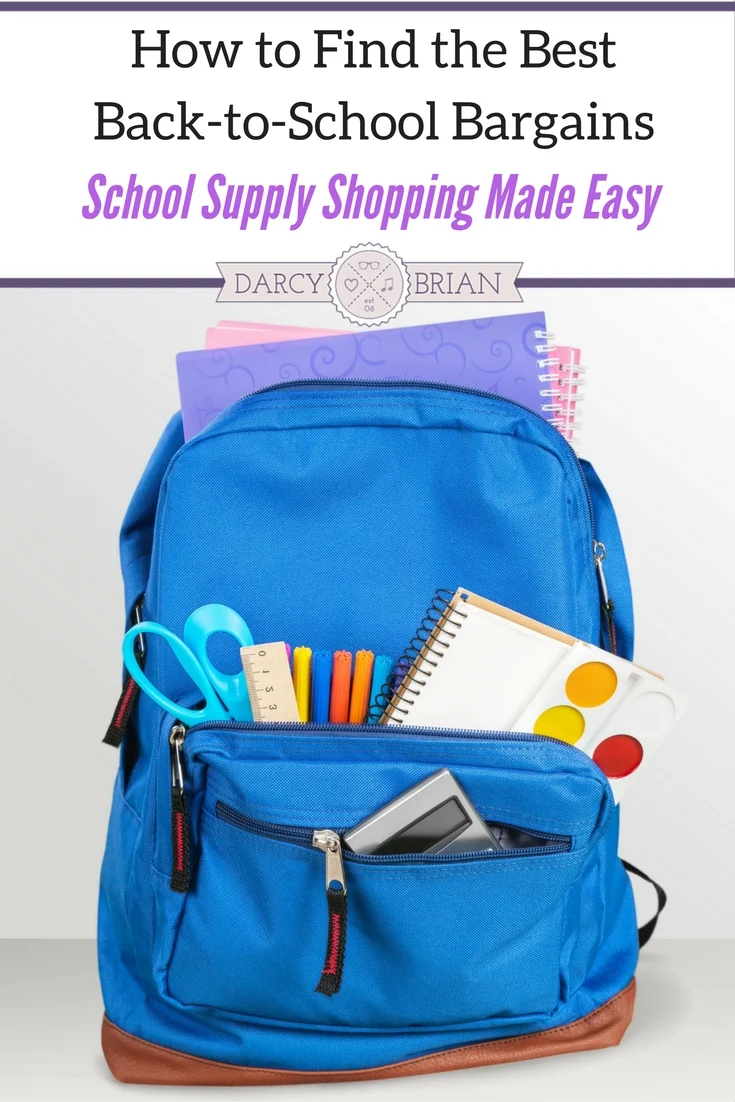 I've learned getting ready for back to school usually includes lots of planning and shopping! Most schools will have a list of supplies your child will need and in some cases the lists are available in-store by the school supplies.
If you start shopping early, you can get supplies little by little instead of pulling your hair out for hours at the store trying to wrangle kids and buy school supplies the week before school starts.
Watch the weekly sales at all the stores in your community and purchase items as they are marked down.
If you go too early, the supply list might get updated, so check it again as the first day of school draws near.
How to Find the Best Back-to-School Bargains
This post contains affiliate links and we may earn a commission if you make a purchase.
From paper to pencils to entire wardrobes, our main challenge is finding it all at a reasonable price. Here are a few ideas to help you get your back-to-school shopping done at an affordable price.
Where to Shop for School Supplies
Big Box Stores
Some people love them and some people hate them, but when it comes to affordable back-to-school supplies, big box stores can't be beat.
It's nice to have a one-stop-shop where you can buy practically everything on your child's back-to-school list, especially if you are asked to purchase school snacks or cleaning supplies.
Dollar Stores
Places like Dollar General have become a shopping sensation for a reason. They used to have cheap products that didn't always work properly.
Now, many dollar stores sell exactly the same merchandise that is sold in other stores, only for less money.
There are certain items that just aren't worth more than $1 no matter how anyone tries to sell it. Things like notebooks, paper, pencils, calculators, pens, and erasers just shouldn't take a bite out of anyone's budget.
There is no reason to spend $3 on a notebook when the very same item is available for $1.
Check out your local dollar store and you'll save big money. Shop around, since dollar stores are similar to other stores in the sense that some are better than others, and you may have to go to a few to find exactly what you are looking for.
Consignment Stores
Used clothing and items no longer have a stigma attached to them. Not to mention, no one needs to know that your child's adorable jacket or designer shoes were previously loved.
Try out this widely-used secret if you want your child's clothing and items to be one-of-a-kind, and not just something that everyone else will be wearing or using.
If you don't have many local consignment stores, you can check out online ones like Schoola or ThredUp.
Shopping Apps
Depending where you do your shopping, you may be able to earn cash back with apps like Ebates, Ibotta, and Receipt Hog. You can get cash back by shopping popular stores, such as Kohl's, online through Ebates.
We like checking Ibotta for rebates at our local stores that are easy to redeem by scanning the product bar code and your receipt. Receipt Hog is super easy to use – just scan your store receipts for coins which can be redeemed for gift cards or cash.
Online Shopping
What could be better than not having to go to the store at all? It is now possible to do most (if not all) of your back-to-school shopping from home.
You can purchase everything online – from clothing, to lunch boxes, to paper and stationary, to school snacks – and even have it delivered right to your door.
I admit I enjoy shopping for school supplies in person and it's a great way to get my daughter excited for school to start. Still, there are amazing deals (and no crowds) when you shop online.
Back-to-school shopping doesn't have to completely drain your budget. There are many different places to find all the items your child needs.
The competition is fierce, and this works in your favor.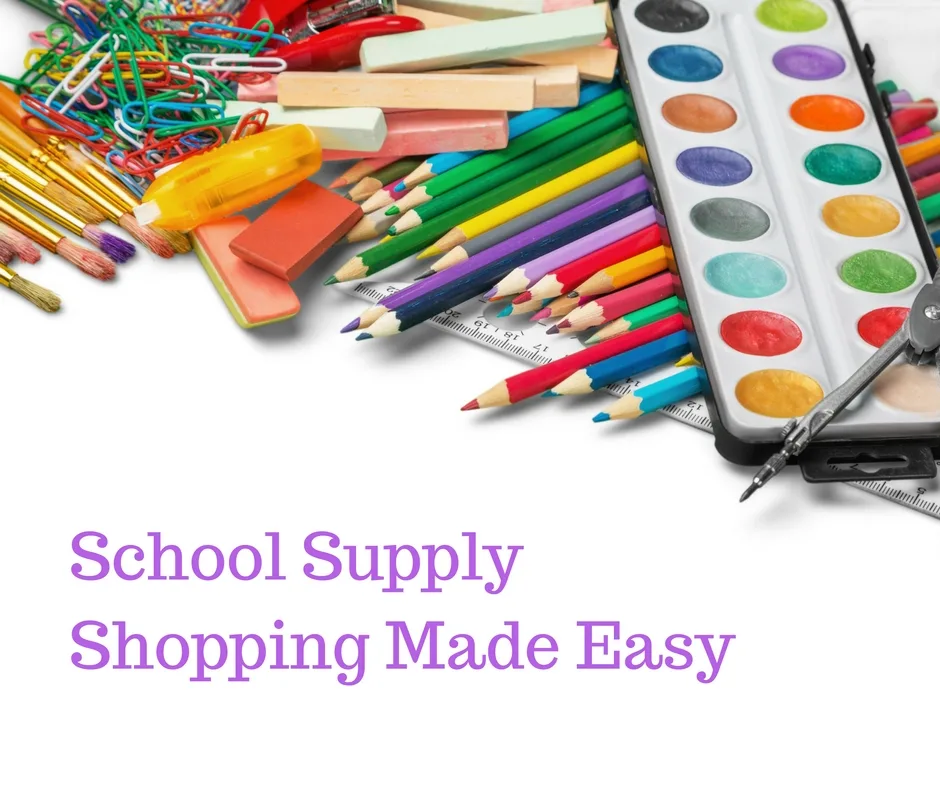 School Supply Shopping Made Simple
Make a Master List
If you have more than one child and they each have a separate list of school supply items, you'll want to combine them all into one master list.
Tally up the total number of notebooks needed.
Do the same for calculators, pencils, rulers, and everything. When you get to the store, it will be easier to pick up a bundle of items than go back and forth filling each individual child's list.
Then, when you get home, you can divide up the items to give to each child using their own list. This may also save you money since there are often deals on packs of folders, paper, pencils, and other supplies. You can buy a pack of ten folders for less than you can buy a single folder.
Stick to Basics
Yes, glitter pens are cool and pencils with wacky patterns on them are really fun, but they cost more than basic pens and standard pencils.
You will save a ton of money buying the basics rather than the fancy styles. Double check your school's list of supplies as some schools want only plain colored notebooks, folders, pens, and pencils, anyway.
If, however, your school allows for some fun with school supplies, it's a lot cheaper to buy the plain supplies and dress them up with a small package of silly eraser tops to make pencils unique or stickers to decorate the folders.
You can usually buy a package of embellishments to share between all the kids for a lot less money than buying decorative supplies.
Buy in Bulk
Another great idea is to buy the basic school supplies in bulk. If you are going to save a bundle on pencils by purchasing 100 of them, then why not do it.
You will always need them.
Also, check with a friend or relative about going in together on bulk supplies. If you and 10 friends show up at the checkout at the same time each with a package of 10 pencils at twice the price as a package of 100 pencils, it makes more sense to save money by agreeing to split 100 pencils.
It only takes one look at the weary faces of parents standing in line at the checkout, arms loaded with school supplies on the day before school starts, to realize there has got to be a better way.
Well, there is.
Get your list together, watch the sales, start early, and buy in bulk. All these tips add up to savings and a calmer start to a new school year!
More Back to School Tips: