You know what makes me happy? An easy sugar cookie recipe. And flowers. (And chocolate, wine, music, and a whole list of other things. Shh. I'm trying to make a point here!)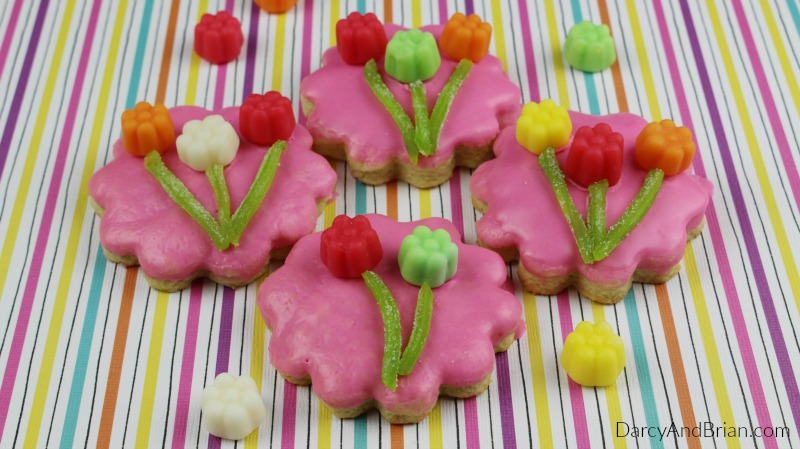 I didn't really learn how to bake as a kid. I have fuzzy memories about whether or not I was allowed to help in the kitchen. Perhaps that is one of the reasons why I struggle with how to include my own children in cooking and baking. I'm doing it though!
It's taken time for me to move beyond pre-packaged cookie mix to feeling confident baking a recipe from scratch. Sure, I still use mixes sometimes, but I like showing my kids how to measure out each ingredient. There's a sense of satisfaction when I bake homemade cookies. I continue to experiment with recipes as I teach myself AND my kids.
One cookie recipe everyone should have in their back pocket is a good, easy sugar cookie recipe. Don't you agree? Once you have a basic recipe you love and can whip up in a flash, it's easier to branch out. Tweak this, change that. Substitute this, add more of that.
Plus, sugar cookies are like a cookie playground. There are so many ways you can decorate them! My daughter loves to help roll out the dough and press a cookie cutter into it. We both enjoy cookie decorating too, which is what makes this Juju Flower Sugar Cookie recipe so fun.
Juju Flower Sugar Cookie Recipe
This post contains affiliate links. Printable recipe available below.
Ingredients:
3 eggs
1 cup butter (2 sticks)- melted and cooled
3 cups all- purpose flour
1 cup granulated sugar
1 teaspoon baking powder
2 teaspoons pure vanilla extract
1 cup Wilton pink chocolate melts
1 bag juju flowers
4 green Sour Punch Straws
Easy Sugar Cookie Directions: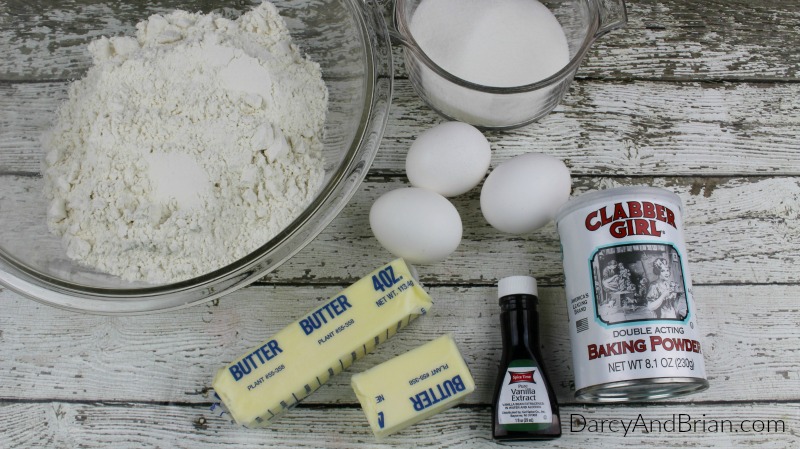 1. Preheat your oven to 350° Fahrenheit. Line a cookie sheet with parchment paper and set it aside.
2. Add the eggs and butter in a medium mixing bowl and whisk to mix well.
3. Stir the flour, sugar, and baking powder together in a large mixing bowl.
4. Add the vanilla to the egg and butter mixture and stir well. Then pour the mixture into the bowl with the dry ingredients. Blend until fully mixed together.
5. Line 2 cookie sheets with parchment paper and set aside.
6. Roll the dough out onto a floured surface.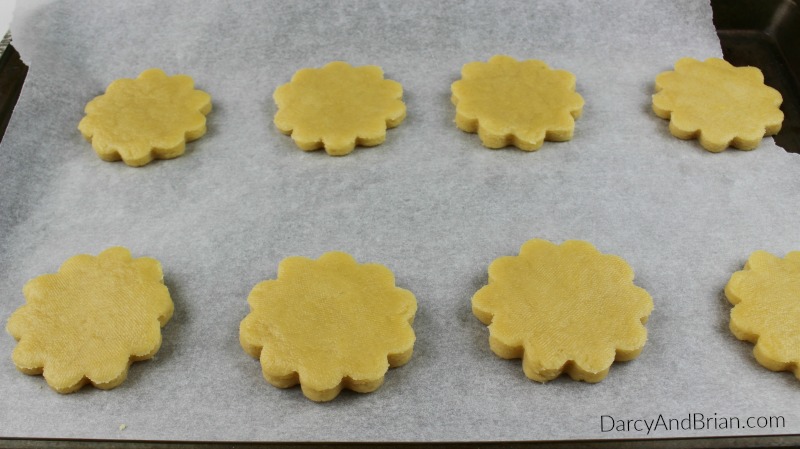 7. Using a flower cookie cutter, cut out 18 flower shapes and place them on the cookie sheets.
8. Bake for 10-12 minutes or until just beginning to lightly brown.
9. Cool on the cookie sheets for 5 minutes before transferring to wire racks to completely cool before decorating.
How to Decorate Juju Flower Sugar Cookies: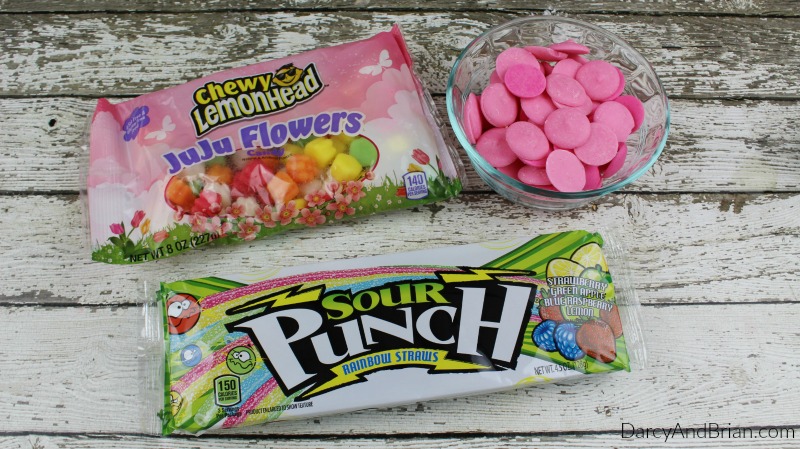 1. Line 2 cookie sheets with wax paper and set aside.
2. Cut each sour straw in half lengthwise. Cut each piece into 6 pieces. You will have 48 pieces total for the flower stems.
3. In a double boiler, add the pink chocolate chips and stir occasionally until melted. If you do not have a double boiler, you can melt the chocolate in 15 to 20 second increments in the microwave. Be sure to stir each time.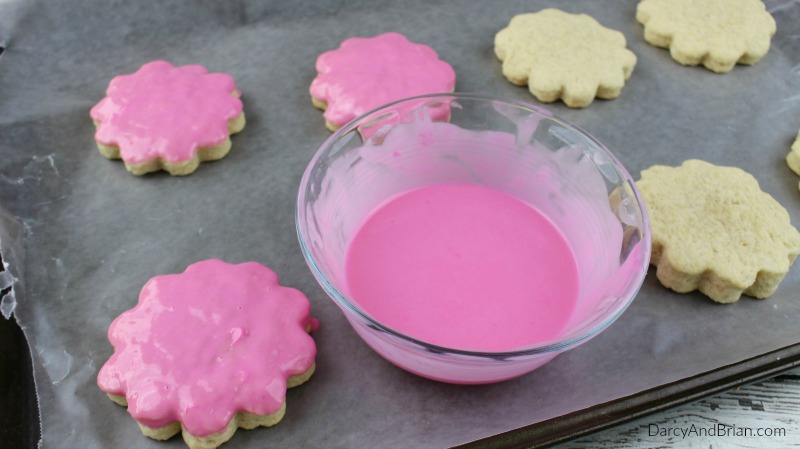 4. Pour the melted pink chocolate into a shallow bowl and dip the front of each cookie into the chocolate. Place them on the cookie sheets.
Note: You may want to dip only a couple cookies at a time to ensure you have enough time to decorate them before the chocolate hardens. As you get into a routine and can quickly add the candy pieces, you may dip more cookies in preparation.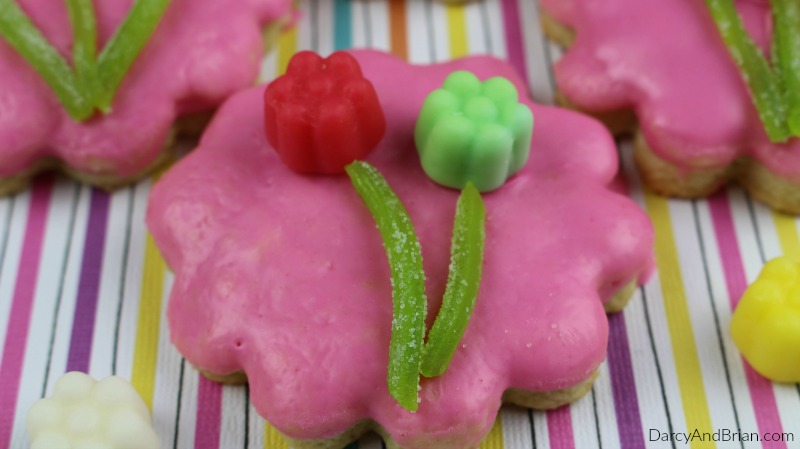 5. Immediately place 2-3 juju flowers on each cookie before the chocolate hardens.
6. Add 2-3 sour straw stems and press down gently.
7. Let the cookies "set" for 30 minutes to allow the chocolate to finish hardening.
8. ENJOY!!
The sour patch straws can be found at Walgreens, Walmart and Dollar Tree, among other retailers for under $1. The juju flowers can also be found at the dollar store.

We hope you enjoy baking and decorating your own batch of homemade sugar cookies. This flower cookies would make a lovely edible bouquet for a birthday party or a baby shower. I think they'd be lovely at a fairy themed party as well. Who would you bake these for?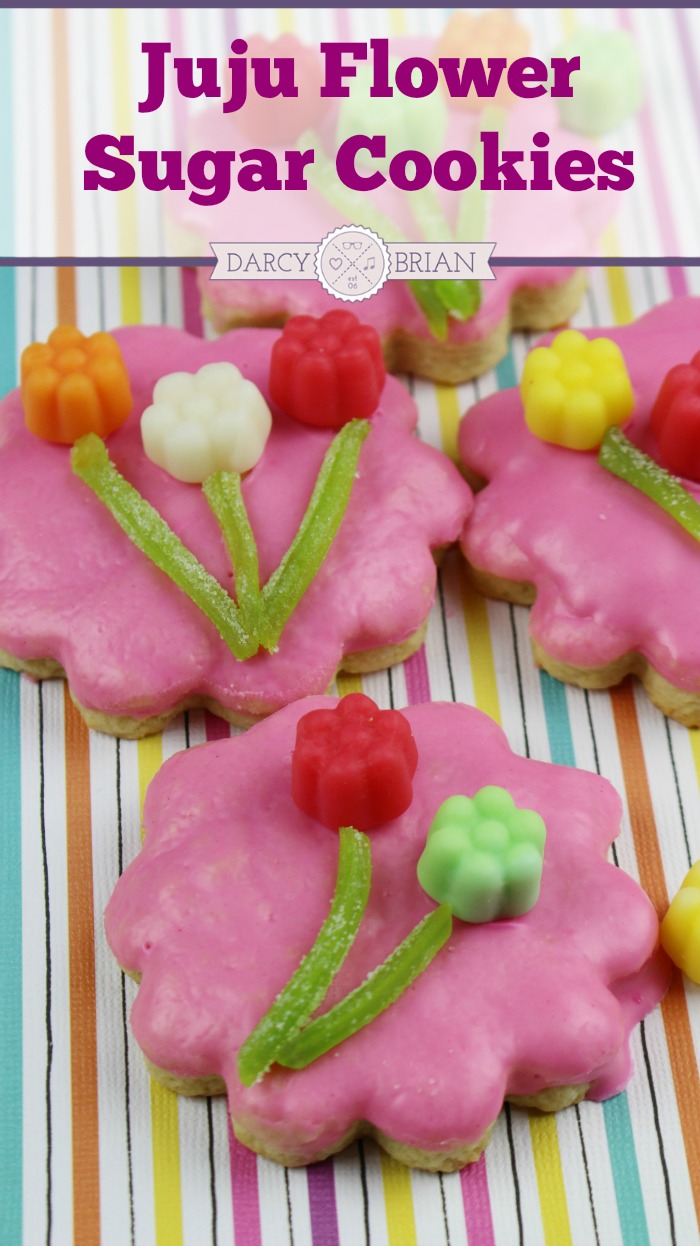 Don't miss these other tasty cookie recipes:
Strawberry Shortcake Pudding Cookies
Gluten Free Chocolate Chip Peanut Butter Cookies