Getting your toddler or preschooler the best riding toy will not only be fun and exciting but will also help them to develop their large motor skills.
Kids of all ages should be getting plenty of time to experience active play on a daily basis.
Providing and teaching how to use riding toys is just another great way to encourage children to move their bodies.
Looking for more ways to keep the kids busy? Check out these summer fun ideas!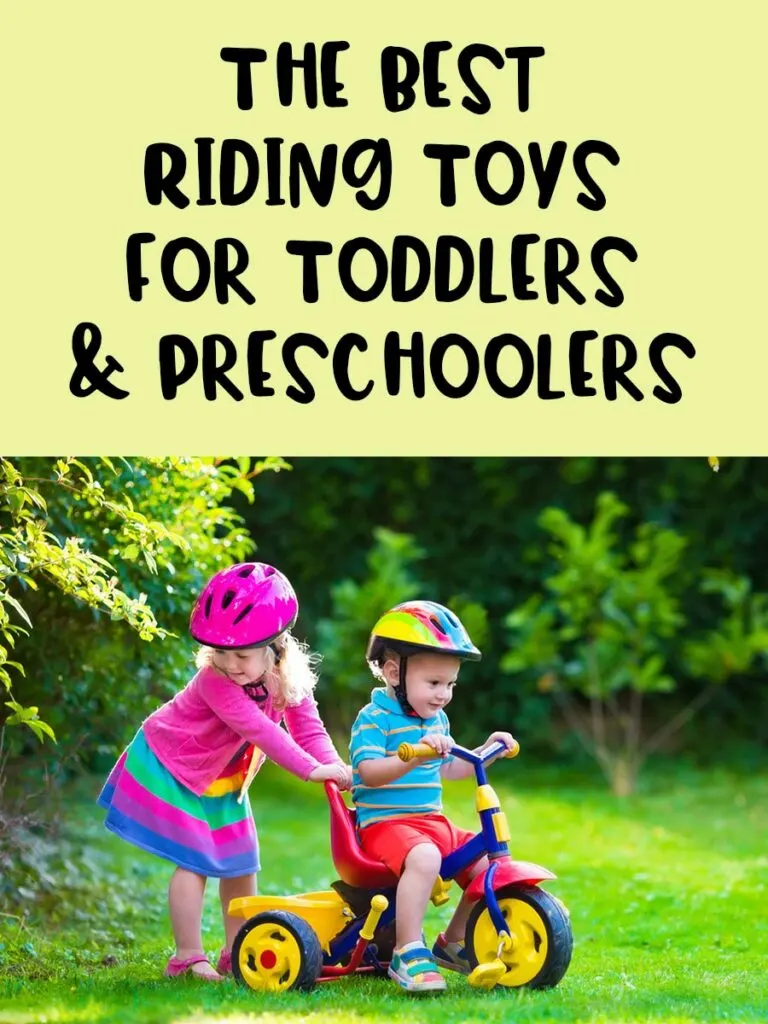 This post contains affiliate links. As an Amazon Associate and a participant in other affiliate programs, we earn a commission on qualifying purchases.
15 Riding Toys for Kids
Having a few different ride on toys that can be used inside your home as well as ones they can ride outside provides plenty of opportunities for gross motor skill development.
Here are some of the best riding toys for toddlers and preschoolers you can order from Amazon today. Don't forget to grab protective gear too.
1. Sit 'N Scoot
The John Deere Sit 'N Scoot is a cute farm play toy suitable for children 12 months and up. Its unique design allows toddlers to scoot by themselves or get pushed by adults.
Along with encouraging their motor skills, the ride on toy also has a horn that plays Old McDonald when pressed and an educational playset under the tractor seat that is complete with four animals that make animal sounds.
2. Sit to Stand Toddler Ride On Toy
Perfect for kids ages one to three, this Radio Flyer Busy Buggy features 17 sensory activities that highly encourage imaginative play and provide entertainment to toddlers.
It is a wonderful toy that will help in developing children's fine motor skills, imagination, and gross motor skills.
3. Go and Grow Lil' Rollin' Giraffe
Suitable for indoor and outdoor fun the Go and Grow Giraffe is sure to provide lots of moving and grooving.
Toddlers will have fun riding on this adorable three-wheeled giraffe bike that helps improve balance, coordination, and large motor skills.
The back wheel is oversized and has a wheel guard to ensure the safety of your child.
Little Tikes recommends this riding toy for kids aged 12 months to three years.
4. Minnie Mouse Ride On
Kids always love Disney characters, and you will never go wrong with this Minnie ride-on toy.
It has a peek-a-boo window and a clock toy in the front, a honking horn, and a steering wheel for a fun driving experience.
Great for kids ages 12 months to three years to push or ride with ease.
5. Rocking Horse
Designed especially for toddlers, this classic rocking horse is durable and child-friendly.
It has smooth edges and corners, easy-grip handles, a low saddle, and a high seatback to make sure that kids will be comfortable and safe as they have fun rocking back and forth.
The rocking horse comes fully assembled and Little Tikes recommends it for kids ages 12 months to three years old.
6. Hopping Horse
This Bouncy Pals inflatable hopping horse has a premium, safe, and washable removable plush cover made of polyester. It's very easy to assemble, and it comes with an air pump.
Ideal for 18 months old and above, this ride-on toy also gives you the choice of ordering different animal designs such as a dragon, reindeer, cow, zebra, bull, and unicorn. Order a few extras and you can have a mini zoo!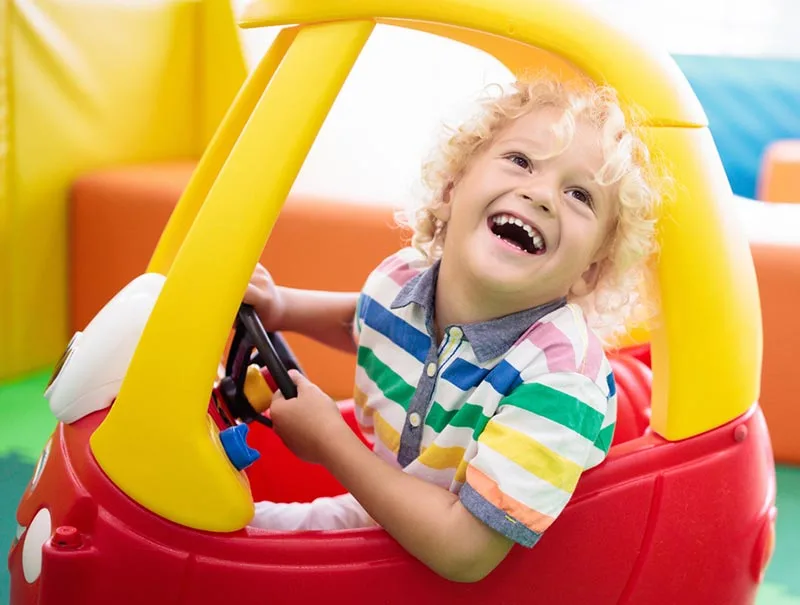 7. Cozy Coupe Car
With this ride-on car, parents can choose to lead and guide the kids or let them control on their own.
The Little Tikes Cozy Coupe ride-on toy has a removable floorboard and a back handle that makes it easy to change the toy into scoot mode and parent-push mode.
Plus, it's also complete with working doors, ignition switch, horn, steering wheel, and gas cap. It's almost like a real car for kids 18 months to five years old.
8. Disney Planes Toddler Ride-On
The Dusty Crophopper ride-on toy is perfect for toddlers that love the movie Planes.
It has lights, landing and lift-off sounds, steering wheel, horn, and it also plays Dusty's favorite songs.
It's time to start your 12 month to three year olds out on their first flying adventure!
9. Royal Horse & Carriage
Make your little one feel like royalty with this adorable carriage ride-on toy. They can rule their kingdom inside or outdoors.
The horse and carriage has reins, a working door, a removable floorboard, a roof handle, and a storage space where kids can put their drinks, snacks, or toys.
Little Tikes recommends this toy for kids aged 18 months to five years old.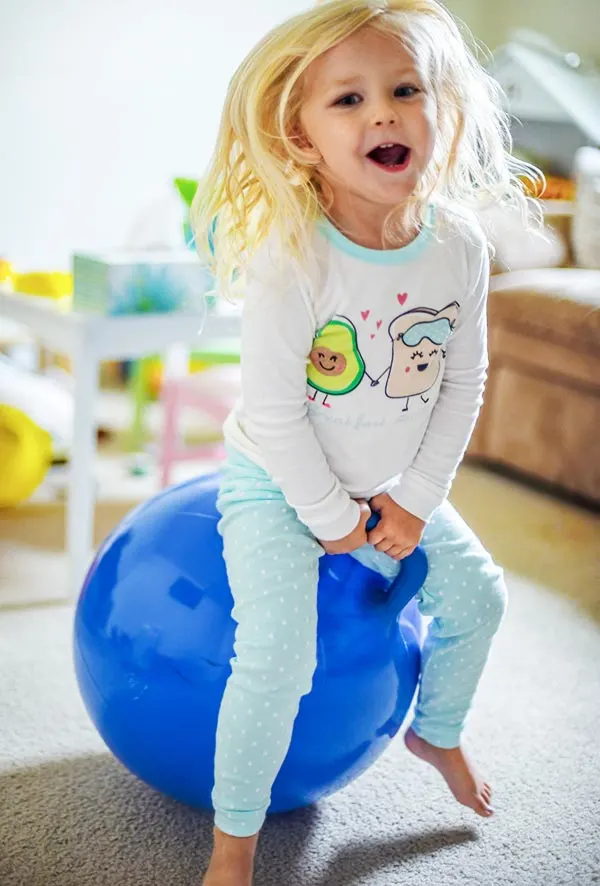 10. Hopper Ball
A hopper ball (also referred to as a hippity hop or space hopper) is like a large bouncy ball with a handle. It may be a simple toy, but it can bring a lot of joy to kids.
Plus, it is also a great way to enhance large motor skills, body coordination, and balance. A small hopper ball is perfect for kids ages three to seven that are less than five feet tall.
11. Harley-Davidson Tough Trike
Fisher-Price's Harley-Davidson Tough Trike is the perfect way to help your toddler or preschooler learn how to pedal a riding toy.
They will be cruising in style with this pedal-powered riding toy for kids aged two to five. Designed with rugged, durable tires, easy-grip handlebars, and a stable wheelbase for lots of fun!
With cool Harley Davidson styling, this rugged trike will be your little one's favorite ride for years.
12. 3 in 1 Kids Tricycle
This 3 in 1 tricycle offers three unique ways to ensure a fun and safe ride for your child. It grows with your child, allowing you to easily convert it from a toddler trike to a classic trike.
Start with the three-wheel sliding mode for toddlers aged 10 months to two years. Switch to two-wheel glide and balance mode or pedal mode for two to three-year-olds.
The sturdy steel construction, quiet ride wheels, and adjustable seat ensure that your child will enjoy the tricycle for years!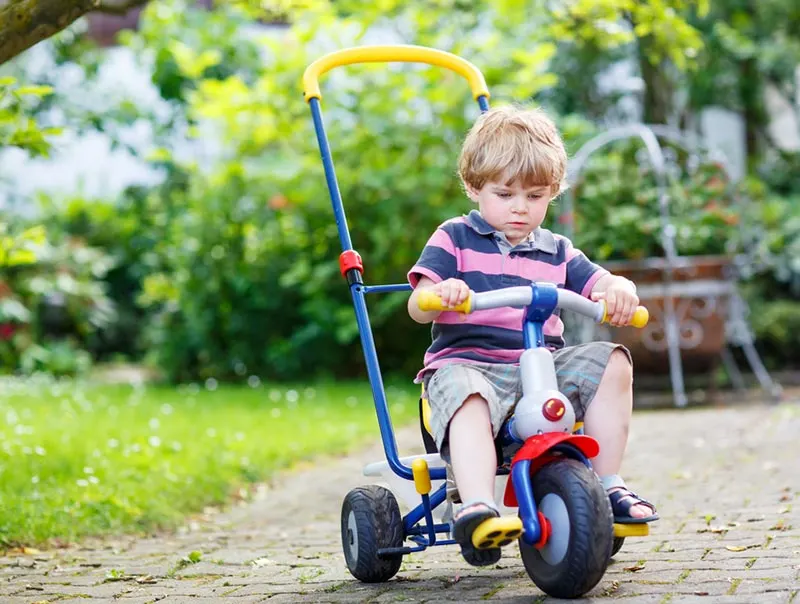 13. Deluxe Big Flyer
The Deluxe Big Flyer is a fun way to get kids outside and active. The large 16" front wheel provides a smooth ride for your little one while the adjustable seat grows with them.
Kids will have tons of fun riding around on this stylish chopper. This outdoor toy is recommended for kids three to seven years old and comes fully assembled.
14. T-Rex Truck
All of the kids we know love dinosaurs! The Little Tikes T-Rex Truck Ride-On is the next step in your child's outdoor adventures.
This riding toy easily transitions from kid-powered fun to parent-controlled with the convenience of a pushing handle.
Plus, it makes realistic sounds that will delight your little one. It is recommended for three to five-year-olds and has a 50lb weight limit.
15. Kids Pedal Go Kart
This pedal go-kart is a fun way to get your child having fun outside. The go-kart riding toy features smooth, quiet operation, easy steering, and no batteries required.
The four wheels give toddlers and preschoolers a stable ride. Kids get a great workout while pedaling around and can control their own speed.
Little ones can pedal around on hard surfaces and grass for lots of outdoor fun. Rated for kids 36 months to seven years.
More Kids Activities: