I absolutely love this list of breakfast smoothie options that are easy, delicious and most of all healthy for you!
I, of course, love making recipes like these as a healthier option for a snack or dessert for the kids. Smoothies are so versatile, and this list is just the beginning!
Whether it's for a breakfast smoothie or a midday pick-me-up, it's hard to go wrong with a smoothie.
I like them better than juice as I find smoothies to be more filling (thus I don't drink more than I should in one sitting).
But also? Smoothies are like a treat for me – even when they are chock full of healthy ingredients! I love milkshakes, so I don't feel deprived when I have a smoothie instead.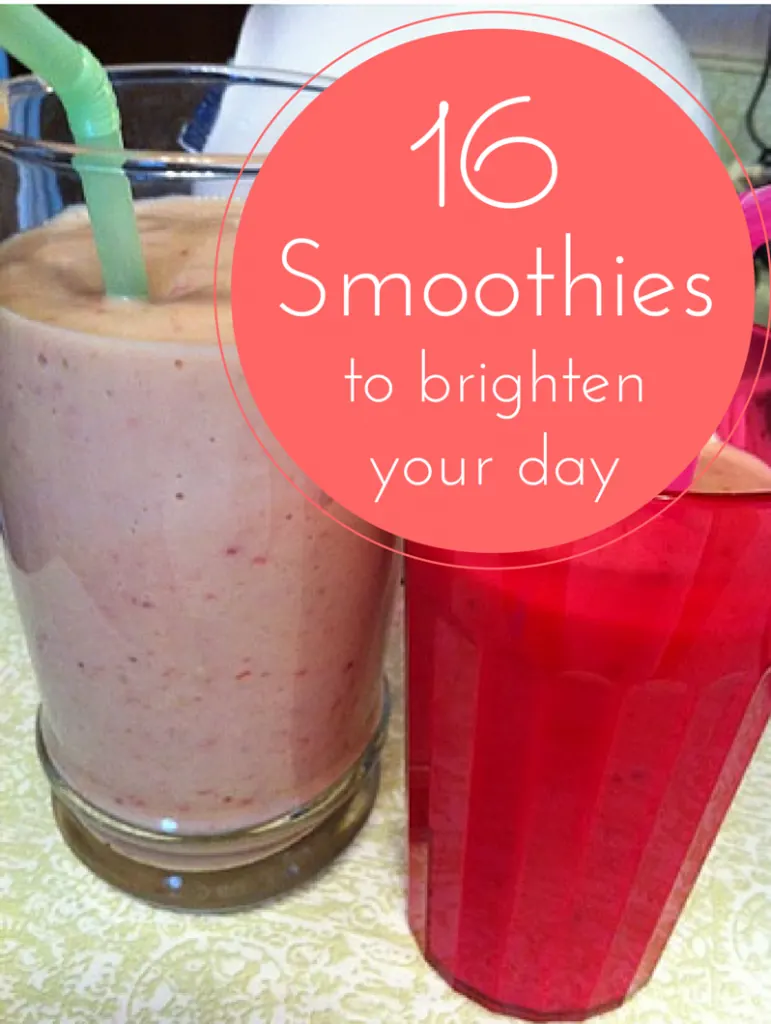 I love smoothies even more now that I have kids because they slurp them up without question… making it easy to slip in nutrients like spinach! (Let's be honest – *I* need to sneak more servings of greens in for myself too.)
A couple favorites in our house are Peanut Butter Banana Avocado Smoothies and Strawberry Banana Avocado Smoothies. You can also sneak in the ever popular kale into smoothies!
And as if breakfast smoothies couldn't get any better, they are easy to make and you can do prep work ahead of time.
All you have to do is grab some 1-2 cup freezer bags, add your diced fruits, label, and freeze. Don't forget to add them to your meal plan!
When you are ready to make a smoothie, you simply grab a packet from the freezer and add juice or milk as desired!
breakfast smoothie Recipes
This list is chock full of delicious flavors even the picky eaters in your house will love.
Using imagination for things like coconut lime, gingerbread, and even carrot pineapple makes your breakfast smoothie a treat that everyone will be begging you to make more often.
When you make a smoothie for your family, think about how to make it healthier yet still tasty.
When you decide to add in something like kale or spinach, you want to amp up the sweet with berries or melon that will offset that bitterness.
I love adding pineapple or strawberries that have a ton of natural sweetness and are rich in antioxidants.
Some great breakfast smoothie add-ins:
Frozen fruit: pineapple, mango, strawberries, blueberries, blackberries, raspberries, watermelon, papaya
Liquid: orange juice, pineapple juice, mango juice, apple juice, almond milk, coconut milk
Optional: Greek yogurt, non-fat yogurt, fresh fruit like bananas or apples
What are your favorite smoothie add-ins?
More Breakfast Recipes: