Hey there! Hi. Yes, you. How are you? I've been thinking about you. No really, it's true. Not in a stalkerish kind of way, but I've been wondering how your holidays went and if you wondered where the heck I went. I'm still here! Well, not always herehere, but around. I'm rarely completely unplugged, but balance can be a fickle thing and time is a commodity that's in short supply. I know you get it. Anyway, I miss just sitting down to chat with you a bit, so here I am. Trying to kick off the new year around here. Trying to sort things out and sharing some updates.
So, in no particular order… here we go. Poppin' the blog cherry of 2015.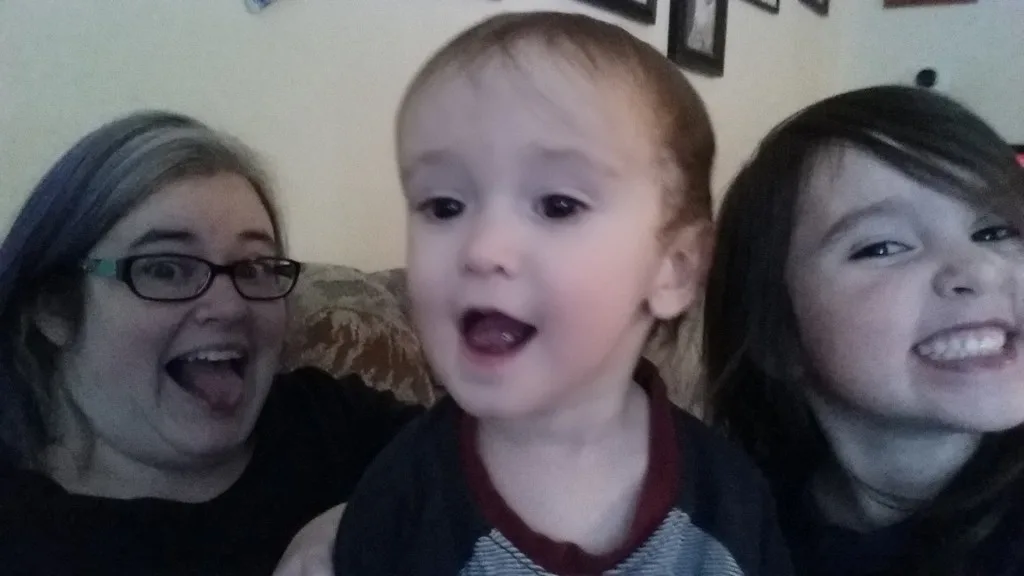 Oh, and I'm going to pretend these are questions you are asking me. Cool? Ok, cool.
What's the deal – are you going to keep blogging or what? I never know when you're going to post anymore!
I know, I know. I've been incredibly inconsistent over the past year. Basically once I got an actual job in social media and writing for other parenting sites, my own blog got moved to the back burner. My heart aches at all the posts I've wanted to write, but never got to. Then about once a year I go through this inner dilemma of should I or shouldn't I – where I think about the pros and cons of being a digital family. Ultimately I can't seem to ever completely quit the internet though! Plus, I like writing and the need to express myself with an outlet always calls me back.
Ok, short version is yes. Yes I'm going to keep blogging. Since I've continued to fail at thinking and treating my site like a business 100% of the time, things will continue to be a bit loosey-goosey. I would like to get back to at least one to two posts a week. But please don't quote me on that. Plus it's hard to make any final decisions while my children scream as I write this. Seriously, I've been working on this post for at least three days.
What about videos? For awhile it seemed like you were recording everyday.
Recording video is awesome and fun. Editing is not as fun. You know, I spent two hours putting together a birthday video for Xander only to have the program crash and lose everything? I cried. I have yet to re-do it. Also, the kids don't respect me as a creative director nor do I have the time to clean up every time I want to record a vlog. So, trying to get back into it somehow.
Are you really trying to get pregnant again?
Yes! (and to your follow up question of "are you crazy?" the answer is a resounding YES) You can follow along with our journey to conceive baby number three over at Mom.me – I share something weekly about it there.
Weren't you running and losing weight last year? How's that going?
Ugh, you just had to ask, didn't you? I knew it was coming. Well, lifestyle changes are… hard. These are things I've struggled with for more than 20 years. I keep making progress, but I keep slipping too. The Couch to 5k program hit a hard week coupled with a nasty chest cold that lingered and I got out of habit of running regularly. Then it got cold. (Excuses, yes) As for my weight loss, I stopped following Weight Watchers. I know WW will help me lose the weight, but I also don't want to live my life always counting points. It's a struggle. We continue to work on overall healthier choices… and going from there.
I honestly don't know what my weight is right now. I haven't weighed myself in a couple months. Last time I weighed myself I had gained a couple pounds back. I think right now that's probably still accurate. Good news is I haven't re-gained it all! I haven't had to go back up in pants sizes or loosen my belt. I do have to walk a few miles a week to get Rissa from preschool and to/from dance class since we still only have one car. So, I think I'll be set to start running again come spring.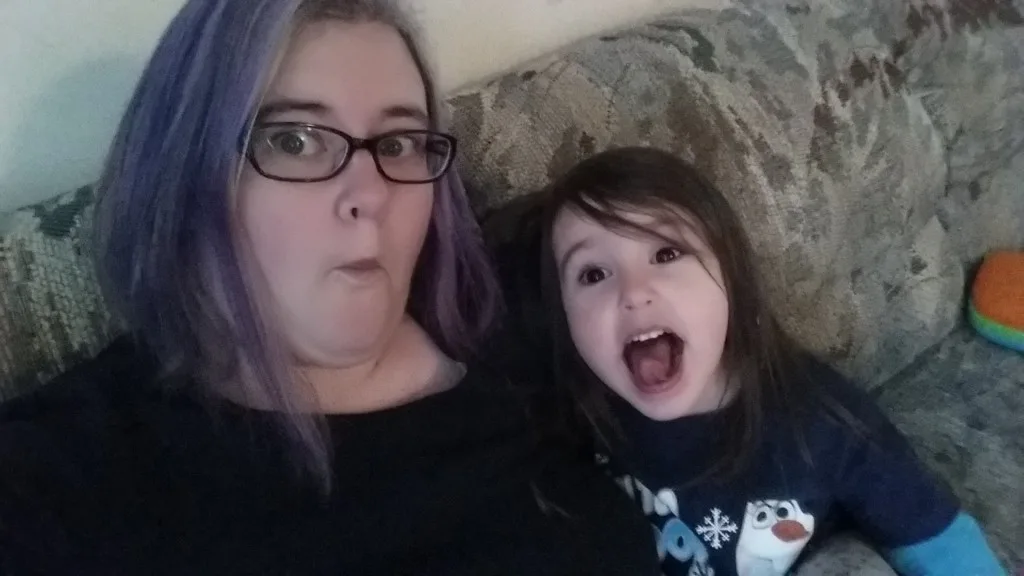 What else is new?
Oh jeez, let's see… we're making progress to become debt-free. The kids are growing way too fast. I have purple hair. I'm a newly trained postpartum doula and will be working towards certification. All things I need to get blogging about and share with you!
What are you binge watching? I'm so glad you asked. This has been a favorite topic of mine lately since I'm finally able to get some quiet time in most nights after the kids are asleep.
Right now I started watching Tudors. I watched every episode of Reign in the matter of a couple weeks. (Yes, it's very much an obsession right now, I think.) I also caught up on Once Upon a Time over the past couple months. I have a very long list of shows I want to watch. Some nights I watch anywhere from 1-4 episodes after the kids are asleep. Other nights I am working or gaming or otherwise occupied. Oh, we're also working our way through the rest of Parks & Rec. We last left off somewhere around season four, so we restarted it.
I love your blog and all, but when are you getting a new design? And what happened to all of the giveaways?
Holy crap. You know what? I hired a designer last year and wanted to unveil it last March. Oops. Ok. We need to get on it…. before it's time to change it already AGAIN.
As for giveaways, those have slowly gone the way of the Do-Do bird around here. We might still have some occasionally, but it'll never be like it once was. Most of them are local ones these days.
Where else can I find you if I just want to lurk and see what you're up to?
I'm all over, haha! You can find my writing at The Stir and Mom.me. To get glimpses into life, follow me on Instagram. And to find out what articles and posts I'm sharing there's the Facebook page or Twitter. Oh and don't forget noms and such on Pinterest!