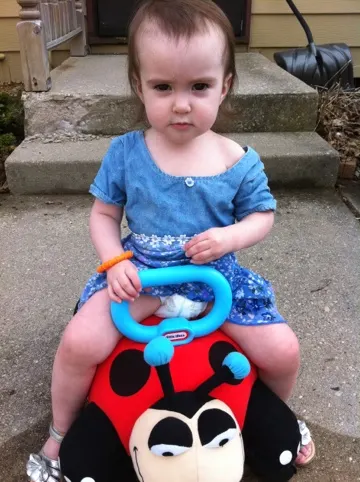 Thinking about getting ride on toys for your toddler or preschooler?
Once Rissa started climbing and straddling the arm of the couch, I thought it was time to get her some ride-on toys.
They look like so much fun and easy to use, right?
I had an old rocking horse suspended on springs which I loved as a kid! (Though I think that one would be considered unsafe nowadays.)
We wanted one our daughter could ride inside or outside even though our house is small. However, I didn't expect to have to teach her how use a ride on toy.
I mean, this child has figured out how to shuffle around while buckled into her toddler rocking chair.
She knows if her feet can reach the ground then she can push back or walk (sort of) while sitting to move forward. So, why does she seem unsure about her rider toys?
She has three of them now, but doesn't really ride any of them yet. We are making progress though! I do think one factor is her age.
These toys are intended for children 18 months and older and she's not quite there yet. I figure it's more about development and motor skills that most kids possess around that age.
The first one we bought for her birthday. Initially she did not want to even sit on it, she just wanted to press the noise making buttons! Slowly she has started to sit on her toys more.
Eventually she started pushing backward a bit, but hasn't quite figured out how to go forward. She has learned that they make great step stools for reaching places she shouldn't (a problem-solver age is).
Ride On Toy Tips for Toddlers
I've been trying a few things to help her get more comfortable about riding her Ride-On toys:
Set her on it and gently place her hands on the handles. If she protests, don't force it or she might get scared of the toy.
Give her a helping hand or a boost as she practices mounting and dismounting. Part of her love of climbing is getting on and off things, but she can't always do it by herself.
Leave the toy out and accessible. I keep it around the kitchen and living room so she sees it. I hope by seeing it she will feel it is familiar.
Let her push it around. She's learning how it works from a different vantage point.
Gently push her around on it. She sits on it and waits for it to go, but doesn't like to be pushed forward. I try to slowly push it so she can feel how her leg moves and needs to be repositioned.
Use a rider that has 360 degree movement. The most frustrating thing for Rissa was being stuck going only one of two directions. She would back herself into a corner with no where to go!
The Little Tikes Pillow Racer has 360 movement, allowing her to scoot sideways, easily turn and spin. It also makes it easier when she's pushing it around – less likely to get stuck.
The Pillow Racer is unique with the directional freedom it offers. It is also the only rider we have that didn't require any tools for assembly! I easily put it together while Rissa begged to go outside, and was done in no time. The hardest part was stretching the fabric over the no-tip stabilizing bar – there just wasn't a lot of give.
The other unique feature is the soft cushy creature that makes the seat can be removed for use as a cuddly pillow. I personally do not want to reassemble it constantly, so Rissa is unaware it can do this (until she learns to read my blog!).
I was nervous that she would fall off the back due to the curve of the ladybug, but she holds on! Rissa does have trouble hopping on this one by herself because the ladybug is wider than her horsey. She likes pushing it around though.
I'm betting she will be a pro at riding it before the summer is over. It will probably become difficult to separate her from it!
You can check out the Pillow Racer and other ride-on toys at Amazon to find the perfect one for your child.