We received El Capitan and Quoridor, two quick and easy to play brain games to review. This post also contains affiliate links.
Confession: I don't like playing memory match with my kids.
My kids love it because their memory is sharper than mine (because I suffer from "mom brain"), which means they usually win. I enjoy playing a variety of board games, but many strategy games are too long to play with my kids. They either lose interest or it's nearly impossible to finish the game before bed time.
So, how do we find quick games that are fun for all of us?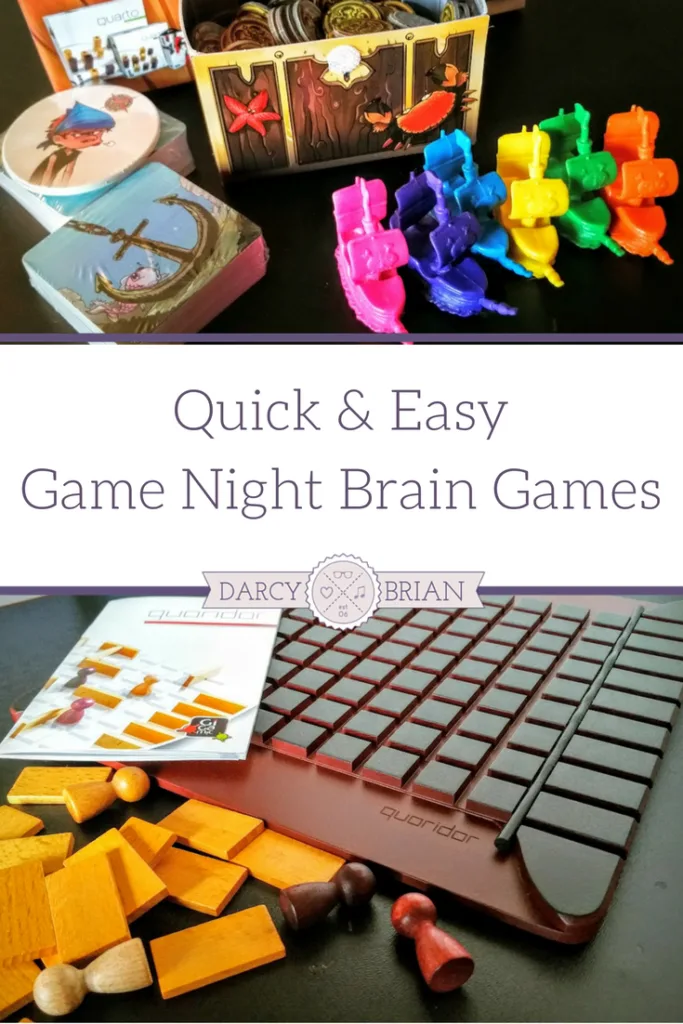 2 Quick Brain Games Your Family Will Love
I absolutely love finding games that are easy to pick up and play. Games that don't have a gazillion rules with pages of instructions. When my six year old asks to play a game with me, I want a game that's easy to set up and explain. Bonus if we can complete the game in less than 30 minutes. I don't know about your kids, but as soon as we finish mine ask, "Again?" Quick games are perfect for playing back-to-back!
Memory Game – El Capitan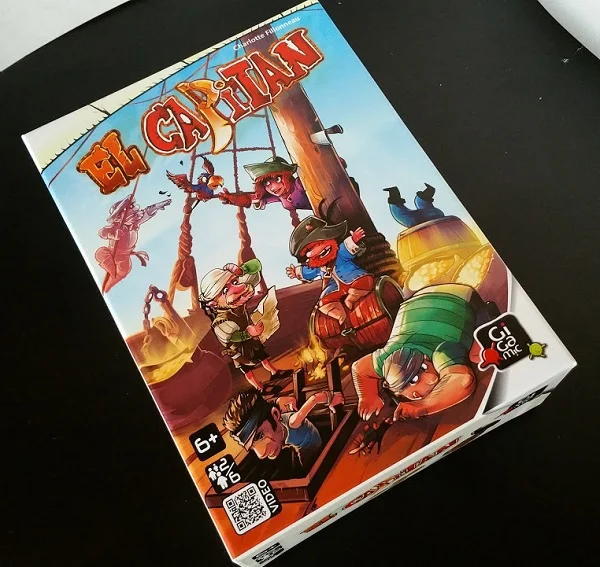 El Capitan is a fun twist on classic memory games. Everyone gets their own set of 12 cards. They must arrange them in a rectangle and try to memorize them before flipping them over. Once the Captain's card is drawn, each player sets their ship on top of the matching card. You want to be quick AND accurate in order to win the most gold pieces.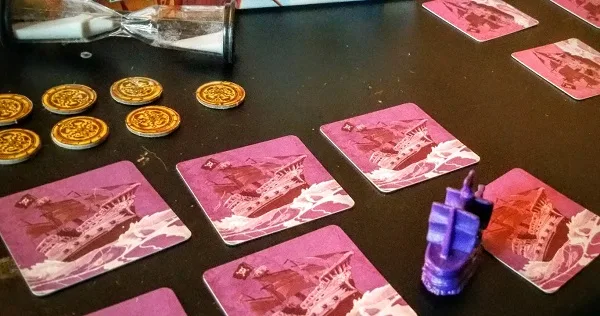 There are also three special cards: Spyglass, Storm, and the Jolly Roger. If Storm is drawn, everyone rearranges their cards! (Thankfully you get time to memorize the new order, but it still throws you off.) The Jolly Roger is in true pirate fashion – if you draw that card, you switch around two of your opponent's cards!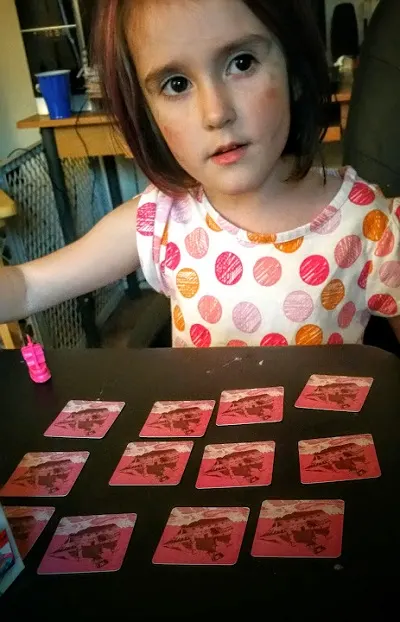 Why this game is perfect to play with a preschooler or kindergartner:
Easy set up
Simple rules
No reading required
Play in about 20 minutes
Counting practice
Keep your memory sharp as you compete for the Captain's gold! Click here to buy El Capitan on Amazon.
Strategy Game – Quoridor
Quoridor is unlike any game I've played before. The objective is simple: to cross the board before your opponent. However, it gets tricky because you try to slow them down by putting up fences. You are not allowed to block all access to the other side though, creating a unique strategy puzzle game.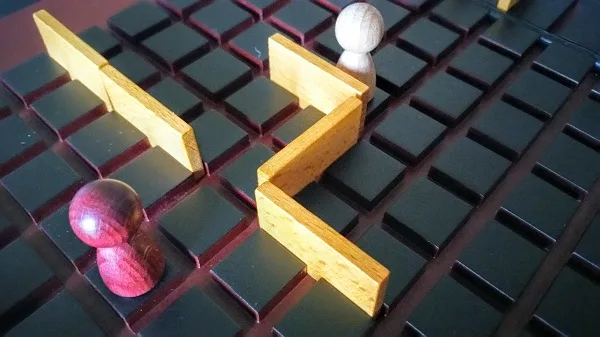 Within a few minutes of opening the game, we were playing. I played against my husband first and enjoyed rerouting his pawn with the fences! Although the recommended age is eight years and older, my six year old daughter asked to play too. She picked up the rules quickly and had a blast playing against each of us.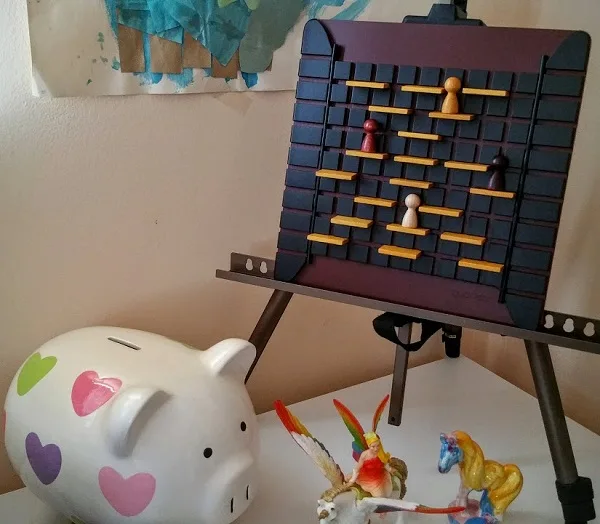 Quoridor is also perfect for functional decorating with its beautiful wood pieces. My daughter and I took turns creating designs on the board. I could not find one of my decorate plate stands to place it on, so we improvised with my portable tabletop easel.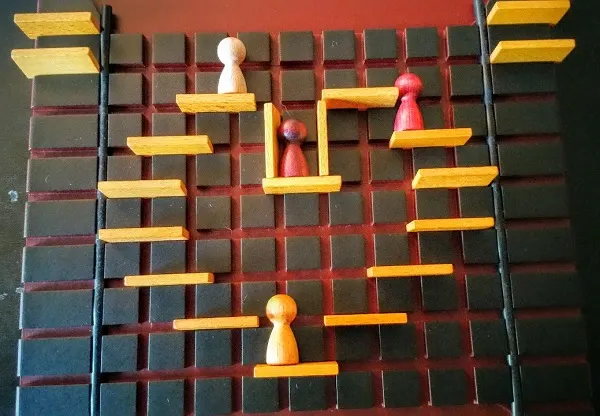 It looks gorgeous on a bookshelf and can be taken down at anytime to play. When you're done, create a new design and it's decorative again!
You can order Quoridor online at Marbles or Amazon.
I loved how fast it was to play both of these brain games casually before dinner. Having a selection of quick and easy games on hand is ideal since we like to play games frequently throughout the week. (I prefer to keep longer games for weekends and dedicated game nights.) We hope you give these Gigamic games a try! El Capitan makes a fantastic stocking stuffer for kids and Quoridor makes an excellent family gift.
Giveaway – Quoridor Classic Game
Eligibility: Open to US residents 18+ only. Giveaway ends 11:59PM CT on November 20, 2016. Winner will be chosen randomly from entrants and contacted via email.
a Rafflecopter giveaway