Have your kids ever asked you embarrassing questions? Loudly? In public?
Does the thought of explaining where babies come from make you cringe?
I used to think I'd be totally cool when my kids asked questions about sex, except none of those conversations happened the way I imagined it. Hopefully these tips and resources will help you feel confident to talk with your kids about sex education.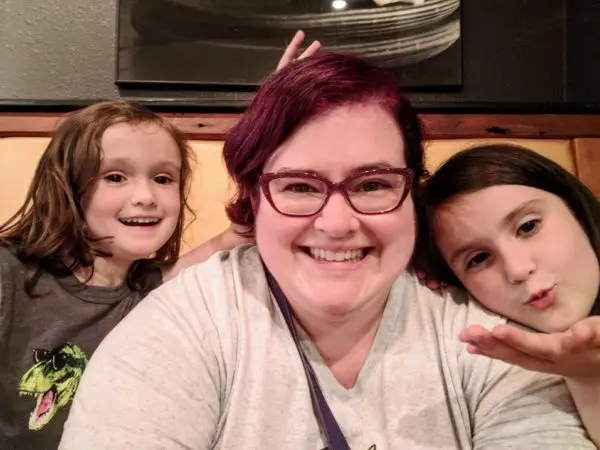 How to Talk to Young Kids About Sexuality Education Topics
This is a sponsored conversation in partnership with AMAZE to share helpful resources for parents.
Growing up, my dad talked fairly open with me. I certainly knew more than what was being taught in my grade school health classes. I'm thankful that my parents addressed topics other family members thought were inappropriate for me to learn about.
Since my dad didn't shy away from my endless questions as a child, I felt comfortable going to him when I noticed my body changing. So, when I got my first period while at school in 6th grade, I didn't freak out. Instead, I knew what was happening and calmly asked my teacher if she had any pads in her desk.
I want my son and daughter to feel comfortable asking me questions. Even if I feel uncomfortable, I want to know what is going on with them. Also, I want to ensure they receive correct information, not the crazy misinformation that can get passed along by other kids.
My kids have always asked lots of questions, but they have a knack for asking about sensitive topics while out in public.
I've learned the timing is never right for anything that is worth discussing.
Most of the time, I am able to provide matter-of-fact answers that are age appropriate. I've learned that young children are satisfied with basic answers, but we tend to overthink their questions.
I wish I had a resource like the AMAZE Parent Playlist when I first had my daughter. Remember how I said I always imagined I'd be totally cool whenever my kids would start asking sex ed questions?
I imagined she would be older when she started asking about sex, babies, and puberty. Instead, she started asking questions when she was a toddler.
I was pregnant with her baby brother, so of course she had questions.
Then as they both grew, they had questions about each other's bodies.
As they continue to be my shadows, they have more and more questions about my body, their bodies, Daddy's body… you get the idea.
While I may feel comfortable answering their questions overall, sometimes I'm not sure how much information to give. For example, my kids (who are 5 and 7 years old) have already started learning about menstrual cycles. I want them to be informed, but not scared.
But there are deeper topics I feel uncomfortable or uncertain discussing. What about issues they hear on the news?
That's where AMAZE comes in.
AMAZE has partnered with sexual health expert and author Deborah Roffman to launch the "AMAZE Parent Playlist" for parents of 4-9 year-olds. The Parent Playlist helps parents engage young children (ages 4-9) in open, honest conversations in a fun, engaging, and age-appropriate way.
With titles ranging from "How Do You Talk to Young Kids About Sex" to "Where Do Babies Come From" to "Is Playing Doctor OK?" the 10 animated videos in the AMAZE Parent Playlist are designed specifically to train parents on how best to talk with their children about sex, healthy relationships, and growing up.
AMAZE is also dedicated to providing accurate and inclusive sex ed videos to 10-14 year olds. So, they have great resources to help you start conversations with your younger children and then have resources perfect for older kids as well.
8 Things to Know Before Talking to Kids About Sexuality
Information is helpful
Be their go-to resource
Don't wait until they ask questions
Giving too much information too soon is a myth
Gender conversations matter
Let their questions guide the conversation
Talking about where babies come from is not the same as talking about adult sex
It's never "just talk" and never "too late"

While watching all the AMAZE Parent Playlist videos (they are super short and easy to watch), I loved the tip on getting back to them with an answer later. It's my go-to now when those questions come up at the grocery store. Because they will!
Do you know another parent that could use this information? Please share the AMAZE Parent Playlist with them and follow @AMAZEParents on Facebook for more tips and resources.