It's just not a party without cocktail wienies! This is a pretty basic recipe but since it is very easy, I thought I'd share it with you. I think it's the base sauce most people use – I know my mother-in-law makes it similar to this.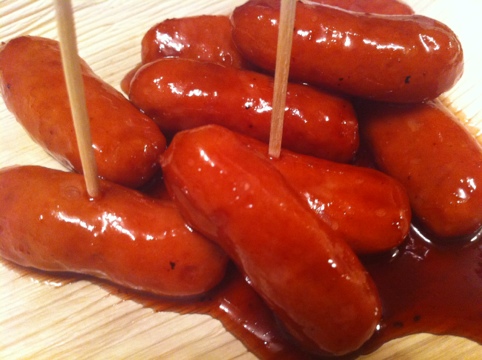 Ingredients:
1-2 packages of little smokies or wienies (I usually just do one)
1 12oz jar grape jelly
1 bottle (no more than 18oz) Sweet Baby Ray's BBQ sauce
1/2 tsp chili powder (or to taste)
You can use any jelly, any brand. I just get the store brand. Same goes for the BBQ sauce, but I like the tang of Sweet Baby Ray's.
Directions:
1. Empty whole jar of jelly and whole bottle of BBQ sauce into a small-medium sauce pan.
2. Add medium heat on the stove, stirring occasionally until nearly smooth.
3. Stir in chili powder.
4. Drain wienies and stir in.
5. Cover and simmer for at least 15-20 minutes.
6. Serve with or without toothpicks. Yum!
Subscribe
Get weekly sanity saving parenting tips, recipes, and kids activities.