I've been lazy when it comes to cooking meals lately due to being exhausted and not wanting to make the same thing over and over. This dish is simple and easy and tastes great!
Lemon Chicken Recipe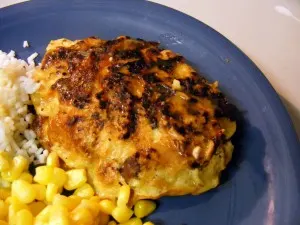 Part 1:
1 tbsp garlic powder
1 tsp olive oil
2 cups chicken stock
2 tbsp lemon juice
2 tsp water
2 tsp cornstarch
1 tbsp parsley
Simmer garlic and olive oil in medium sized pot, add chicken stock. Simmer on high until reduced to half, about 10 minutes. Add lemon juice. In a small bowl or glass mix cornstarch and water. Add it to the stock, expect it to thicken quickly, but not fully. Add parsley, remove from heat covering to keep warm.
Part 2:
2 tbsp olive oil
1 egg, 1 egg white
1/2 c flour
1/2 tsp salt
1 tsp garlic powder
3 chicken boneless, skinless chicken breast
Heat oil in a large skillet.
Mix flour, salt and garlic powder together in a shallow bowl or plate, beat egg and egg white in another shallow bowl.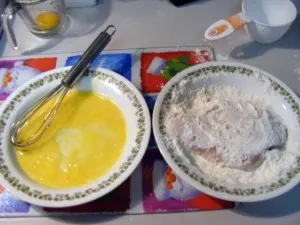 Once pan is heated and oil is hot start dreading the chicken in the flour mixture followed by a dip in the egg wash. Drop onto the hot pan. Cook, on medium heat for 5 minutes on each side, until golden brown and cooked through. My pan was a bit too small, I had trouble turning them over without losing the coating from the bottom of the chicken.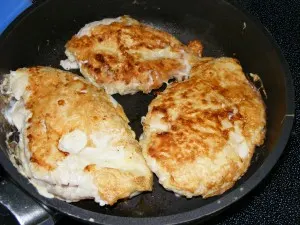 Add the lemon sauce to the pan with chicken cooking for 5 more minutes.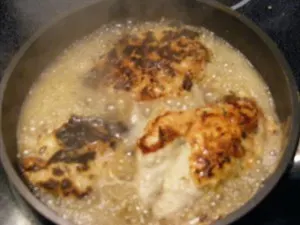 The flavors are great in this, simple, not too many ingredients, great taste. I used some of the lemon sauce drizzled over my rice as well, yum.