Are you planning a trip to the Minnesota State Fair with your family?
Wondering if there is enough to do with the kids? Or if it is worth it?
This was our first time going to the Minnesota State Fair and I'll share why we enjoyed attending, some highlights from our family trip, and a few tips for when you go!
We visited Roseville, Minnesota as part of a hosted press trip with our family. This means our lodging and passes for attractions were provided in order for us to share our experiences with them and you. This post also contains affiliate links and we may earn a small commission if you make a purchase.
Planning Tip!
If you are planning a family trip to the Minnesota State Fair, I suggest staying at a hotel in Roseville. It is perfectly positioned between Minneapolis and Saint Paul which means its very close to the Minnesota State Fair (did you know the fair is so big it has its own zip code?).
We stayed at the Courtyard Marriott in Roseville. It has free parking and it's close to a state fair park and ride. You can take the hotel shuttle to and from the park and ride or easily drive over to it.
If you are taking a stroller, you may want to drive over to a fair park and ride. Otherwise, you can rent a stroller or wagon once you arrive at the fair.
Things to do with Kids at the Minnesota State Fair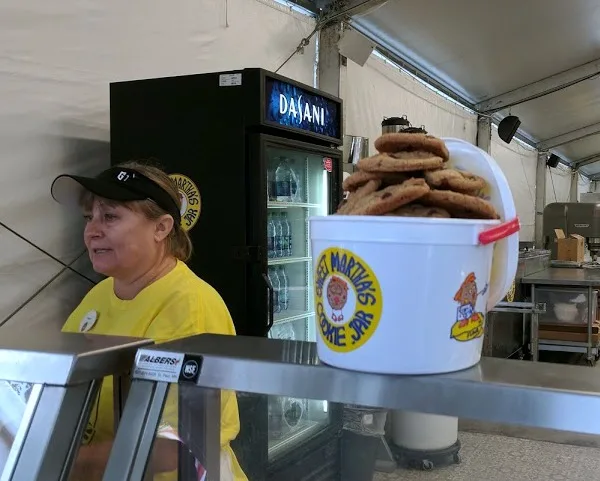 Visit Sweet Martha's Cookie Jar
Sweet Martha's bucket of cookies is iconic, but did you know they started as a frozen yogurt shop in downtown Minneapolis? When they applied for a booth at the state fair, they were turned down because they didn't need any more froyo stands. But, they mentioned making cookies on their application because they would use it as a topping.
They finally had the opportunity to be part of the fair, but as a chocolate chip cookie stand. According to Martha's daughter, the cookie we know today is a combination of both of their grandmother's cookie recipes.
It's a place you must stop with the kids because cookies! Watch their eyes light up as they watch the staff scoop cookies into overflowing buckets. They've grown to three locations throughout the fair. We visited the largest location (which also tends to be less busy than the others). At full capacity, they bake around 1 million cookies a day. A DAY!
In 2018, they will be celebrating 40 years at the Minnesota State Fair!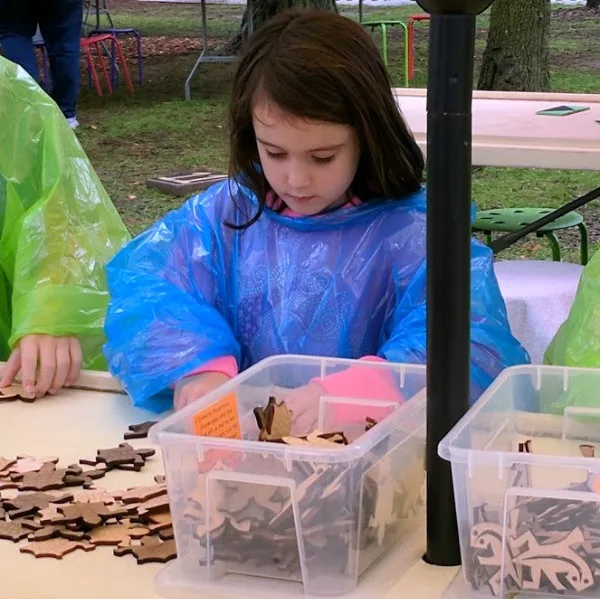 Play and Learn at Math On-A-Stick
Free kids activities are always a plus and learning through play is even better. Make sure to take a break from eating one of the 47 foods on a stick and stop by Math On-A-Stick. There are several activity stations and the kids don't need much direction to dive in.
Both my 4 year old and 6 year old found activities they liked and could have stayed there all day. Seriously, I practically had to bribe them in order to check out more of the fair!

Have a Blast on the Kidway Rides
My kids love going on carnival rides. I was pleased with the number of rides my kids could go on without an adult in the Kidway. They make it easy to measure your kids so you know whether or not they need an adult to ride with them. They also clearly post the number of tickets needed for each rider.
With kid friendly food and rides all in one area (plus a bathroom nearby), we could have stayed in the Kidway for an entire day. If you have older kids or go without kids, there is another section of rides in the Midway. We didn't make it over there, especially since we knew our kids would be too short for most of them.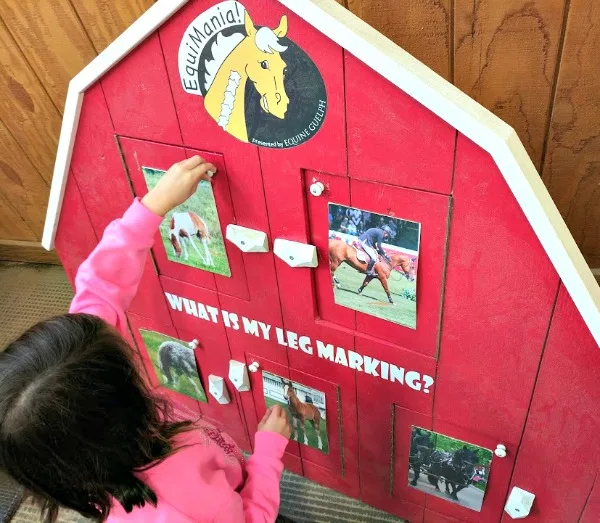 Visit the Horse Barn
We are used to walking through to look at the animals at our local county and state fair, but there is more than just looking at horses in the horse barn area! It was fun to see horses getting ready for showtime, but they also had an entire area for learning about horses. From skeletons to learning how to braid a horse tail.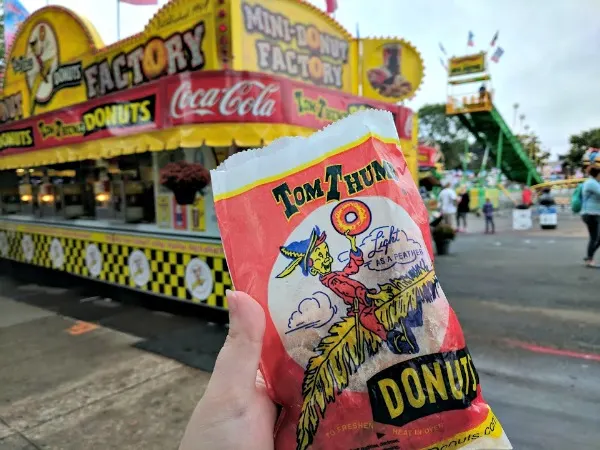 Share Fair Food
There's a lot of food. A LOT. The Minnesota State Fair is quite famous for its fair food. There are lots of tried and true favorites such as pronto pups, corn dogs (first time I had a bacon wrapped corn dog though!), deep fried cheese curds, walking tacos, strawberry shortcake, funnel cake, etc.
We enjoyed buying a tasty treat, then letting everyone sample it. There were so many foods I wanted to try that we did not get to, same with beverages. Another reason to plan more than one day at the fair in the future!
And even more ways to have fun!
I wish we could have stayed and explored the Minnesota State Fair for a couple of days. Before leaving on our road trip to Roseville, Minnesota, my daughter and I made a list of things we wanted to check out. We barely scratched the surface while we were there though!
We also wanted to visit Alphabet Forest, see some free shows in the family fair area, watch them carve butter sculptures, go through the mini farm, see the miracle of birth center, and so much more!
Have you ever gone to the Minnesota State Fair? Use these ideas to plan your own family fun at the fair. It's incredible how many free family friendly activities are available. We had a good time simply walking around!
More family travel tips: