Kool and The Gang once sang "this is ladies night, and the feeling's right." I couldn't have said it better myself. There is nothing quite like a Ladies Night With the Girls. Sure, guys are great but sometimes you just need to let your hair down, and you can't always do that with them around.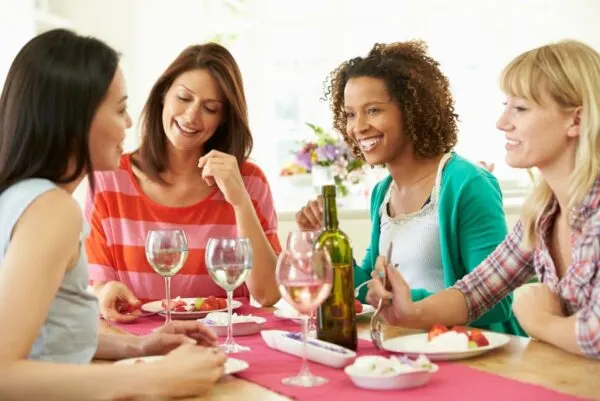 This post contains affiliate links which means we may earn a commission if you make a purchase.
Ladies Night In: 3 Activities for You and the Girls
Women are unwilling to spend time away from their family life and career to the point that they become exasperated, exhausted and frustrated. A wise woman knows she needs a break to be her best self. The challenge is this: even when we are away from our responsibilities we are thinking about them, anxiously checking our phones and our social media just to "make sure everything is ok." Trust me, girl, the house is not going to burn down if you aren't there. It is foolish of us to believe that it will.
Along with this guilt is the thought of spending too much money. After all, how dare we spend time away from our darling children and not talk, text and think about them every second. Well, Guess what? I'm going to tell you how. Go to someone else's house, send their kids to your house, and have a ladies night in.
Enjoy Ladies Night In by Acting Like a Kid
There is a lot of room for interpretation in this suggestion. What I mean is, you define what acting like a kid means. If it means staying up all night and talking about dreams and hopes, then do it. Maybe it means playing board games and giggling about boys, or watching movies and eating junk food, all of those things are excellent. You define what makes you feel free. Get silly, it doesn't have to be so serious all of the time, in fact, it is better when you AREN'T so serious. It's time for a break from all the gravity and to get back into a place where you can unwind.
Enjoy Ladies Night In by Pampering Yourself
There is nothing in the world that makes a girl feel better than a freshly painted set of nails or a facial. OK, what would make a girl better is doing all of that with her buddies! Have a slumber party and take lots of selfies. The best part about grown-up parties is that you can also have the next favorite thing- WINE! Enjoy some at home pampering with manicures, pedicures, facials, hair masks, and makeovers!


Enjoy Ladies Night in by Getting Artistic
Paint nights are popping up all over the country in different places, and you don't have to go out of the house to get caught up in the trend. Have a paint night with your favorite girls right in the house. It is as simple as buying the paint and the canvases from your local craft store and picking a picture that everyone can still paint while holding a wine glass (did I mention wine? You're going to want wine for this).
The fact of the matter is that you have to take a break or you're going to suffer from burnout. Burnout is going to definitely make you lose friends and alienate people. That's ok if that is what you're going for, but if you're not it is time to do something different. Find your friends and spend an evening having laughs and fun together for a great ladies night in. What's the worst that could happen?
More Self-Care Tips:
7 Self-Care Activities for Busy Moms
3 Reasons You Need Girls Weekend Getaways
3 Ways to Overcome Feeling Overwhelmed