Have you ever visited a city and thought, Wow, I had no idea there was so much to do here? That was me after exploring Janesville during a weekend getaway with my family.
Our family took a road trip to visit Janesville, Wisconsin. Lodging, admission, and meals were provided throughout our stay. This post also contains a few affiliate links which means we'll earn a small commission if you make a purchase.
I've lived in Wisconsin all of my life, but there are still areas I have yet to visit. I say "yet" because we are on a mission to travel our home state of Wisconsin with our children. There are so many beautiful places to visit and things to do here. While we can take longer trips throughout the summer, we love finding affordable weekend trips because they are easier throughout the school year.
See why we think Janesville is a fantastic destination for an affordable family weekend!
Kid Friendly Things to Do in Janesville, Wisconsin
While we visited a lot of places during our weekend stay in Janesville, I suggest picking a few things to do each day as you build your family travel itinerary. The activities that are best for your family will vary based on age as well as the season. During this trip, my kids were 6 and 4 years old. They have LOTS of energy! When traveling with kids, it helps to take their energy levels into consideration. This is one reason why we seek out parks and play places when possible, and Janesville has LOTS of parks!
What to see and do in Janesville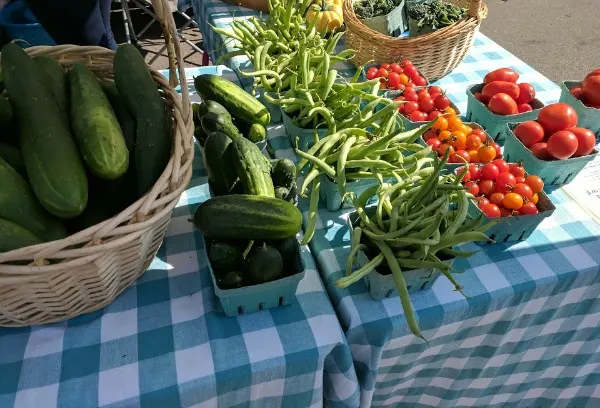 Janesville Farmers Market
The Janesville Farmers Market is a must when you visit on Saturdays during May to October. It's a fantastic place to shop local because everything is either handmade or grown locally. The Janesville Farmers Market started in 2005 and is now the largest vendor grown market in Rock County. There is plenty of produce, flowers, handmade goods to browse and shop. Arrive hungry because there are delicious food trucks plus fresh kettle corn is made every 20 minutes.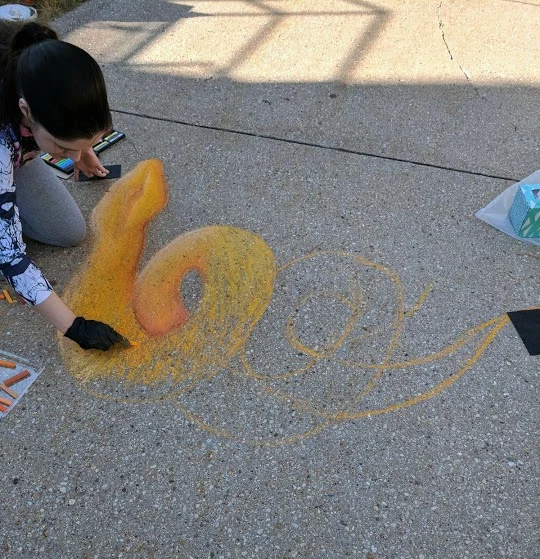 Art Infusion
Art Infusion is a chalk art event takes place each year at the Janesville Farmers Market during September. A professional street artist comes to draw as well as a competition. It was incredible to watch the artists work on their chalk art throughout the morning. The kids could also draw with chalk for free.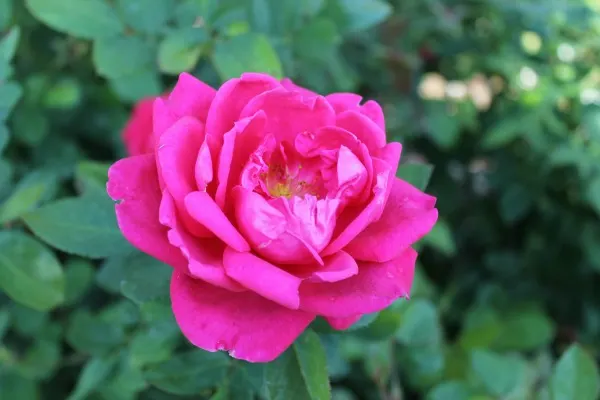 Rotary Botanical Gardens
The Rotary Botanical Gardens is a must see. This 20-acre garden is full of stunning plants and flowers as well as a Koi pond. The kids loved wiggling their fingers above the water to mimic feeding the fish because all the Koi swim over. There are different themed garden areas as you walk throughout the property. We enjoyed counting how many humming birds we could see while in the Humming Bird Haven. There is also a unique walking story experience where parts of a story are posted along a path, which is great for kids.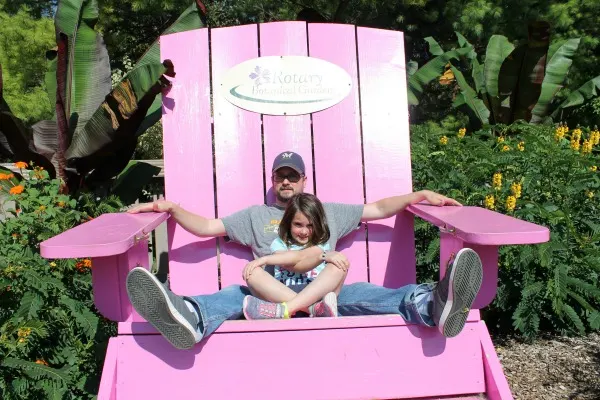 The Rotary Botanical Gardens has become more family friendly as they continue to add things to do for kids and adults. They focus on education, so they have a variety of kids programs throughout the year. As you stroll through the gardens, you'll also notice signs with plant names and information.
The gardens are open year round! During December, they have a beautiful Holiday Lights Show.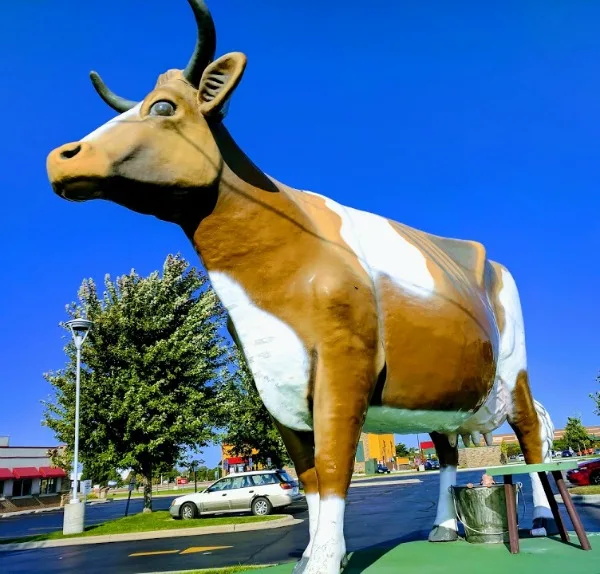 Bessie the Cow
Don't miss the a fun photo opportunity with Bessie the Cow! Bessie is a 16 foot tall fiberglass cow sculpture that was originally created in 1966. Make a stop in the Arby's parking lot and snap a few pics with Bessie! The kids found it hilarious that there was a huge cow there. They couldn't resist posing with this unique roadside attraction!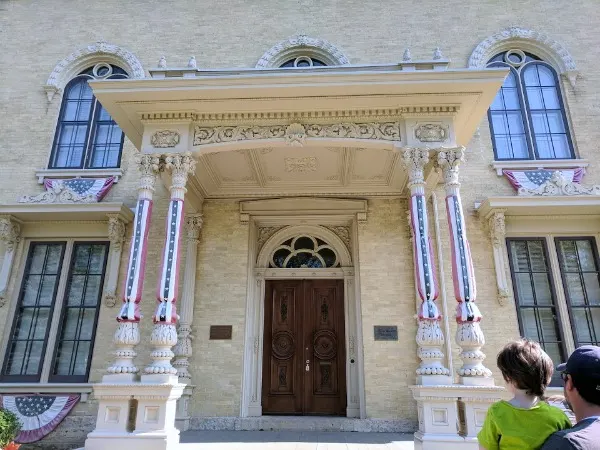 Lincoln-Tallman House
I highly recommend going on the Lincoln-Tallman House tour at the Rock County Historical Society. My husband and I find history interesting, but we were not entirely sure if the kids would enjoy this tour. However, our tour guide was very knowledgeable and engaging.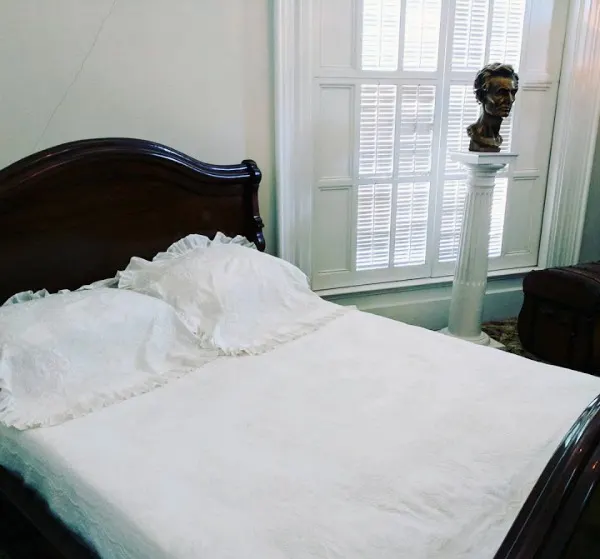 My six year old daughter was initially unhappy about going on a tour, but she became very interested in exploring the Lincoln-Tallman House. She asked a lot of questions and really got into it. If you have kids younger than 6 or 7 years old with you, they may not last throughout the entire tour. My four year old's attention span was much shorter than the rest of us, so it wasn't as good of a fit for him. Plus, he wanted to touch everything.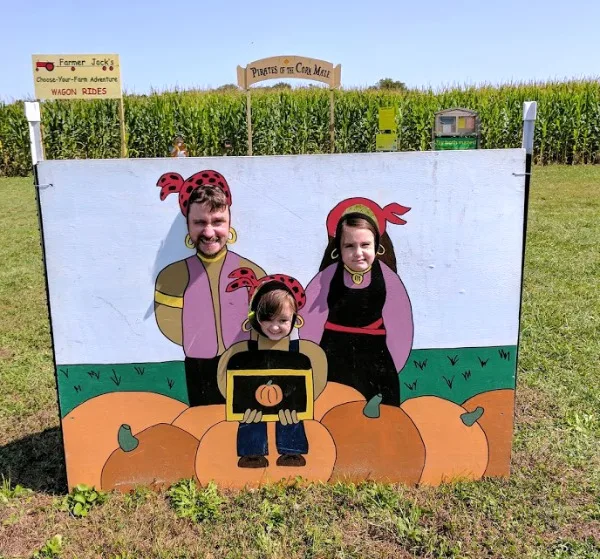 Skelly's Farm Market
During the fall you must visit Skelly's Farm Market and Corn Maze. They are a three season farm and during the fall they offer entertainment such as the corn mazes and wagon rides. There are two large corn mazes (we only went through one), a play area, fresh baked goods, lots of pumpkins, and a gift barn. The kids absolutely loved climbing and sliding down the play structures which are built by the owner's son. He adds a new piece every year or so. The kids had fun going through the corn maze and finding all but one of the pirate themed checkpoints. Somehow we missed one, but still found our way back out!
Mini Golf
The kids enjoyed playing a round of outside mini golf with us at Markley's Mid-City Adventure Golf. None of the holes were overly difficult which kept both of my kids happy as we played!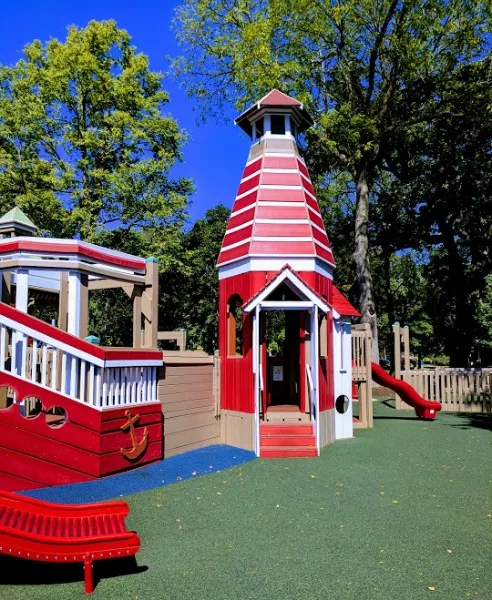 Plenty of parks
Janesville is truly "Wisconsin's Park Place." There are lots of different types of parks, from gardens to splash pads to playgrounds. One of the best parts about visiting playgrounds while traveling with kids? They are free! Plus, they are a great way for kids to stretch their legs and run off energy after sitting in the car. I suggest making a stop at Camden Accessible Playground or Peace Park Playground first if you've been driving for awhile, otherwise they are great to add between other activities on your itinerary.
Camden is a very nice accessible playground that my kids loved. In fact, it was hard to get them to leave! There was so much for them to do and get their bodies moving. There is also a nice little area for kids under five years old. It's the perfect place to stop, have a picnic, and run around!
Where to eat in Janesville
You must stop at the Citrus Café. They are perfect for brunch and have an amazing selection of pancakes, plus their fresh orange juice is delicious. They are almost always busy, but don't shy away just because the parking lot looks full. The service is quick which keeps hungry patrons from waiting too long before being seated. You may find it less busy between 1PM-3PM.
If you haven't been to a Red Robin before, it is a casual, family friendly restaurant. They have delicious burgers, bottomless fries, and a kids menu with options my children are happy to eat. Fazoli's is also another kid friendly option for lunch or dinner.
More dining options (aside from the typical chain restaurants you probably have back home) to check out with your family include:
My Apartment
Luke's Deli
Italian House
Hacienda Real
Don't forget dessert! Satisfy your sweet tooth by stopping at Sweet Velvet Cake Company. The hard part will be deciding which gourmet cupcake to get, but there are no wrong answers. Trust me! The most popular flavors are almost always available while others rotate. They also have gluten free and vegan options.
Where to stay in Janesville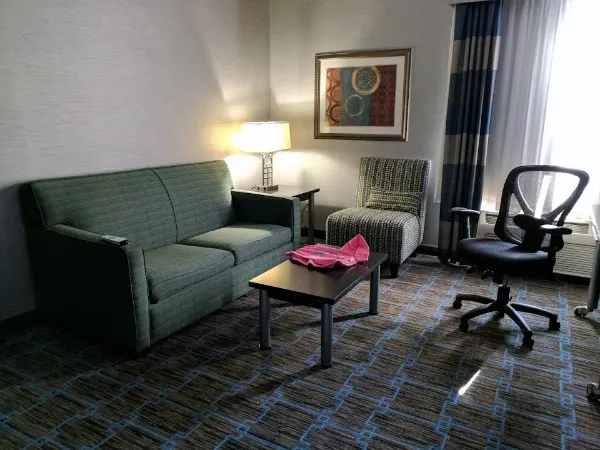 We stayed at the Holiday Inn Express in Janesville which is conveniently located near the highway. We found our room to be clean, spacious and affordable. I loved the separate sitting area, which makes it easier to have a little space from each other. I also liked that WiFi, a mini fridge, and a microwave were included. We spent most of our time exploring the area, but my daughter enjoyed going in the swimming pool one evening.
My favorite part though? Breakfast was included! They had a nice breakfast bar that included pancakes, scrambled eggs, bagels, donuts, yogurt, cereal, etc. It made it a little easier to get the kids fed and ready to go each morning. It can get a little crowded though.
Not sure where you want to stay? You can find more Janesville hotel options here.
As you can see, there is plenty to do in Janesville, Wisconsin with your family. We hope our experience visiting Janesville during the fall helps with your family travel planning. We love how close Janesville is to the Milwaukee area, which means the kids don't have enough time to get overly bored on the drive.
Click here to find more information about things to do and places to stay in Janesville. It is a wonderful destination for an affordable weekend getaway with the family.
More family travel tips: