Does taking a Day Trip to Kenosha from Milwaukee sound like a fun mini-vacation? If so, you're going to have a ton of fun trying everything out on this list! You might not be able to fit everything in in just a day. Pick your favorites and have a blast!
Day Trip to Kenosha from Milwaukee
The time of year you visit will impact the types of things you can do, so mostly we picked indoor activities like museums that can be visited year round. If you have any suggestions of other museums or year round activities we can add to our list, please let me know!
Driving straight through, it'll only take about an hour to head from Milwaukee down to Kenosha, but what fun would a drive straight through be? You've gotta stop at Apple Holler in Sturtevant to eat. They have a delicious buffet, and lots of apple baked goods! Enjoy their petting zoo and apple picking (in season). In the fall, they have evening hayrides, too.
Where to Eat in Kenosha
Featured on Diners, Drive-Ins, and Dives, Frank's Restaurant is located on 58th Street in Kenosha. They're known for their huge pancakes and juicy burgers.
Insider Tips: Click on "Coupons" on the website to get 10% off your meal. Frank's Diner is only open for breakfast and lunch, and is a cash only establishment.
What to do in Kenosha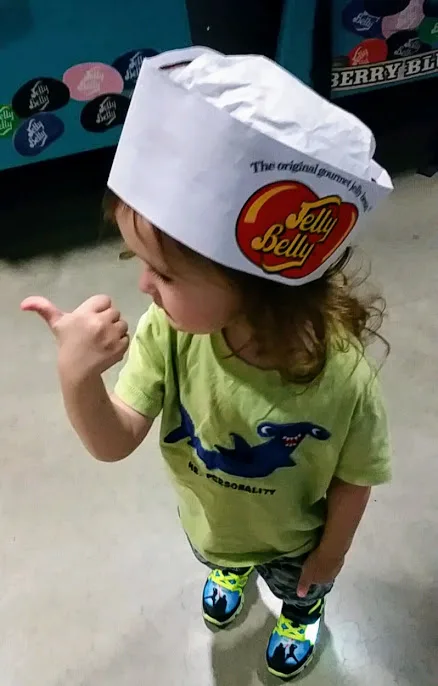 The Jelly Belly Tour is technically in Pleasant Prairie but it's free and you get Jelly Bellies at the end so you can't really complain about a detour that takes you a few minutes outside of Kenosha, right? If you're a fellow candy lover, the Jelly Belly Tour is a must see.
We enjoyed visiting the Dinosaur Discovery Museum too. This museum focuses on the link between meat-eating dinosaurs and birds. They conduct current, ongoing research in the study of dinosaurs and share exhibits with collections of preserved dinosaur specimens. They also have an area with a dino dig for kids!
Sneak a little learning in at the Kenosha History Center, or the Civil War Museum. The Kenosha Public Museum is another option.
The Southport Light Station at the Kenosha History Center is amazing! The first floor of the building is restored to a 1907-09 time period, so it's literally like taking a step waaaaay back in time. The second floor features exhibits of local shipwrecks as well as a recreation of a lighthouse keeper's quarters.
During museum hours, you can climb to the top of the lighthouse. According to the museum, the first and only woman lighthouse keeper was Lorinda Merrill in 1871. Southport got its name because it was the southernmost port in the Wisconsin territory on Lake Michigan.
Before you head home, enjoy the 2 mile scenic tour of the Lake Michigan shoreline aboard the Electric Streetcar Circulator. You'll also get to see historic and business districts on your tour. The fare is only a buck. Can't beat that!
Heading Back to Milwaukee?
End your Day Trip with a treat at Kopp's Custard. Try their Butterfinger shake, Blue Moon shake, or maybe their caramel apple frozen custard. The kids will probably like the Bubblegum custard but really, there are so many flavors you should probably just close your eyes and point.
What's your favorite spot to visit in (or on the way to) Kenosha? Let me know in the comments so we can add them to our next Day Trip to Kenosha!
More Wisconsin family travel posts: