This is a sponsored conversation written by me on behalf of On-Cor. The opinions and text are all mine. #CountOnCor #OvenTimeTips
Have you ever looked at the clock and dreaded starting dinner so late? Or wondered how exactly you are supposed to time making dinner with running back and forth to dance class, do laundry, and make sure homework is completed?
Me too.
Some days are busier than others, with Daisy Scouts, dance class, PTO meetings, etc. On those days, it feels like there is barely any time between the kids getting home from school and bedtime. The last thing I want to do on those days is spend an hour in the kitchen. I don't like cooking when I feel rushed for time, do you?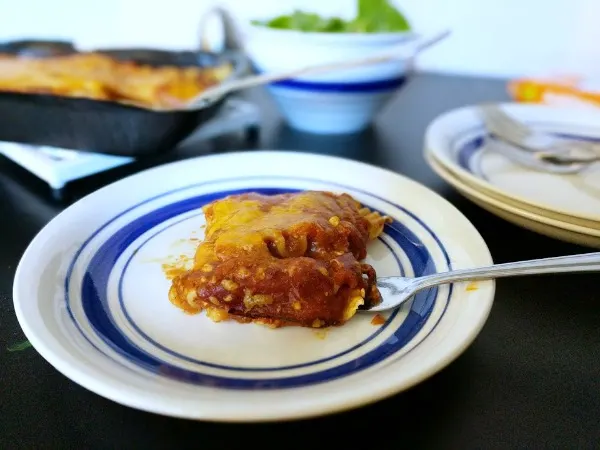 Planning ahead for a busy week, we picked up an On-Cor Lasagna with Meat Sauce. On-Cor has recently enhanced their products to satisfy the needs of moms looking for convenient, quality dinner solutions for their families. My kids are a big fan of pasta dishes and I love that the "Selects" Lasagna with Meat Sauce uses real mozzarella cheese. For additional information about the entrées available, visit www.On-Cor.com.
With dinner in the oven, there are plenty of other things I'd rather be doing with my time.
5 Things I'd Rather Do Than Cook Dinner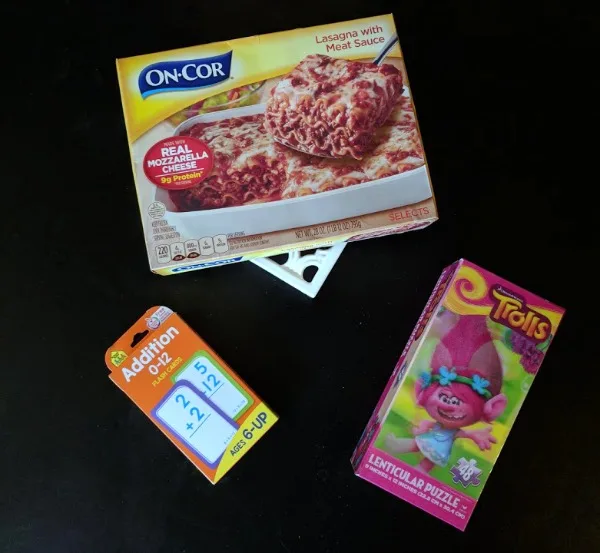 Reconnect with my kids after school
After putting the lasagna in the oven, we had fun working on a puzzle together as a family. It's not always about the amount of time we spend together, but the quality of time. I like taking time after school to talk with each of my children about their day. My favorite days are when I can do a quick activity with them (and the kids LOVE those days). I often feel like I don't have enough time to just be with my kids after school because I have to make dinner.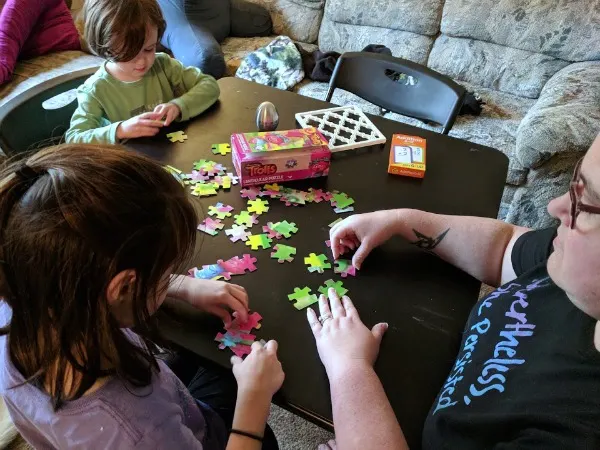 Help my kids with their homework
This is my daughter's first year having homework so we want to establish good habits now. Instead of procrastinating, I want her to work on her reading and math a little bit every day after school. While she is responsible for completing her work, I like to be available to help her as needed. Plus, I love cuddling up and having her read to me!
Tackle chores
I know, I know, doing chores doesn't sound very fun. My kids would agree, but they know it's part of our after school routine. My son and daughter both have chores they need to complete before they can play video games or watch television. While dinner is in the oven, I can take care of another load of laundry or dishes. Life's demanding enough. Dinner shouldn't be. On-Cor does the prep work, so you can take care of other to-do's that need to-doing.
Walk the dog
Taking a walk is a great way for me to clear my mind, plus it's great exercise. During the winter months, I don't like putting off taking our dog for a walk because it gets dark so early.
Read a book
Self care is incredibly important and I try to find a few moments of "me time" where I can. Let's be honest, I'd much rather lounge on the couch and read another chapter of my book while dinner takes care of itself, wouldn't you?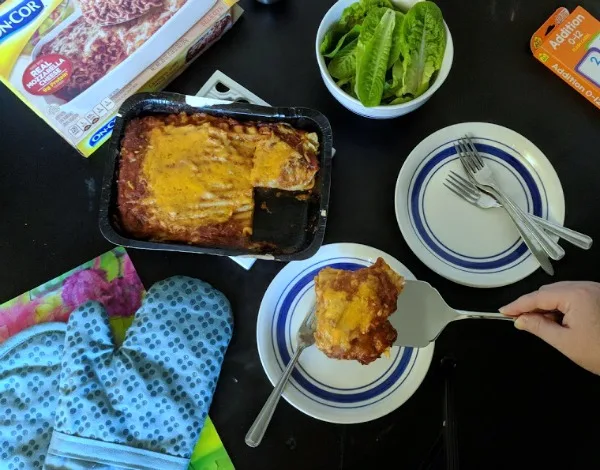 Dinner is served
It often feels like a trade-off, either cooking my family good food or spending quality time with them. I love that On-Cor's new packaging makes it easier for consumers to understand exactly what they are feeding their families. For example, All entrées have no monosodium glutamate (MSG) added.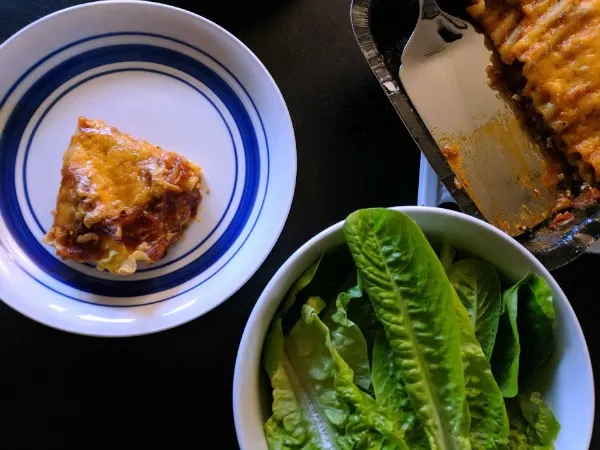 You can easily keep your On-Cor entrée as is, or put a personalized spin on your favorite meal, such as turning the Gravy & Salisbury Steaks into sliders, or adding chicken to the flavorful Macaroni & Cheese! Once our lasagna was done, I sprinkled extra cheese on top, then served it with a side salad using lettuce from our garden. Since the frozen, fully-cooked meals are conveniently packaged and ready to heat and serve, it was like getting time back in my day.
I didn't spend an hour in the kitchen cooking. Instead, I was able to spend time with my kids, take care of a few other household chores that needed my attention, and even fit in a bit of "me time." On-Cor is just a freezer away for an always easy, always satisfying and always ready solution for "one of those nights."
For your next family meal, head to the freezer aisle of Meijer or check out the store locator at www.on-cor.com to pick up one of On-Cor's entrées.
Giveaway
Thanks to our sponsor for providing a prize package for one of our readers! Winner must be 18+ years old and reside within the U.S. Winner will be contacted by email and must respond within 48 hours in order to claim their prize.
The prize will include:
(1) Coupon Valid for One Free On-Cor Entrée (1) Planner, (1) Lasagna Spatula, (1) Oven Mitts, (1) Timer, (1) Cast Iron Trivet (1) Puzzle or Art Project, (1) Learning Activity & Pencils (ARV: $200)
To enter leave a comment below telling us what your favorite On-Cor entrée is and what you would do when it's cooking? Giveaway ends Tuesday, November, 28 at 11:59PM CT.
This is a sponsored conversation written by me on behalf of On-Cor. The opinions and text are all mine. Comments submitted may be displayed on other websites owned by the sponsoring brand.