Looking for easy coffee filter crafts to make with the kids? My Cute Coffee Filter Crafts digital book features 15 projects that are simple to make and use affordable craft materials.
Some of our most popular tutorials are coffee filter craft projects, like these coffee filter bats and coffee filter rainbows.
I wanted to make it easier for you to access these while creating, so I put this craft ebook together.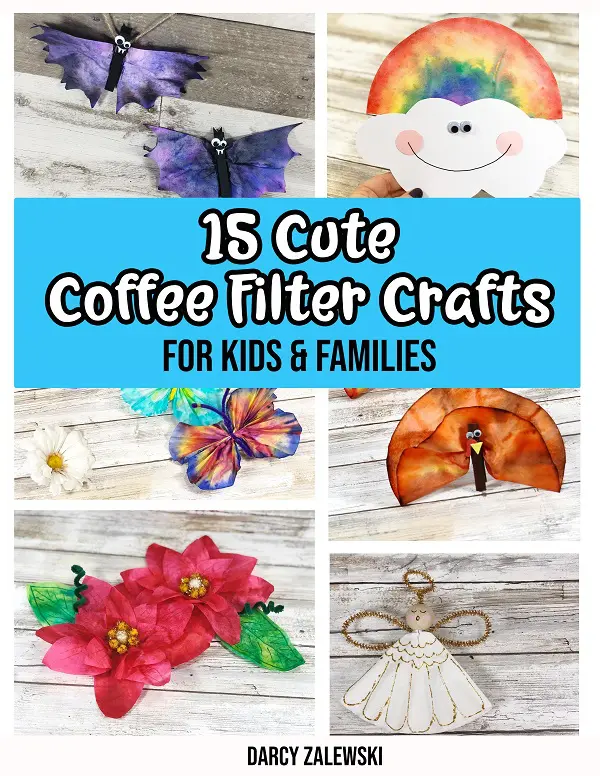 What's Inside the Coffee Filter Craft Book
There are 15 coffee filter craft projects featured in this ebook.
Some are holiday focused – Halloween, Thanksgiving, Christmas, Saint Patrick's Day, and the Fourth of July.
Bats
Turkeys
Angels
Santa
Wreath
Holly Garland
Poinsettia Flower
Rainbow
Butterflies
Ladybugs
Dragonfly
Bee
Peacock
Leprechaun
Uncle Sam
You'll also receive tips on making these with kids, a master craft supply list, complete craft tutorials for each project, safety reminders, and printable templates for three of the projects.
The pattern templates are not required to create those projects, but they may make things easier than cutting some of the shapes freehand.
Benefits of the Cute Coffee Filter Crafts Book
Grabbing your copy of 15 Cute Coffee Filter Crafts for Kids and Families will keep all of these projects together in one place.
The craft supply lists and directions can be accessible wherever you are: computer, tablet, or mobile phone. It looks great and since it is a PDF, it is easy to access on different devices.
To save you time, I'm offering this digital book where I've bundled 14 of the projects together plus included one that is not published on this site.
Most of the tutorials are available on this site and each post includes an option to save printable instructions, but that takes time.
This way you can go through the craft projects whenever you'd like offline without having to search for the posts, scroll past ads, or keep track of all the printable instructions.
My favorite benefit of getting this craft book is making memories while creating these projects with your kids!
Crafting with kids helps them express their creativity, learn new skills, and have fun. These are great to make with a group of children too, such as in a classroom or at a party.
More Crafts for Kids:
Did you make this project with your kids or students? We'd love to see it! Take a picture of it, then join our private Facebook group and show us in there.