This post was sponsored by Landscape Structures as part of an Influencer Activation for Influence Central and all opinions expressed in my post are my own.
Did you know October is Sensory Awareness Month?
Being physically active is good for children's bodies. At least sixty minutes of activity each day encourages children to build endurance and stamina, grow strong muscles and bones, and maintain a healthy weight.
A great way to get kids outside and moving their bodies is going to an inclusive playground. Inclusive play goes beyond accessibility and addresses age and developmental appropriateness as well as sensory-stimulating activity.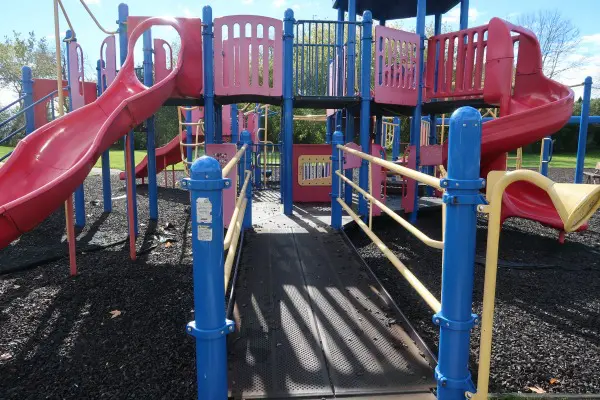 Why Kids Need Inclusive Playgrounds
Have you been to the local parks in your area? If no, you don't know what you may be missing out on. There are hidden gems in any state and just about any area of the country.
Make it a point this year to explore as many of them as possible. It's a fun and inexpensive way to enjoy time with your kids. All the while you're supporting your local community and the parks themselves.
Parks, no matter how big or small, need to attract visitors to make sure they receive the funding to stay in operation. Go do your part by exploring the parks in your area.
We love finding new local playgrounds to visit. Even though my kids love playing at the park, it's exciting to explore one they've never been to before.
I checked Play LSI and found several inclusive playgrounds near us. We decided to take the kids to Centennial Park in Grafton, Wisconsin.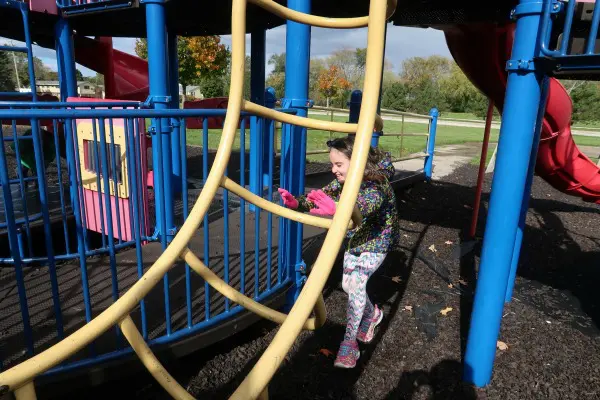 Landscape Structures Inclusive playgrounds help children develop physical, cognitive, sensory and social skills. It is essential to encourage your child to participate in activities that are age-appropriate, offer variety, and are fun for them.
At Centennial Park, there was plenty of room for aerobic activity, which is an essential type of exercise for kids. There are places for them to run and play tag. They had a blast playing tag under and around the play structure.
Climbing ropes, walls, and swinging on playground equipment help strengthen their muscles, which is another type of exercise essential for kids.
The third and final kind of exercise essential for physical health is bone-strengthening exercises. Any game or sport that involves hopping, skipping, or jumping is excellent for developing this essential element of physical health.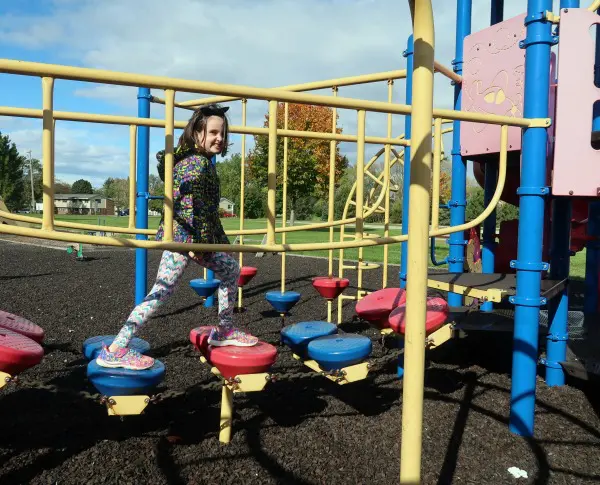 Not only do they exercise and strengthen their muscles and bones at an inclusive playground, but they also flex their creativity. The playground structure can be a castle, a pirate ship, or a store. They pretend they are swinging on vines or trees instead of monkey bars. There are multiple ways to use the playground equipment as they play.
Landscape Structures believes that through inclusive play, kids learn life lessons such as leadership, persistence, support and empathy. When we're at the park, I love to watch as the kids offer ideas on how to play together. They become leaders as they create games and rules that they must communicate to the other children.
I also remember when my daughter could barely grab onto the monkey bars. She kept trying over the years and now she easily swings across them.
I've also observed how my kids will help other kids (especially younger ones) at the playground. And if someone falls? They will check on them.
One of the things I love the most about taking the kids to play at the park, is how easily they engage in play with other children they've never met before.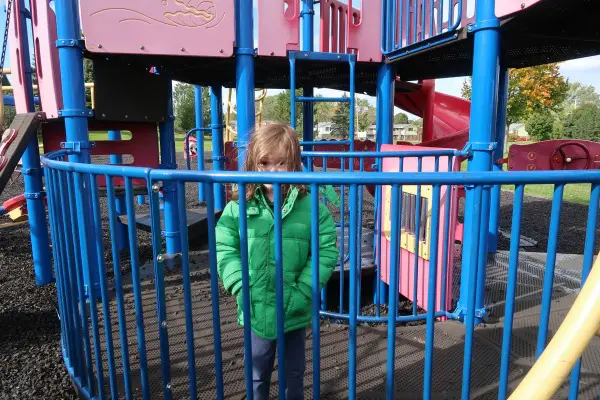 Social equity and inclusion are the result of inclusive playgrounds and increasingly diverse social communities. Children of all abilities can come together to play. This helps all kids become more confident while building essential skills. It also gives them the opportunity to meet new people and learn tolerance from a young age.
You never know when you might discover a favorite new spot – something you'll want to come back to again and again all year. Pack a picnic for lunch or dinner and plan trips to local parks and playgrounds with the kids.
Ready to go out and play? Visit Play LSI to find an inclusive playground near you!