These free Frozen printable coloring pages and activities will keep your kids occupied as you get ready for a family movie night!
I feel as though we were the last people in the world to see Frozen. Don't get me wrong – we wanted to see it… we just hadn't braved taking Rissa to the movie theater yet at that time. Thank goodness it came out on Blu-ray March 18, 2014.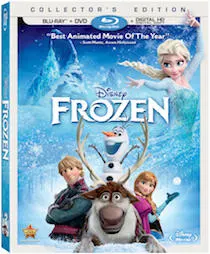 This post contains affiliate links. As an Amazon Associate and a participant in other affiliate programs, we earn a commission on qualifying purchases.
Though with all the Frozen craze going on, I was almost afraid to see how attached Rissa would get to the movie. She falls in love with practically ever new Disney movie, show and character she encounters.
At that time, I pre-ordered Frozen on Amazon…. if you don't have the movie on DVD or BluRay, there are some great behind the scenes and bonus features.
Our whole family absolutely LOVES Frozen.
FROZEN won two Academy Awards® including Best Animated Feature and Original Song ("Let It Go") – the same day it crossed $1 billion at the worldwide box office! Amazing, right?
If you don't have your copy yet (whether or not you've seen the movie already) you can enjoy watching the first Frozen movie on Disney+ and then plan another movie night to watch Frozen 2!
After you are done watching, grab the free printables below, then find some Frozen themed party inspiration with our Elsa rice crispy treats and Frozen themed paper roll bracelet craft.
Click on the links to download and save the activities you want to your computer.