The newest movie with everyone's favorite Spider-Man is now available on Digital, Blu-Ray, and DVD. We received a copy of Spider-Man: Far From Home to review.
We love superhero movies and we are definitely big fans of Tom Holland as Spider-Man. So, we couldn't wait until Far From Home swung into our movie collection.
Do your kids love superheros? Check out these 20 Superhero Activities for Kids!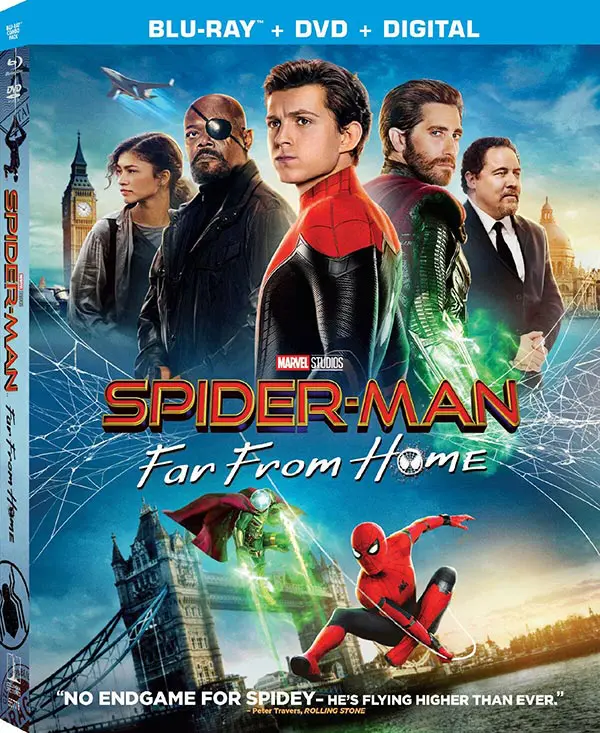 Do you need to watch Avengers: Endgame before Spider-Man Far From Home?
While not crucial for enjoying the movie on its own, I'd still say yes. Spider Man Far From Home takes place after Infinity War and Endgame. The events that happened during those films heavily impact the characters and story of this one.
What Happens in Spider Man Far From Home?
In Spider-Man Far From Home, Tom Holland returns as everyone's favorite web-slinger. This movie is the the next chapter after Spider-Man: Homecoming and takes place after Avengers: Endgame.
Peter Parker decides to join his best friends Ned, MJ, and several classmates on a European vacation.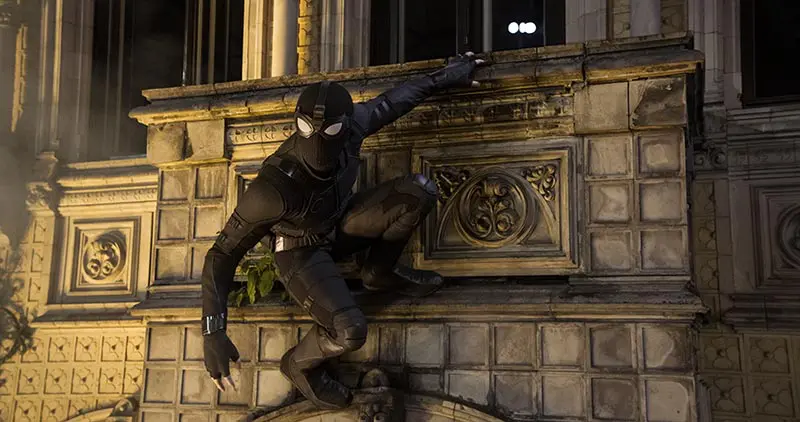 However, Peter's plans to take a break from the superhero life are quickly scrapped when he begrudgingly agrees to help Nick Fury uncover the mystery of several elemental creature attacks happening across the globe.
Nick Fury meets Mysterio (Jake Gyllenhaal) while investigating one of the reported attack sites. Mysterio shares that he's encountered these creatures before on his Earth.
So, Spider-Man and Mysterio join forces to fight the havoc unleashed by these elementals.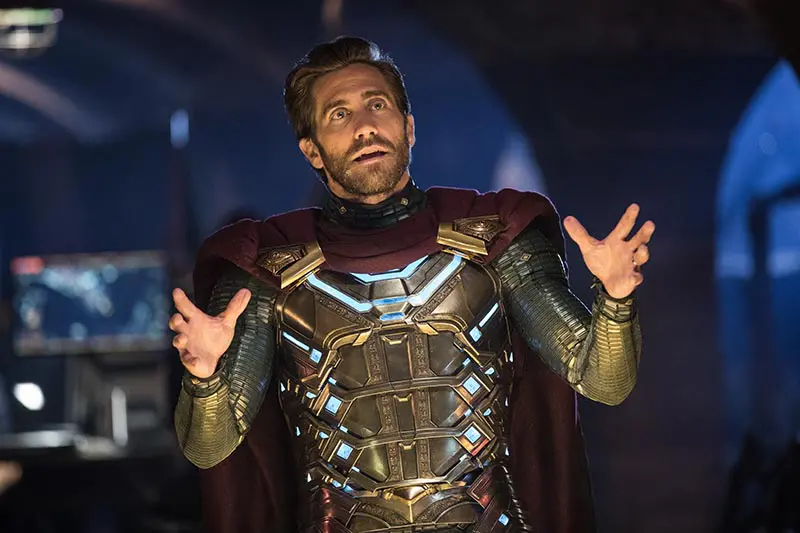 Now the question is… is Mysterio a villain or a hero? Well, it's all in the matter of perception. (And I don't want to completely spoil it for you.)
In the Marvel comics, Mysterio (aka Quentin Beck) is a supervillain. In Far From Home, he appears to be a superhero who is working with Nick Fury and Spider-Man. However, appearances are not always what they seem.
The Blu-ray, DVD, Digital, and 4K Ultra HD release is filled with bonus materials for the whole family including a special short, alternate and extended scenes, gag reels and Easter Eggs.
Spider Man Far From home Movie Review
A couple of my takeaways from Spider-Man Far From Home is recognizing the power of perception (and deception) and the importance of trusting your instincts.
Overall, I enjoyed watching Spider Man Far From Home. There was plenty of humor infused throughout, which made it feel lighter and less intense, despite the action sequences and Spider Man needing to save the lives of his friends and classmates.
Although we caught a glimpse of Peter Parker processing his grief and the audience was reminded of the losses in Endgame, the silly banter and comedy relief served in Far From Home was needed after the heaviness of Endgame.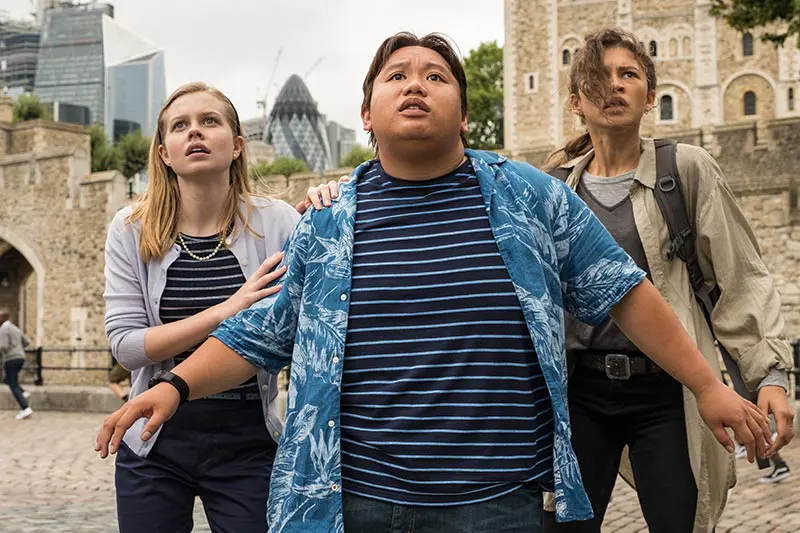 Is Spider-Man Far From Home a movie kids can watch?
Far From Home is rated PG-13 for sci-fi action violence, some language, and some suggestive comments. You know your children best and what is appropriate for them.
We screened Spider Man Far From Home first, which allowed us to determine if it was appropriate for our 6 year old and 8 year old. They watch a lot of superhero movies with us and we will let them watch this one as well.
They won't get some of the banter and suggestive comments, but they will enjoy the action scenes.
Printable Spider-Man Science Activities
A great way to engage kids in science activities is to tie them into their other interests. Download these Spider-Man Science Cards and do the following experiments:
Levitation
Bending Light
Make Square Bubbles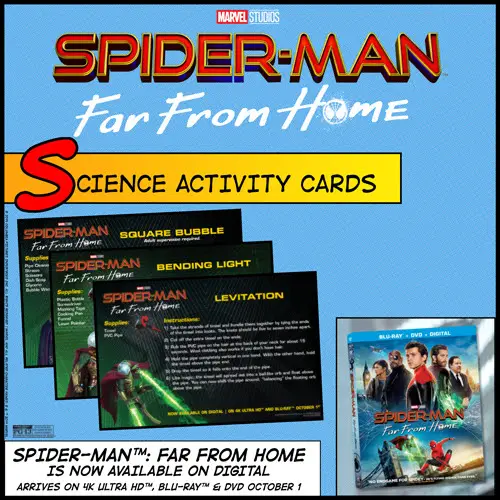 Printable Mysterio Cupcakes Recipe
Learn how to make your very own mystical Mysterio Cupcake! Download the recipe and swing into action now. These are perfect for a Far From Home movie night or a birthday party.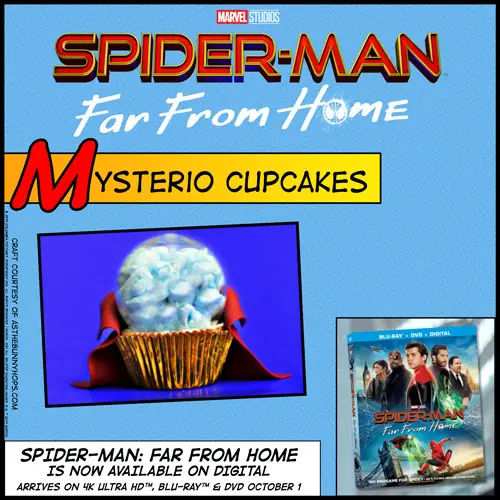 More movie activities you may enjoy: