All right, let's finish up Cloth Leaves Nothing Behind. I still have a couple topics to touch on, another review and one more review with giveaway. Unexpected hiatus really throws things off!
When I was researching cloth diapers before making the switch, I remember reading about the versatility of the Omni by SoftBums. However, in my fluff noobishness, I was scared of that diaper. It looked complicated – how was I supposed to operate it? I really hadn't a clue. Now? I welcomed the opportunity to try it out! I chose the Miss Kitty print which you may have seen Rissa modeling already in a previous Wordless Wednesday post.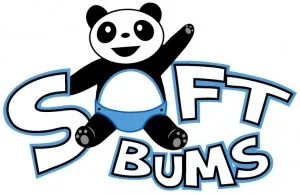 SoftBums was developed by a mother and father team, Sarah and Brian, from Minnesota. Sarah has been sewing and designing diapers for over 10 years. She was on a mission to find the perfect one size fits ALL cloth diaper. While she had experience with her own four children, she was really prompted to design a better fitting one size diaper after a friend was frustrated when their newborn outgrew their stash within a few short months.
Features:
Waterproof PUL outer

Hook and loop; industrial strength

Fits newborn to 40 lbs
Slide²Size customizes leg gussets
Versatile as a All-in-Two (AI2), Pocket, or Cover
Large pocket opening
Made in the USA
Repair/Replace defects up to one year
Pods (inserts) come in Dry Touch or Organic Bamboo (Dry Touch are microfiber with microfleece tops)
Function:
This is a versatile diaper for sure. The pods (inserts) are designed so they can snap into the shell as an AI2 or stuff it like a pocket diaper OR use it to cover prefolds. I primarily used it as a pocket style diaper. The pocket is large and easy to stuff. The sliding size system is easy to use but can be tricky to get both toggles out at first. We've used this diaper for day use, naps, overnight, and while traveling. We've had a couple small leaks (or more likely wicking) along the inner thigh after a nap. I probably just needed to add more absorption power.
Laundry:
This cloth diapers washes well. If you stuff the pocket you will want to shake them out prior to doing laundry. The shell dries nicely on the line and the pods dry pretty well with one dryer cycle. The laundry tabs hold the hook and loop in place better than my other hook and loop diapers so YAY! Despite the number of soiled instances – no stains yet!
User Friendly:
With three different ways to use this diaper I would say it is very user friendly. You really can't go wrong unless you don't add any sort of absorption to the shell. But the pod doesn't have to be stuffed! (Also, the pods work and fit nicely into other diapers!) The pocket is roomy so daddy hands could easily stuff it for overnight.
Fit:
This diaper fits Rissa very well! The Echo (their smaller shell) is supposed to fit 6lbs to 35lbs. Most one size diapers don't fit until 8lbs+. While the Omni is larger to fit up to 40lbs, it is still supposed to work for newborns. The Slide2 Size is great for customizing the fit around the thighs and basically adjusts the rise at the same time. I'd say it's probably our best fitting diaper! It's quite trim too. I think it looks great on Rissa and her movement is not hindered by it at all.
Final thoughts: This diaper is one of my favorites except for the hook and loop. I'm a snaps girl, but otherwise we LOVE this diaper! And I hope you will too! I appreciate the versatility and customization for fit. Definitely worth the price of $18-$21 (new prints cost more). Oh and our Miss Kitty print has gotten comments. Most people assume it's a diaper cover so when they comment on how cute it is, I make sure to let them know it's her cloth diaper and not just a pair of bloomers!
Now that you know how SoftBums Omni fit on my tall, thin girl, check out how they work for a chunky monkey and an average sized babe!
Giveaway!
To enter, fill out the Rafflecopter form below. Comments do not count as official entries. I will remove duplicate entries if they occur.




______
FTC Disclosure: I received the product(s) mentioned above free of charge by the company or PR representative in order to conduct an honest review. I was not compensated in any other way for this post. The thoughts, experiences, and opinions included are entirely my own and may differ from that of others. I am not liable for any issues you may incur from use of said product(s). Images used are owned by me or provided with the company's permission unless otherwise sourced. See full disclosure information. If you have any questions you can contact me or leave a comment.