Halloween is fast approaching! My daughter has a costume, well two actually, so mama needs one too! Now, while I enjoy spooky scary Halloween over cutesy fun, I don't like a lot of the costumes for women because they are too racy. Especially now that I'm 30 and a mother… I don't want to be too sexy, if you know what I mean…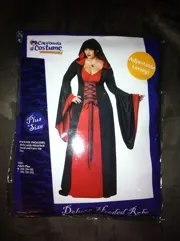 So I browsed and picked out the Adult Deluxe Hooded Dress which is new for 2011. It looks like a sorceress robe and reminded me fondly of my warlock character from my old World of Warcraft playing days. If only I could have found this costume when I went to BlizzCon in 2009… it would have been great for some cosplay!
The sizing for their plus size costumes was a little confusing to me. The chart said one thing but the description said 2x (16-18) or 3x (18-20). I'm a size 18/20, closer to 18 since my size 20 pants require belts to keep them from literally falling off. I'm glad I got the 3x here (most clothes of my clothes are XL!) because even this is a bit snug through the torso.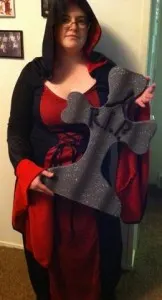 Overall I like the costume. It's snug enough to be a touch sexy, but not too snug. I'm short so the robe is too long for me. I'll need big boots or something! I love the flowing sleeves and the colors. The material along my neckline kept wanting to stick up and out of the costume. It took some adjusting of the girls to get everything to look right, but I think it will suit me well this Halloween!
______
FTC Disclosure: I received the product(s) mentioned above free of charge by the company or PR representative in order to conduct an honest review. I was not compensated in any other way for this post. The thoughts, experiences, and opinions included are entirely my own and may differ from that of others. I am not liable for any issues you may incur from use of said product(s). Images used are owned by me or provided with the company's permission unless otherwise sourced. See full disclosure information. If you have any questions you can contact me or leave a comment.