Since Rissa will have a Halloween birthday party the day before trick or treating, I thought it'd be fun to have TWO costumes! One for her party and one for her first trick or treating experience. So, when I was offered the opportunity to review a Halloween costume from JustKidCostumes through MomSelect, I was pretty happy!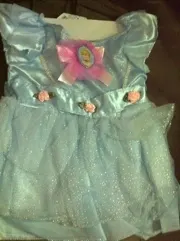 This time I searched for a lot longer. I found it tough to search by size but I could search more general range like baby or toddler. I'm just running into Rissa being on the cusp of those two age groups! I wanted something fun and light so she could move around at her party, but I also wanted it up a size so it could be used again. I found a lot of costumes I liked such as a toddler rocker and pirate, but those were too large for her this year. (Maybe next year?)
I decided on a princess dress! I chose the Cinderella infant costume which is a Disney licensed costume. It's size 12-18 month so we should get some dress up use out of it after Halloween is over! It was nice having such a large selection of affordable children's costumes at my finger tips. I got lots of ideas for future Halloweens! They also offer party supply packs too.
The shipping was pretty quick and we dressed my daughter up right away. The length is about perfect on her but it's loose on her since she's so skinny. The back velcro strap was easy for me to tie instead to tighten it a little bit. Doesn't she look darling?
The dress is quite light and thin. Since it is looser throughout her torso, I should be able to put it on over her clothes since it will likely be crisp and cool weather at the end of the month. Some of the glitter from her skirt rubbed off, but it wasn't too bad. I sort of expected some of it to come off since that is what glitter does best!
JustKidCostumes certainly has a large selection of costumes at affordable prices. This dress isn't the highest quality (in terms of feel of fabric, thickness, and potential durability), but it's comparable to the quality of most costumes found in stores. (Mind you, I was recently amazed at a high quality costume – I'm not used to finding those!). This would be a great place to shop to fill up the dress up trunk!
Try some on!
Want to find out how your child might look in different costumes to make buying online easier? Try out JustKidCostumes "Dress Up Room" application! You can use it right here, find something you like, then use this 10% discount code I have for you!
Instructions:
1. Click the "upload a photo" button in the bottom left-hand corner.
2. Select a photo from your computer.
3. Arrange the photo so your entire face is centered in the oval. (You may scale and rotate the photo if needed by placing your cursor on the square in the bottom right-hand corner)
4. Once arranged in the oval, select a costume on the right to try it on. (You can re-position the costume to better fit your face)
5. Click the appropriate button on the bottom to save, print or share on Facebook.
Use Coupon Code, BLOGGER10, to receive 10% off any order of $8.95 or more. All products are eligible for this discount. Coupon is good through Sunday, October 16th at 11:59pm PST. Merchandise total of $8.95 must be after any coupons have been applied. Discount does not apply to shipping, or sales taxes (CA only.) Coupon will be reflected as a 10% discount on the merchandise subtotal on the checkout page. Coupon cannot be combined with other coupon offers. Coupon is non-negotiable. Not valid for prior purchases. JustKidCostumes.com reserves the right to cancel any order due to unauthorized, altered, or ineligible use of a discount.
______
FTC Disclosure: I received the product(s) mentioned above free of charge by the company or PR representative in order to conduct an honest review. I was not compensated in any other way for this post. The thoughts, experiences, and opinions included are entirely my own and may differ from that of others. I am not liable for any issues you may incur from use of said product(s). Images used are owned by me or provided with the company's permission unless otherwise sourced. See fulldisclosure information. If you have any questions you can contact me or leave a comment.