Do your kids love video games as much as mine? Then you'll want to see how we took the gaming experience outside with the set of Laser X Micro Blasters we received to review.
All of us enjoy playing games, but we like playing outside too.
Sometimes the kids need a little help figuring out what to do before coming to me with the dreaded, "I'm bored!" It helps to have a few ideas that are ready to go.
Don't miss these new Laser X laser tag sets and tips for playing.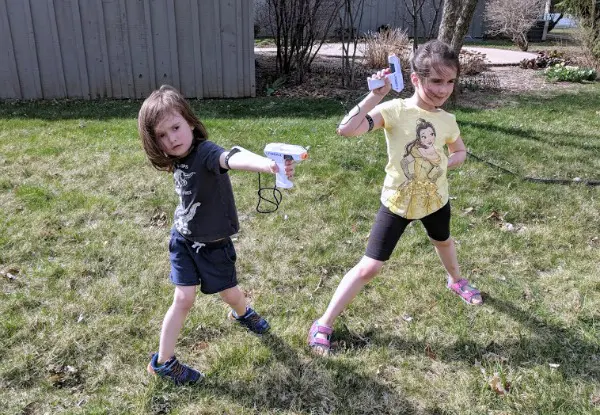 The Easiest Way to Play Laser Tag at Home
Since the kids love to play a variety of video games and play outside, I thought outdoor laser tag would be the perfect fit for them.
They can run around and pretend they are inside one of their games. Plus, no one can get upset about getting physically hit with something (a ball, water, etc).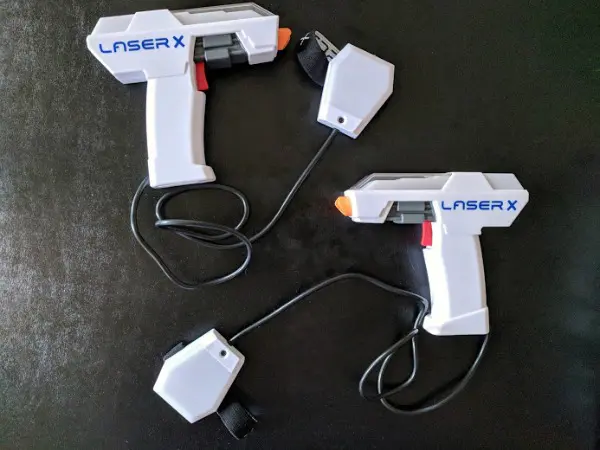 We opened up the Laser X Micro Blasters and were playing within minutes. I think it's the easiest way to play laser tag at home!
The Laser X Micro Blasters are the newest addition to a line of products that includes: original Laser X, which blasts 200 feet; a Long-Range Blaster, which blasts 400 feet; and a Gaming Tower with 10-built-in games.
I put batteries into the blasters and helped the kids slide the receiver sensor onto their arms and set their team colors.
That was it!
The range is pretty good on the Micro Blasters – up to 100 feet. If it's sunny, the range may be reduced. (You can use them indoors too, but I really wanted to send the children to the backyard!)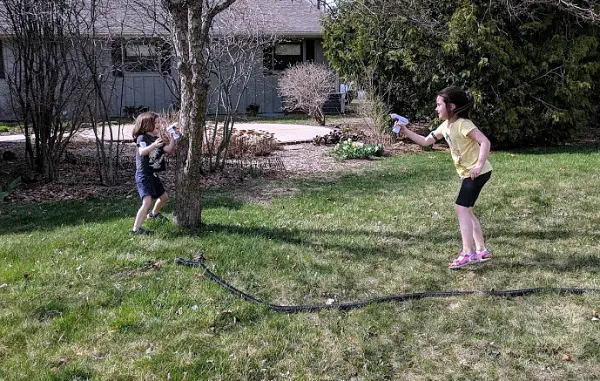 For some reason my kids kept running towards each other as they tried to aim for the arm receivers.
Eventually they started running around, ducking behind trees, and trying to dodge the blasts.
The receiver beeps the entire time it is on. The blasters make sound effects when reloading and shooting. The sensor also makes a sound when hit.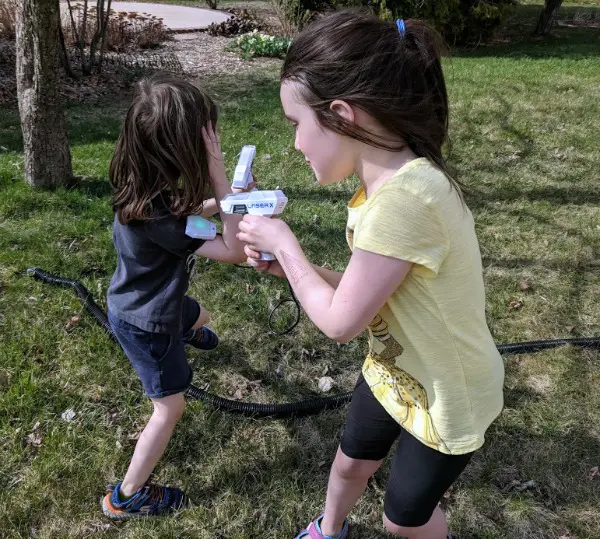 Like in many games the kids play, your sensor has a "health meter." If your sensor is hit eight times, you are down.
However, if you go a minute or more without getting blasted, you will recover those hits.

Benefits of Playing With Laser X Micro Blasters
I found three main benefits to using these toys. They are portable fun. It's easy to stick the Micro Blasters in a backpack to take to the park or a friend's house.
They are affordable toys for hours of outdoor and indoor play. Micro Blasters are recommended for ages 6+ and retail for $29.99 for a double set and $14.99 to equip a single player. I see these being used all summer long!
I think my favorite feature is that all Laser X sets work together, so games can have as few as two players – or the whole neighborhood can play together.
You don't have to do anything special to include additional blasters to the mix. Simply turn them on and play!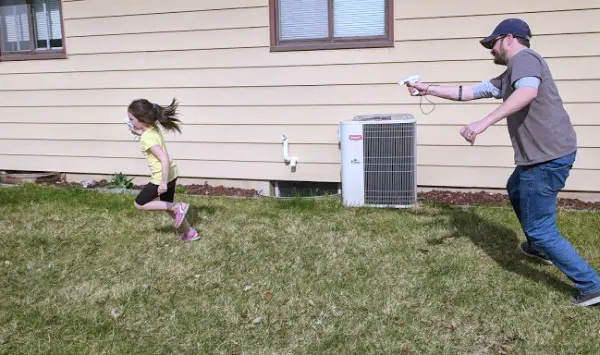 Not only are these fun for kids, but adults can play too!
We hope you have fun blasting away boredom with your own Laser X Micro Blasters! The game is available at GetLaserX.com, Walmart and Target.