Since having Rissa, I'm much more contentious about what I put on our skin. While I'm not perfect, I do my best to use natural products, especially for baby girl. I never thought I'd be so concerned about these things, but I am. And since we use cloth diapers, I have to be careful about what we use to treat any diaper rash she may have. This is definitely a concern with our pocket diapers because I don't want the liner or inserts to get build up from cremes. I'd heard that there are some rash ointments made for use with cloth and was glad to find some at Motherlove.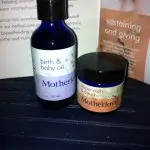 Motherlove offers organic and pure products for mothers and babies. All their salves, oils, and ointments have zero toxins and are made with at least 96% organic certified material (many products have 100%!). This is the most organic and natural selection I've come across. They have a variety of products for use during pregnancy, for baby, for birth, and to support breastfeeding. Speaking of supporting breastfeeding, their site is obviously supportive of it as it contains lots of images of breastfeeding. I think this is absolutely wonderful! The whole company works to minimize it's impact on the environment and gives back. None of their products are tested on animals either.
Cloth Safe Diaper Rash Salve
I received their Diaper Rash & Thrush salve to review. I was surprised at how small the container is, but a little goes a long way. It has a yellow tint to it and smells herbal. It almost reminded me of faint catnip – earthy, plant-like smell. It's a nice reminder that it's made with natural ingredients.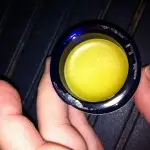 The salve applies smoothly and easily despite Rissa's squirminess. I didn't hesitate to use it since I knew it is safe to use with cloth diapers. I can't say it worked any faster than other remedies we've tried, but it didn't get worse before clearing up. Rissa only had her usual random mild rashiness which usually is found in the morning. The heat and humidity doesn't help either.
This can also be used on mama's nipples to help treat thrush and does not need to be washed off before nursing. Thankfully we have not experienced this, but it's comforting to know it's safe for my use as well.
Cradle Cap and Massage
I've been struggling with Rissa's cradle cap since shortly after we got home. I try using a brush on it during her bath. While we always seem to get some of it off, it hasn't gone away yet. I don't see it at the back of her head so much anymore, but mostly on the top in the front now. I received the Birth & Baby Oil to try. This can be used during labor for perineum massage, which is supposed to help your body stretch naturally to reduce tearing during child birth. I wish I had this then! Maybe next time…
It can also be used for massaging baby's scalp whether or not there is cradle cap. I wasn't sure when the best time to apply it. The first time was after bathtime. I rubbed it into her scalp and used her brush, first in circular motions and then "styled" her hair. The oil absorbed nicely into her scalp and into my hands – it didn't feel greasy. Her hair looked oily (wet, anyway) the rest of the day. The next time I did it hours before bath time. I'm not sure if it matters when. The trick is getting it worked into her scalp because her hair is in the way! We seem to finally be getting somewhere with it though!
I really like these products and recommend Motherlove for families who cloth diaper, breastfeed, or prefer organic products. Some items may seem a little pricey, but they are quality products!
Connect with them at Motherlove.com, on Twitter, and on Facebook!
Want to see what Formula Mom thinks about the Diaper Rash & Thrush and what Mama on a Green Mission thinks of the Green Salve (giveaway too!)? Check out their reviews too!
______
** FTC Disclosure: I received the product(s) mentioned above free of charge by the company or PR representative in order to conduct an honest review. I was not compensated in any other way for this post. The thoughts, experiences, and opinions included are entirely my own and may differ from that of others. I am not liable for any issues you may incur from use of said product(s). Images used are owned by me or provided with the company's permission unless otherwise sourced. See full disclosure information. If you have any questions you can contact me or leave a comment.