As a parent of small children, figuring out hobbies for kids to start early is ideal. I like to keep my children busy. I prefer that they do not just spend every single day sitting in front of the TV, laying around. This is why I like to start my kids on fun hobbies for them as early as they can.
Some parents think that there really aren't many hobbies for kids when they are so young but trust me, there are a ton of great activities and hobbies for kids of all ages. Today I will be sharing with you a few activities and hobbies that I like to get my kids started on. These build great skills for them to use in school, in social situations and perhaps even in careers later in life.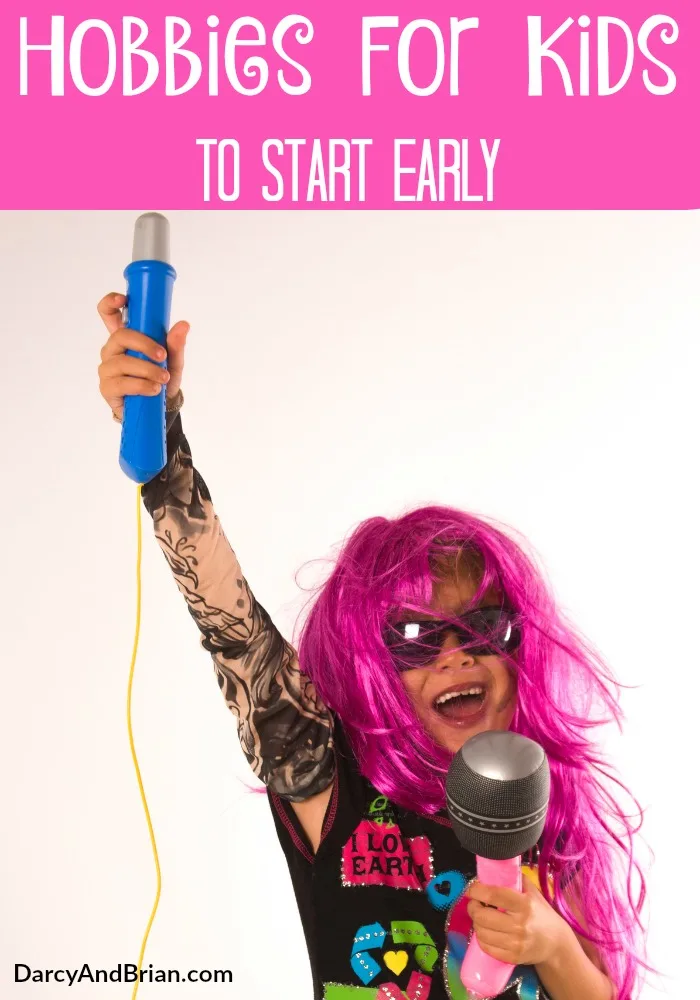 Hobbies For Kids To Start Early
Post may contain affiliate links.
Art: As a child I loved to draw and color and a ton of kids still love this as a unique hobby! I love to get my kids a sketchpad with a ton of colored pencils and crayons. We also keep watercolor paints, pipe cleaners, construction paper, and other various arts and craft supplies around. I love to give my kids art supplies so they can create while I work or do chores around the house. This is one of the best hobbies for kids to start young since it can help build their imagination, art skills and even their writing skills for later in school.
Collecting: Collecting is a great hobby for kids to do because it gives them something to look forward to and there are soooo many different things out there that can be collected. They could collect coins, stamps, different rocks, anything they find interesting! During the fall, my daughter loved collective leaves and pine cones.
Cooking: This is definitely a hobby that you will have to help out your kiddos with but it is a ton of fun to have a hobby together. I think that it is never too early to get your kiddos into the kitchen. This is something that they can do to build up their skills and a great bonding experience for the two of you. Teach kids early about everything from measuring ingredients to how to properly and safely cut vegetables. There are amazing kids cookbooks as well as smaller kid friendly kitchen utensils that make it easier for kids to help.
Sports: This may be one of the most popular hobbies for kids. This not only gives them something to do but also gets them active and exercising. Every parent wants a hobby that is also great for their health! Playing sports could include school teams, leagues through the Boys & Girls Club or other programs in your community. It also includes things like dance, gymnastics or martial arts.
Theater: Kids can have some of the most amazing imaginations, which is why performing theater is a great hobby for kids to do! As a little girl I absolutely loved to put on little plays in my living room (especially when my dad would set up a backdrop and video camera just for me to perform). You can pick up some dress up costumes and props to keep in the house and your kiddos can create whatever their imagination comes up with.
Music: Kids are so creative and a great way to spread those creative juices is through music. A lot of kids are really musical and express themselves through music. I suggest picking up some children's instruments such as a small piano, or a ukulele because that is more of a child-sized instrument. There is even a full kids music kit by Melissa & Doug that is ideal for little hands. Music is one of our favorite hobbies for kids because it can teach them so much about so many things around them. We've even shared some of our favorite ways to teach kids music before.
Hobbies are a great way to occupy free time and to become a more versatile person, and this can start as early as just a couple years old. I highly recommend getting your kids into some of these hobbies for kids since they are easy for any age to manage. You may have to experiment around with a few different things but I promise eventually you will find one that they absolutely love.
More kids activities: