Our Lip Smacking Snack Party Mix is perfect to munch on during your next game night. We also think it goes well with a game we received for review called Speechless.
Before we had kids, Brian and I frequently played games with each other as well as getting together with friends and family for game nights. In fact, New Year's Eve became our annual game night party.
Take Charades to the Next Level on Game Night
Charades is a classic party game, but it can get loud and chaotic. I like how Speechless by Arcane Wonders takes this classic game and adds a fun twist to it. One person acts out six different words in 90 seconds. Everyone else writes down their guesses on a mini dry erase board rather than shouting out the answers.
No one can speak!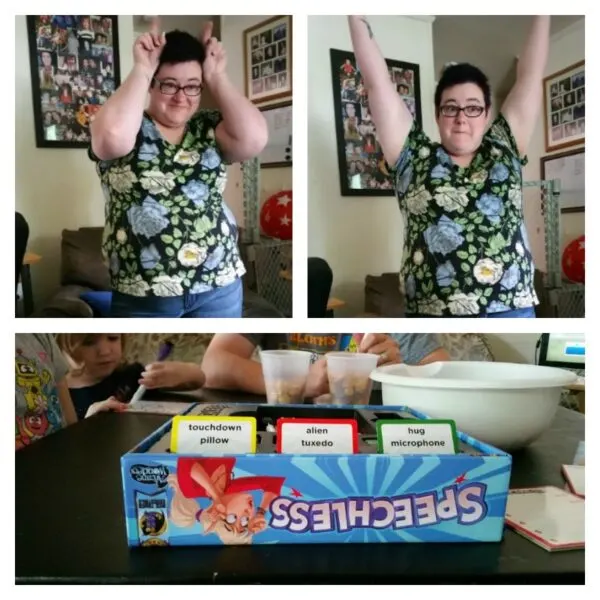 After 90 seconds is up, all players share their guesses. Those who guess correctly get two points. If two or more people had the same wrong guess, they each get a point.
We rotate hosting game nights with a couple friends and can't wait to put their acting and guessing skills to the test with this game!
The Best Quiet Game for New Parents
After having our daughter, we attempted a few game nights when she was a baby. I craved socializing with our friends, but it was harder as we adjusted to our new life as parents. Sure, my baby slept a lot, but if we got too loud and rowdy, it would wake her up. Also, I often held her or wore her for naps, but it is hard to insist everyone talk in whispers.
Having the option to play a quiet game like Speechless, would have been great! There is still talking, of course, but overall the game is quieter than many other party games.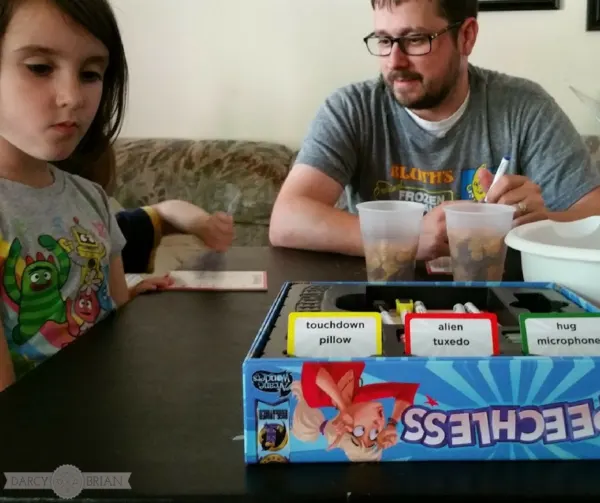 This game is family friendly, but is geared towards older children who can read and write. My kindergartner wanted to play so badly, but it is too difficult for her. However, we modified the rules to allow her to join us in a game. As an emergent reader and writer, it's wonderful for her to practice writing words from the cards as well as attempt to sound them out. She understands how to play Charades, so we allowed her to shout out her answers. However, we didn't let her know if she was right until all words were acted out.
Speechless is a game we're glad to add to our collection. You can order (affiliate link) Speechless on Amazon at the end of September. To order now, please visit the Arcane Wonders website or a retail store near you that carries this and other games by Arcane Wonders.
Lip Smacking Snack Mix Recipe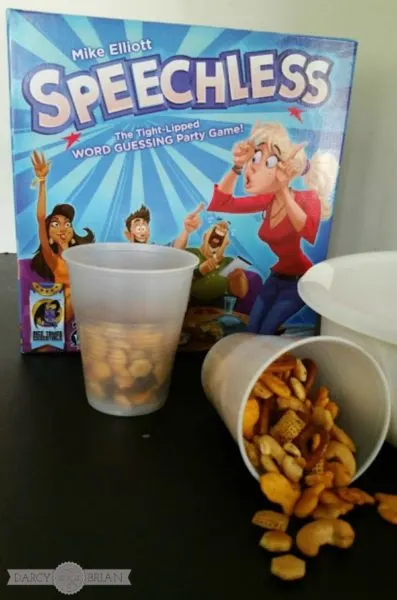 Lip Smacking Snack Mix
Total Time:
3 hours
10 minutes
Serve this tasty snack mix at your next party!
Ingredients
6 TBS butter, melted
1/4 cup Worcestershire sauce
1 packet of Ranch dressing mix
1 1/2 tsp garlic powder
1/3 cup grated Parmesan cheese
2 cups Goldfish crackers
2 cups Oyster crackers
3 cups pretzels
2 cups Corn or Rice Chex cereal
1 cup cashews
Instructions
Grease inside of slow cooker.
Add 10 cups of assorted pretzels, crackers, cereal, and nuts to slow cooker.
Mix melted butter, Worcestershire sauce, ranch mix, and garlic powder together.
Pour mixture over party mix and gently mix to coat.
Cook on low for 2-3 hours. Mix every 20 minutes or so the first hour, then more frequently as the liquid lessens.
Spread out on a baking sheet and sprinkle with grated Parmesan cheese. Let it cool and dry for a few hours.
Enjoy!
Notes
Serving size is about 3/4 cup.
Nutrition Information:
Yield:

12
Serving Size:

1
Amount Per Serving:
Calories:

301
Total Fat:

15g
Saturated Fat:

5g
Trans Fat:

0g
Unsaturated Fat:

7g
Cholesterol:

18mg
Sodium:

751mg
Carbohydrates:

37g
Fiber:

2g
Sugar:

3g
Protein:

7g
Nutrition information isn't always accurate and may vary based on ingredients and measurements used.
Speechless Giveaway
Enter to win the game Speechless from Arcane Wonders. Entrants must be 18+ years old and reside in the U.S. Entries accepted until October 20, 2016 at 11:59PM CT. Winner will be contacted via email and have 48 hours to respond or a new winner may be selected.
a Rafflecopter giveaway