Did you watch Muppet Babies as a kid? I did!
It's so fun sharing classic pieces of my childhood with my kids, which is why I looked forward to watching the new Muppet Babies.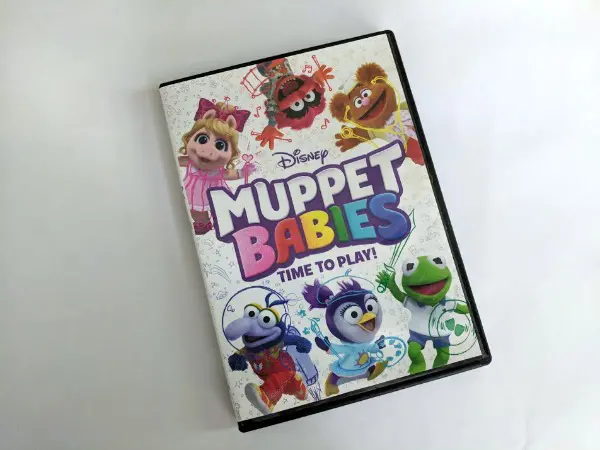 Muppet Babies: Time to Play
We received a copy of this DVD in exchange for sharing information about it. This post contains affiliate links. We may earn a small commission if you make a purchase.
Almost 30 years after the Muppet Babies first won the hearts of kids and families around the world, Disney Junior's reimagined "Muppet Babies" (rated TV-Y) chronicles the hilarious playroom antics of a young Kermit the Frog, Piggy, Fozzie Bear, Gonzo and Animal – plus a brand-new Muppet Baby, Summer Penguin.
Yes, there is a NEW Muppet Baby and she is adorable! My husband wanted to know where Scooter went though.
Under the watchful eye of Miss Nanny, the Muppet Babies use their imaginations to embark on countless adventures that take them to the farthest corners of the universe and demonstrate to young viewers the power and potential of imaginative play.
It was fun listening to my son and daughter's reactions while watching Muppet Babies: Time to Play. They were fully engaged for about 90 minutes (not counting the time they spent watching the bonus features) and it sparked their creativity.
I was happy for the reprieve this DVD provided as we're in the last stretch of summer break.
The Voice Cast includes: Matt Danner as Kermit the Frog; Melanie Harrison as Piggy; Dee Bradley Baker as Animal; Ben Diskin as Gonzo; Eric Bauza as Fozzie Bear; Jessica DiCicco as Summer Penguin; and Jenny Slate as Miss Nancy
Episodes:
Sir Kermit the Brave/Animal Fly Airplane
Super Fabulous vs. Captain Icecube/Piggy's Time Machine
The Great Muppet Sport-A-thon/You Say Potato, I Say Best Friend
Hatastrophe/Fly South
Plus the DVD includes 2 Bonus Episodes, 10 "Muppet Babies: Show & Tell" Shorts and 6 Music Videos!
Muppet Babies: Time to Play Printable Activities
After watching all of the Muppet Babies episodes on this DVD, my kids were eager to do some printable activities. They both wanted the Muppet Babies coloring sheet.
Here is my daughter happily coloring on this gloomy afternoon.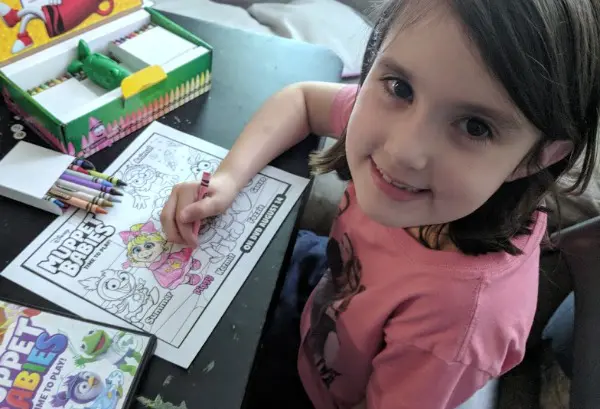 Activities include Spot the Difference, Hidden Words, a maze and a coloring page!
Click the image below to download and save the printable Muppet Babies activities.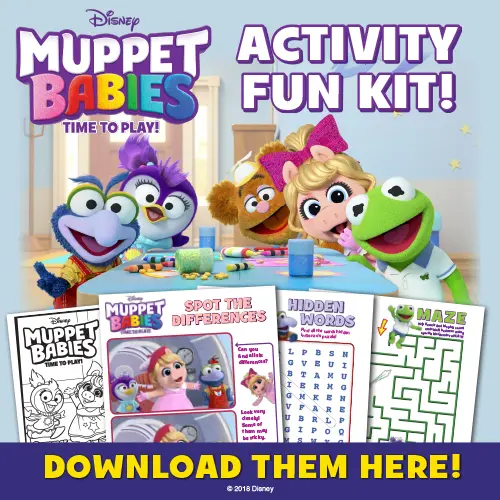 Muppet Babies: Time to Play Available on DVD!
If you were a fan of Muppet Babies when you were younger, then grab your own copy of the Muppet Babies: Time to Play DVD or stream Muppet Babies on Prime Video and spend an afternoon watching it with your kids.
Their own creativity will be sparked by the imaginative play of Miss Piggy, Kermit, and the rest of the friends. Don't forget to download the activity pages too!


More Disney activities you may enjoy:
Elena of Avalor: Realm of the Jaquins DVD and Printable Activities
Disney's ZOMBIES Inspired DIY Cheerleading Pom Pom Craft
Disney's Muppets Most Wanted Activities