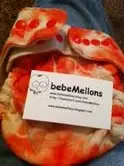 I've heard a lot of cloth lovin' mamas rave about wool covers. It's been something I've been curious to try but uncertain with the price tag. Depending on what you are getting or where, I've seen wool soakers, covers, shorties, and longies… $30-$60 is what I've seen. I keep reading about how the investment is totally worth it. I've yet to come across someone who doesn't like wool once they've tried it.
I'm truly lucky and blessed to be in the company of some great ladies. Lindsay of Lindsay's Family Reviews and Giveaways introduced me to Mellon on Twitter – the mama behind bebeMellons, as a recommended mom made cloth diaper shop.
Mellon is a SAHM of 8 children, and as her Twitter bio says… she "knits and sews in her spare time." I'm truly wondering where she gets spare time. I'm in awe! But anyway, she not only uses cloth diapers, she makes them too! In her shop there are AIOs, super cute fitteds, covers, soakers… this lady is amazing. Seriously.
One night while chitchattin' on Twitter, Mellon tweeted a pic of some new tie-dyed wool covers. I asked if she'd like to showcase them during our lovely event here. And, I'm honored that she said yes! I anxiously awaited it's arrival…
It's a fun tie-dyed red! The pictures don't do it justice at all. (And for some reason the camera color is a bit off too.)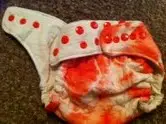 I asked her lots of questions, being a wool newbie. She pre-lanolized it so as soon as it arrived, I could use it on Rissa! No prepping needed! What's really awesome? She normally preps them before sending. This was an area I was uncertain about, so I was glad I wouldn't have to do it right away.
The cover is 100% wool. I am not a wool expert, so I wasn't quite sure what to expect and I don't know quite how it works. I've gathered that wool keeps baby cool in summer and warm in winter; keeps baby dry; neutralizes the urine into water. Wool can be used several times before it needs to be washed (as long as there isn't poo on it!). It does need to be handwashed and air dried. It will need to be re-lanolized on occasion when it's not working as effectively. Wool is very absorbent and the lanolin helps keep it from leaking, which makes it a highly recommended night time cover. It's also breathable, which helps combat/prevent rashiness.
The bebeMellons wool cover I received is one size (which is yay for me – more economical!). There's a row of snaps that can be folded down to adjust the rise. It fits well over all my fitteds and fits well around Rissa's thighs. Sometimes there's a little gapping at the top of her thighs, but she's skinny. It's not affecting anything because the fitteds are still covered.
We've used it overnight several times – no leaks! Her fitteds have been quite soaked too, but she hasn't been rashy like she can be some mornings. Rissa did have to break it in the first night. Well, the following morning anyway – she pooed and got some on the cover! Grrr, so I had to wash it sooner than expected. Handwashing wasn't that bad though, especially since it didn't have a lot on it – just enough to qualify it as dirty.
I definitely recommend this shop. I was finishing up this post and bought an AIO (it's so totally cute) from her… shh! Don't tell Brian! ;)
You can find Mellon on Twitter as @MellonPlus8 and on Facebook! An of course – on her shop bebeMellons!
Have you used wool? Why or why not?
____
** FTC Disclosure: I received the product(s) mentioned above free of charge by the company or PR representative in order to conduct an honest review. I was not compensated in any other way for this post. The thoughts, experiences, and opinions included are entirely my own and may differ from that of others. I am not liable for any issues you may incur from use of said product(s). Images used are owned by me or provided with the company's permission unless otherwise sourced. See full disclosure information. If you have any questions you can contact me or leave a comment.