I have wanted to try an AppleCheeks cloth diaper for a long time! I heard about them after I started cloth diapering and became obsessed with cloth diaper reviews and giveaways. Everywhere I turned, there were rave reviews. I couldn't seem to win one though! Of course, I'd love to go out and buy all kinds of diapers to try, but it's just not in the budget. So, I was very excited about the opportunity to review an AppleCheeks diaper.

AppleCheeks are reusable diapers created and manufactured in Canada and were started by a couple of cloth diapering mamas. Recently they introduced their first prints! They stand behind their diapers and use them on their own babies. They have worked to create a modern cloth diaper that is functional and good looking!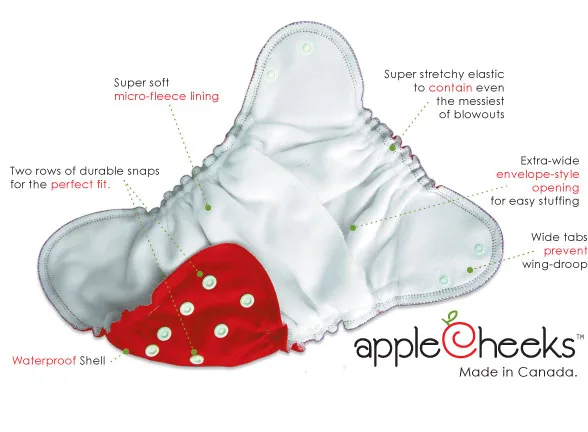 They feature a unique design and shape that you don't see on other cloth diapers. Or at least I've never seen it on anything else. Even without a label, I could pick out an AC in a diaper line up! They come in two different sizes that should cover the span from birth to potty for most babies. I received a Size 1 in Raspberry Sorbet. They offer vibrant colors (with fun names!), a unique curved shape to help combat wing droop, and elastic on the waist and legs for a snug fit as well as to contain messes. The lining is very soft microfleece. Unlike any other pocket diaper I own, this one opens in the middle! Not the back. Not the front. The middle! This makes it nice and wide for big hands or extra stuffing. It also allows for the bamboo insert to "unstuff" itself in the wash.
The insert is quite absorbent and is different in that it needs to be folded. It reminds me of a mini-flat. I think this allows for better cleaning and faster drying. I've never had any issues with the insert being stinky or still damp after one dryer cycle. The shell dries quick on the line.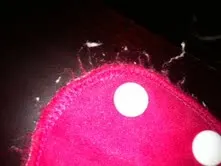 I'm not quite sure why, but after about a month of use, I am having some fraying along the edges. I'm not doing anything different in my care than my other diapers receive. I have not put this shell in the dryer… I am at a loss as to why this is happening because I don't think it should be. Maybe I have a knack for receiving flukes like another diaper of mine that had fraying issues with the velcro? [7/22/11 Update: After talking with another cloth using mama, I think the culprit of the fraying is the hook and loop diapers. They are jealous! Just kidding, but that seems to be the cause!]
I love snaps so I'm very happy in that respect with this diaper. I don't know that it would fit quite so nicely if it was offered in hook and loop. I found it to be very trim fitting and the size 1 really hugs Rissa's skinny thighs. She looks so adorable in this diaper and others just love it on her as well. It also stands up to her mobility because now that she's crawling, that is a new concern! It lasted through naps with just the one insert. I did not try it overnight though.
Final thoughts: I absolutely love this diaper. It's cute, it's trim, and it unstuffs itself. This is a great diaper for me to take along on outings or for someone else (like daddy) to change because it can just be put straight into the wetbag!
To find out where you can buy some, check out their retailer locator. You can also follow them on Twitter @AppleCheeksDipe and Facebook!
AppleCheeks is sponsoring a gift certificate for the upcoming Christmas in July giveaway event!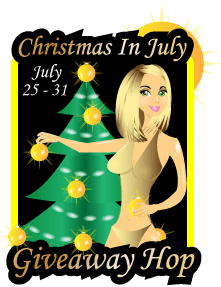 ______
** FTC Disclosure: I received the product(s) mentioned above free of charge by the company or PR representative in order to conduct an honest review. I was not compensated in any other way for this post. The thoughts, experiences, and opinions included are entirely my own and may differ from that of others. I am not liable for any issues you may incur from use of said product(s). Images used are owned by me or provided with the company's permission unless otherwise sourced. See full disclosure information. If you have any questions you can contact me or leave a comment.