I love versatile items, especially toys that will be fun for my daughter for more than a few weeks or a few months. And what's one thing that babies and toddlers and young children love?
Stuffed animals!
Blankies!
How about a animal that is stuffed with a blanket? Then you'd be looking at a Zoobies!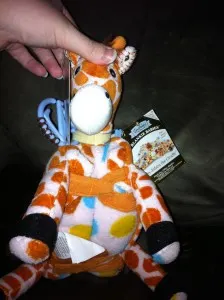 Zoobies are 3-in-1 plush pets: animal, pillow, and blanket all in one. Rissa seems to like giraffes so I selected Baby Jafaru for her. (I was kind of excited that it was prenamed. I'm feeling uncreative about naming her toys lately!) Jafaru is a Zoobies Blanket Babies. They have a few different variations and sizes for little ones and older ones.
Blanket Babies feature a zippered fleece blanket attached to the stuffed animal, a satin corner on the blanket, and a teething ring. The Blanket and Slumber pets are larger and a great fit for toddlers and young children. New this year is Storytime Pals, which come with a book.
Zoobies were invented by two brothers from a large family of nine. They wanted to create something that was fun and functional since they know that multi-functional items help make mom's life much easier. They also personally guarantee that their pets are the most huggable plush toy you've ever cuddled!
When Baby Jafaru arrived, the first thing I did was remove the tags and unsafe pieces. I tugged on the mane and was satisfied that I didn't get a fistful of hair. I squished his face about to make sure the microbeads couldn't pop through. All good there too! I actually didn't realize the Z ring was supposed to be a teether. I didn't think it looked like anything I should give to her to chew on and don't really feel comfortable with that piece.
Then I took out the blanket piece. I thought the teether was supposed to be on a corner of the blanket but found the satin comfort part. Rissa loves touching and scratching different textures. The blanket is soft and inviting. I was happy to see that it was attached by a zipper – making it easier to clean them separately. Folding/rolling/packing the blanket up isn't too bad, though I don't think it looks as cute as when it arrived!
Rissa likes it well enough, but is too interested in things that make noise right now. I'm hoping she'll start taking to it for naps so it can become a sleep association for her…
Final thoughts: I think Zoobies make great baby shower gifts. They are multi-functional and are soft and cuddly. They are reasonably priced as well. I've seen and purchased comparable sized stuffed animals for the same price but they don't come with detachable blankies!
How to enter:
Fill out the Rafflecopter form. Comments will not count as entries.

Please note that it may load slow at times or have an error. Please submit again if it says there was an error (also click the report if you can so they know what happened and can fix it). If there are duplicate entries, I will just remove the 2nd set – it will NOT disqualify you completely. If you do not see it loading, trying refreshing the page, updating your browser, or trying a different browser. It does not work with old versions of IE.

The sponsor has requested that entrants "like" them on Facebook to be eligible to win.



______
** FTC Disclosure: I received the product(s) mentioned above free of charge by the company or PR representative in order to conduct an honest review. I was not compensated in any other way for this post. The thoughts, experiences, and opinions included are entirely my own and may differ from that of others. I am not liable for any issues you may incur from use of said product(s). Images used are owned by me or provided with the company's permission unless otherwise sourced. See full disclosure information. If you have any questions you can contact me or leave a comment.