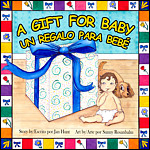 All my "plans" about how I planned to parent my baby have not gone, well, as planned. I discovered something interesting about myself. I found out I gravitated toward the attachment or natural parenting style. I really didn't know very much about this style of parenting until towards the end of my pregnancy when I was seeking information to help me prepare for breastfeeding. My role as mom has continued to evolve and my daughter is teaching me and guiding me to parent her "naturally."
When I saw the opportunity to review A Gift for Baby, I knew it was just perfect for our family!
A Gift for Baby is a hardcover picture book written by Jan Hunt. It's written in English and Spanish. It is very colorful and takes baby through a fun guessing game. This book is supportive of natural parenting and includes positive images about breastfeeding, babywearing, and cosleeping.
I really liked how this book normalized the type of day-to-day life I have with my daughter. Some days it doesn't feel normal and certainly isn't accepted by mainstream society. The book was fun and I just can't spoil the surprise of the gift! It truly is the perfect gift for my own daughter – that's all I can say… you need to read it yourself!
Rissa has really enjoyed this book. We've read it together several times. She likes looking at the pictures (especially of the baby) and will babble at it. She gets excited and likes to grab the book, even when we aren't reading it. She also seemed to enjoy the sound of mama reading it in Spanish. My Spanish is a bit rusty, but I can still pronounce and read it pretty well. So, she got a little language lesson as I read each line in English first, then in Spanish.
What I like the most about this book is that it really is from the baby's point of view. Even if a family is NOT cosleeping, breastfeeding, or babywearing, it's not preaching or telling people what they should or should not be doing. It's not saying you should or have to do these things – it shows baby enjoys them. And babies enjoy being close to their parents!
Final thoughts: This book will appeal most to families like ours that engage in attachment style parenting. I think it's also a neat idea to give to an expectant mother who may not know what her defined style is yet. It may open her heart and mind. It's definitely a fun book for baby regardless of parenting style.
______
** FTC Disclosure: I received the product(s) mentioned above free of charge by the company or PR representative in order to conduct an honest review. I was not compensated in any other way for this post. The thoughts, experiences, and opinions included are entirely my own and may differ from that of others. I am not liable for any issues you may incur from use of said product(s). Images used are owned by me or provided with the company's permission unless otherwise sourced. See full disclosure information. If you have any questions you can contact me or leave a comment.
I received one or more of the products mentioned above for free using Tomoson.com. Regardless, I only recommend products or services I use personally and believe will be good for my readers.