This list of geeky bedtime story books for preschoolers will be just as fun for parents to read as it is for the kids to listen.
Are you a geek parent too? One of the best parts about geeky parenting is sharing our passions with our kids, from comic book superheroes to Jedi Masters.
My husband is also fluent in code, so it makes sense to introduce computer programming language to our kids as well.
All of these can be shared by the true superheroes – parents reading bedtime stories.
For even more great reading lists, check out our list of 30 fall picture books for preschoolers.
Geeky Picture Books for Toddlers and Preschoolers
We received a few of these titles for review. This post contains affiliate links to make it easier for you to add to your kids' geeky book collection. If you shop through our links, we may earn a small commission at no extra cost to you.
My First Book of Girl Power
I really love this book for boys and girls because it does not focus on how a girl LOOKS. Young readers are introduced to the abilities and attributes of several female DC Comics characters.
Traits such as being strong, kind, brave, and smart. It's important for children to recognize these powers in themselves and others.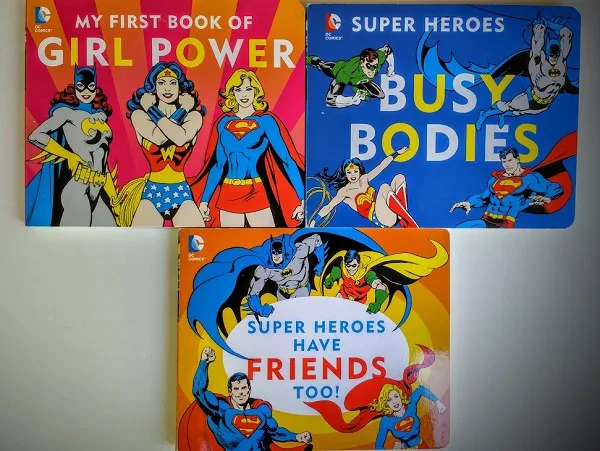 Super Heroes Have Friends Too
Kids identify super heroes as being strong and capable of doing anything to beat the bad guy. However, it is important to learn the importance of teamwork and helping others. In this book, kids see even super heroes need help from their friends sometimes and that is OK!
Super Heroes Busy Bodies
This board book is great for little ones learning to identify body parts and movements, such as using your arms to lift, push, and pull. The artwork is like the classic DC Comics yet engaging for young kids.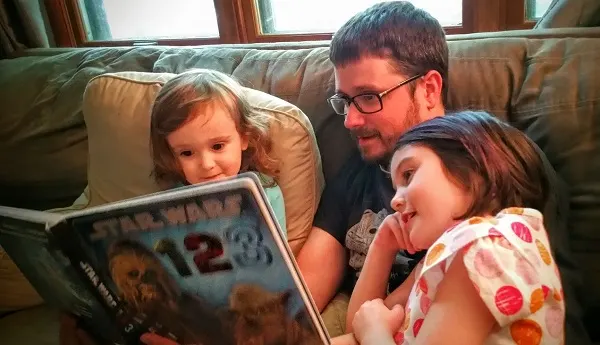 Star Wars: 1, 2, 3
This is one of my kids' favorite books that we bought for Christmas one year. My three year old loves to ask us to read it to him and it's been a fantastic book for our five year old emergent reader. It covers numbers 1-10 and also includes 25, 50, and 100 using various Star Wars characters and items.
Vader's Little Princess
This humorous children's story illustrates what what parenting Princess Leia might have been like for Darth Vader. This author also has other titles including, Darth Vader and Son, Darth Vader and Friends, and Goodnight Darth Vader.
This provides a great way for parents to share their love of Star Wars. Plus, entertaining bedtime stories are more fun to read!
Superhero Short Story Collections
We love book collections like these because they take up less space and the stories are the perfect length for bedtime stories.
DC Friends 5 Minute Story Collection
Coding Books for Preschoolers and Kindergartners
Join the fun in Codezilla town where kids will follow the adventures of Json, Jazz, and Ruby. The story helps kids as young as four to begin understanding computer programming concepts and terms. The best part? You don't need any prior coding experience yourself.
ABCs of the Web: Alphabet Primer for Young Developers in Training
A isn't just for apple, it's for anchor tag too. My kids grew up with BLOG in their vocabulary. This book is a fun way to teach kids the alphabet while learning web lingo too.
Hello Ruby: Adventures in Coding
This book doesn't directly teach coding, instead it teaches kids to think about programming concepts. We love that the lead character is a girl who takes kids through creative problem solving. Hello Ruby is ideal for preschool children because it is a picture book with engaging activities.
The Official ScratchJr Book: Help Your Kids Learn to Code
It's no surprise that even young kids enjoy playing video games, but wouldn't it be fun to design their own?
This book helps parents and kids learn to code using the free ScratchJr app. Technically, it is for ages five and up, but with parental guidance, your preschooler may enjoy this as well.
What are your favorite geeky books to read to your kids?
More preschool activities you may like: