All activities require adult supervision. This post contains affiliate links. As an Amazon Associate and a participant in other affiliate programs, we earn a commission on qualifying purchases.
All in the span of a few seconds…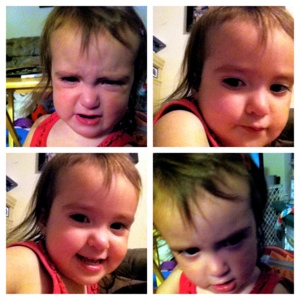 Friday 17th of August 2012
Your daughter's so cute! I love how expressive kids are. I love even more that you caught it all on camera. Reminds me to use the 'continuous' setting the next time I'm taking pics of my daughter.
Thursday 16th of August 2012
Haha, adorable! When I was searching for a WW photo this week, I had the same idea--to show Rebecca's faces lol. If I ever get around to it...
Wednesday 15th of August 2012
It's crazy how many faces they can make!
Wednesday 15th of August 2012
Toddlers are so funny..... their emotions can change faster than a pregnant woman, hehe.