When I was pregnant with Rissa, I was working full-time. I was the type of person to work through lunch (thus not eating) or I'd go buy food. Not the healthiest or most budget-friendly way to go and it had to change with a baby on the way! Both Brian and I needed to pack our own lunches. Me even moreso with my gestational diabetes diet.
It was crazy how much we saved just by packing leftovers or a sandwich. Eating out was easily $5-$10 a day for one of us.. so $10-$20 a day if we both went out. He usually went to "nicer" places with his co-workers while I usually opted for quicker convenience places. So, then factor in gas too…
Anyway, with my diet I needed to pack a lot. I needed to balance protein with certain carb amounts plus fillers like salad. And water – lots of water! There wasn't much fridge space I could rely on at my office, so I needed an insulated lunchbox to hold everything. Imagine trying to pack leftover spaghetti, salad mix, dressing, a fruit cup or yogurt, a couple water bottles and a freezer gel pack. Sorry, I can't put the dressing on the salad too far in advance or it's all soggy and yucky.
Yeah, my little lunch box couldn't hold everything anymore and the gel pack alone had trouble keeping everything cold enough in my desk drawer. I had to upsize to one of those red and white plastic lunch boxes… you know the ones you see on construction sites or holding vital organs?
Coworkers laughed at my ginormous lunch!
I really wish Rubbermaid Lunchblox kits were around for me back then! I could have fit my lunches in my smaller insulated pack that actually fit in the fridge (if there was shelf space). The sandwich container is plenty deep and wide without taking up the entire pack. The ice pack fits perfectly to keep things cold. The snack containers are perfect little portions for things like grapes, chips, carrots, or salad dressing! Love the measurements on the side and how everything snaps into place.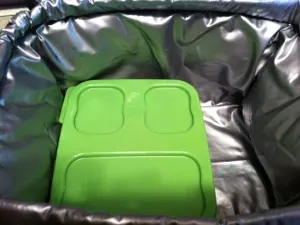 Look there's still room for a beverage! I usually packed a frozen water bottle (or at least one from our fridge) to help keep things cold. Plus it was thawed in time for lunch!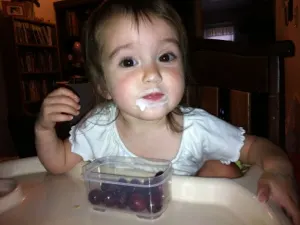 Since I'm home now, I don't often pack a lunch anymore, but Brian can use them! I do like them for packing snacks in the diaper bag and even just for around the house. Rissa feels like a big girl to eat out of her own container. These sizes keep me from serving her too much. They are BPA-free so I feel safe letting Rissa eat out of them. They are also microwave, dishwasher and freezer safe which makes my life easier!
We received a Lunchblox sandwich kit, but they have others, such as a salad kit. Check out the whole Lunchblox line! The LunchBlox Sandwich Kit is currently available for purchase at Rubbermaid.com, Target, Kmart, Kroger, Safeway, Bi-Lo, Winn-Dixie, HEB, other grocery stores and select Wal-Mart stores. Keep up-to-date with them on Twitter @Rubbermaid and on Facebook facebook.com/RUBBERMAID.
What do you typically pack for lunch?
______
Disclosure: We received a Lunchblox kit to review; no other compensation was received. I hope I can save you from the big lunch bag!