When My Little Pony – Friendship Is Magic: Royal Pony Wedding (Amazon affiliate link) arrived, I'm not sure who was more excited to watch it – me or Rissa. I also think that secretly Brian was waiting for it too, but he'll never admit it. Seriously, this version of My Little Pony is the best. Way better than when I was a kid. There are problems and conflicts to resolve and the ponies aren't perfect. They have qualities people can identify with and there are positive takeaway messages in every episode.
Synopsis:

When it's announced that Twilight Sparkle's older brother, Shining Armor, is set to marry Princess Celestia's niece, Cadence, all the ponies in Equestria should be celebrating. But there's one pony in Ponyville who's not so thrilled with the news — Twilight Sparkle! Why is the young unicorn so concerned? And will the royal wedding go off without a hitch? Find out in the two-part special, and then join us for the perfect after-party — three more My Little Pony: Friendship Is Magic episodes, all included in the first-ever DVD release of My Little Pony – Friendship Is Magic: Royal Pony Wedding! (Amazon affiliate link)
Once Rissa knew the DVD was in the house she kept asking to watch it. She even sat quietly through the first episode.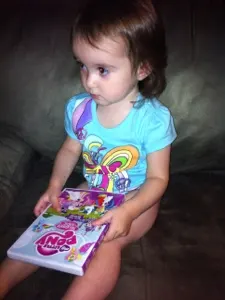 I really enjoyed the wedding episodes as well as Sweet & Elite. The wedding dealt with family changes as well as listening to voiced concerns. The plot twist was interesting and fitting for their world. Sweet & Elite reminds us not to be ashamed of who we are or who are friends are by hiding it all in the hopes to impress others. Also – don't try to double book activities! It's exhausting and unfair to those you are trying to spend time with.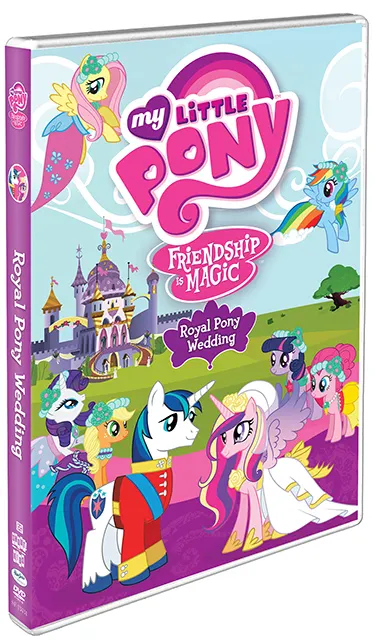 My Little Pony – Friendship Is Magic: Royal Pony Wedding Episodes Include:
A Canterlot Wedding, Part 1

A Canterlot Wedding, Part 2

Hearts And Hooves Day

Sweet & Elite

The Best Night Ever
Bonus Features:
A Coloring Sheet and more!
Check out the DVD trailer!

I'm not too surprised that My Little Pony – Friendship is Magic has become a cultural phenomenon. The stories are well written, the animation looks fantastic, the voice acting is well done, and the music is catchy. I can't tell you how many times I've gotten the theme song stuck in my head!
Also, you can get your personalized photo from Cadance and Shining Armor! Just text ROYAL to 95323 or visit PonyWedding.com
(Standard text messaging fees apply.)
Are you a fan of the new show? What's your favorite episode?
______
Disclosure: We received the DVD to review, no other compensation was provided. Opinions shared are our own and no, Brian isn't a Brony… I don' think…