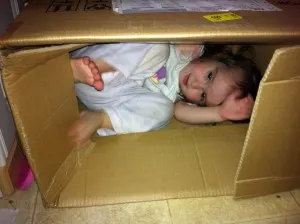 I posted this picture on my Facebook fanpage and asked for captions… here are some of my favorites:
There were several variations of "mail to gramma" which werejust too stinkin' cute.
Print out a shipping label, Mommy! I'm ready to visit Grandma! – Laurel
Surprise! Special delivery! – Kathy
So you mean you can't smuggle me into Disneyland this way? -Amanda
If the cats can do it, so can I! – Tahlia
Hmmm…trying to figure out why mommy gets so excited when the UPS man delivers these boxes. – Angela
What caption would you give this picture?