Planning my wedding was fun but exhausting. Once we picked the date we booked the venue … then figured the rest out. It's almost hard to believe it was over 6 years ago, but I still remember it quite well. Sure, some of the details are fuzzy, but I remember being so happy and surrounded by family and friends. Everytime we go past Country Springs Hotel & Conference Center I reflect fondly on our special day as well as any time I look at the wedding photos hanging on the wall of our living room. Freezing moments of time.
It's funny though, that I also think about the sun burn I got that day. Silly fair skinned me didn't pack sunscreen for my outdoor wedding ceremony in May. I think what really got me was the sun during our photo shoot after the ceremony. Still, it was a gorgeous day.
Choosing where to have our wedding wasn't that difficult for us. Once we agreed on trying to have an outside wedding, I started looking for places other than going to the park. I didn't want to deal with permits and wedding crashers and crazy weather backups. I checked out the website for Country Springs, liked the pictures and scheduled a tour.
I knew they booked wedding receptions in the halls inside, but they have a pretty garden gazebo for ceremonies. It is right by a pavillion that is away from the main hotel, so it is a bit of a hike. The pavillion could be reserved for receptions and was the rain back up for gazebo ceremonies. As soon as we could, we booked the gazebo for our ceremony and the pavillion for our reception. Perfect for our guests – no extra traveling!
It worked out beautifully. Many of us stayed at the hotel the night before. I remember that morning was a blur of getting ready, excitement and nerves! I was even locked out of my room temporarily which brought on a mini panic attack. After getting ready, we took pictures in a small gazebo right by the hotel. As the ceremony time approached, we walked down to the garden gazebo where I was hidden away in a little building until it was time for my grand entrance.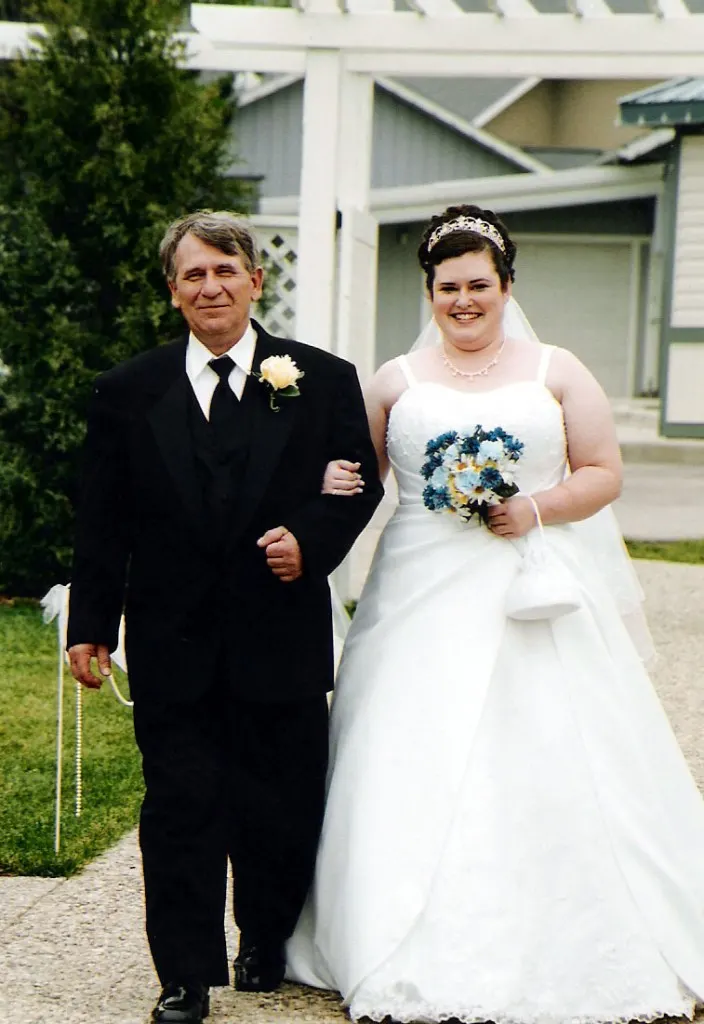 I don't think I've ever felt as special as I did when I took my dad's arm and walked down the aisle. The smiles and "oohs" and "aahs" from family and friends as well as the loving look on Brian's face made my heart sing. Overall we had a small guest list, so we didn't take up all the space provided. It was a bit warm that day so wedding party and guests alike were appreciative of the water provided.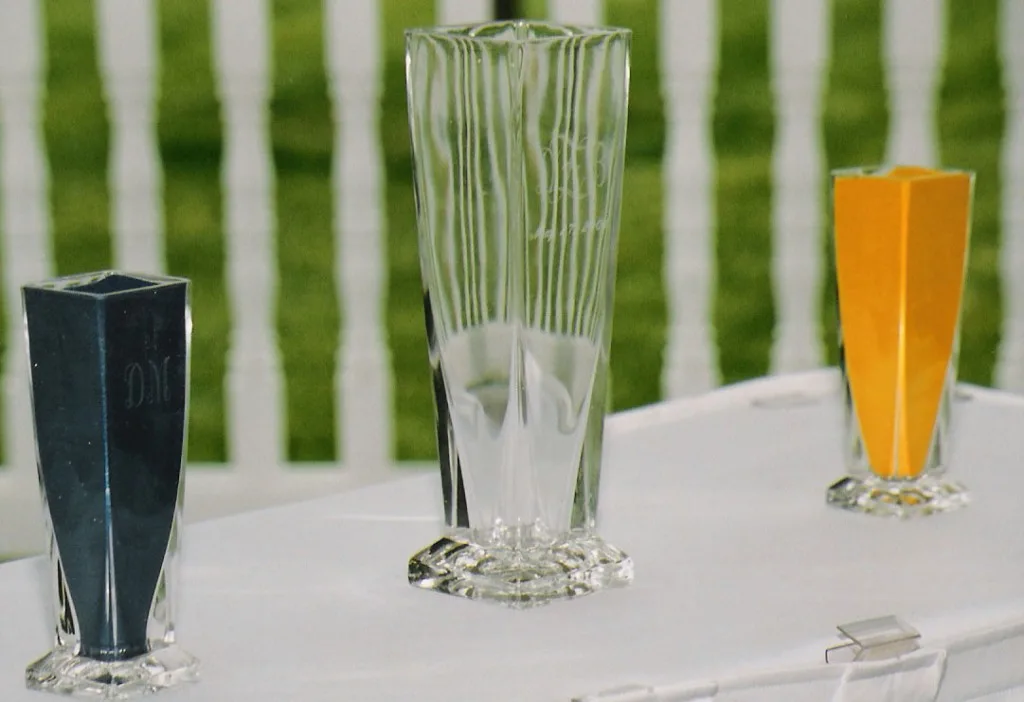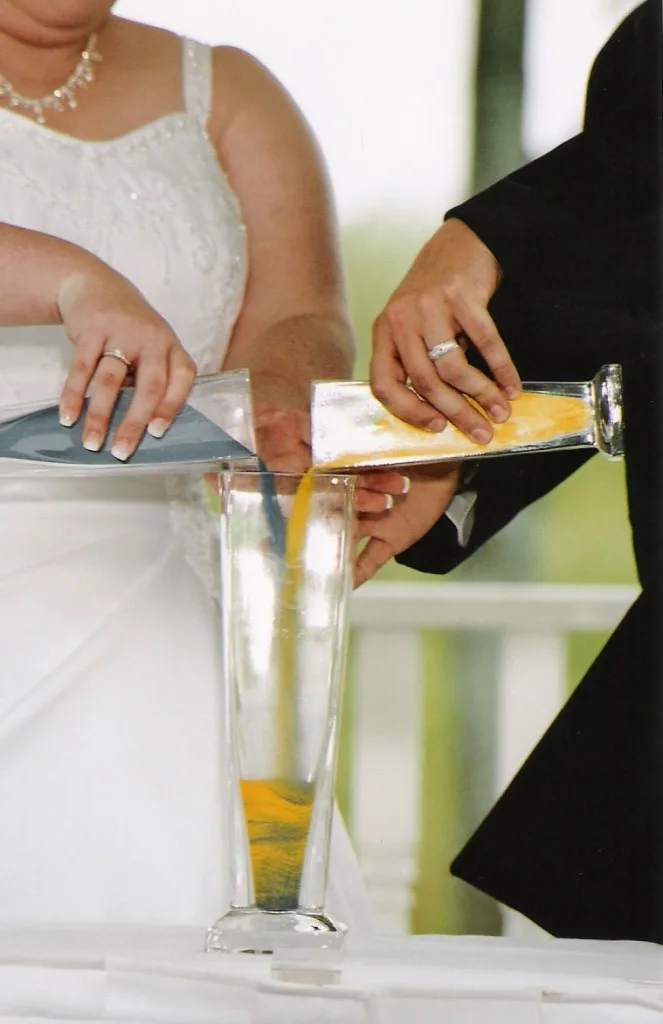 We chose not to light a unity candle since it was hard to say how windy it would be. We blended sand in our wedding colors, but even that was blowing around. So glad it was outside so there wasn't any worry about a mess. Then, at the end of the ceremony our guests each released a butterfly. It wasn't in the huge cloud of fluttering wings I envisioned, but it was pretty to see them flitting around.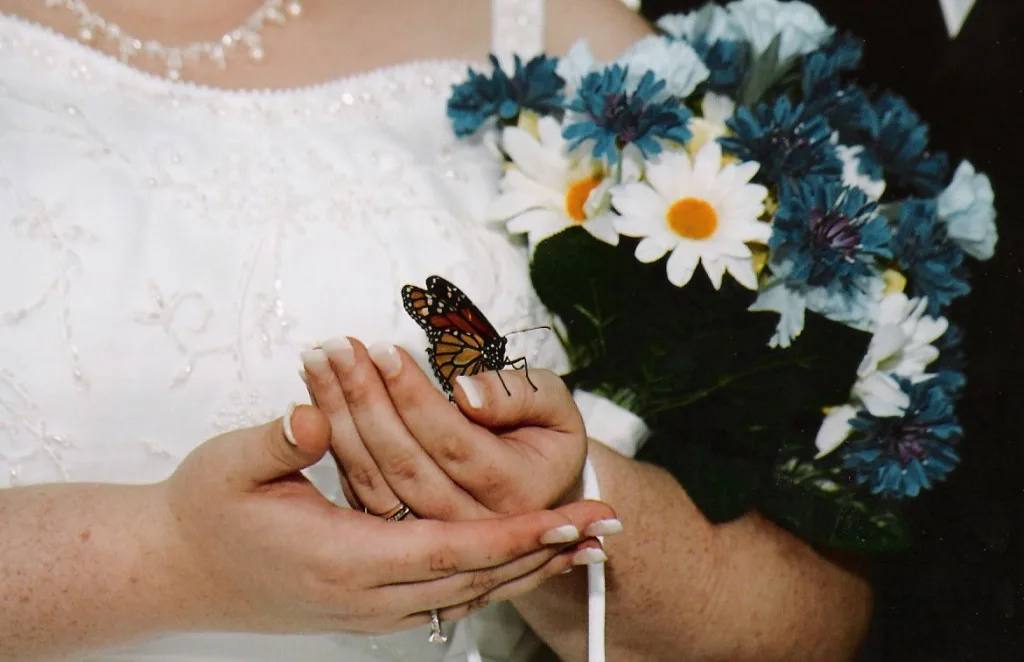 Since the gazebo was right next to the pavillion it was easy for us to direct our guests there by having the receiving line in between them. That way everyone could enjoy cocktails while we posed for lots and lots more photos!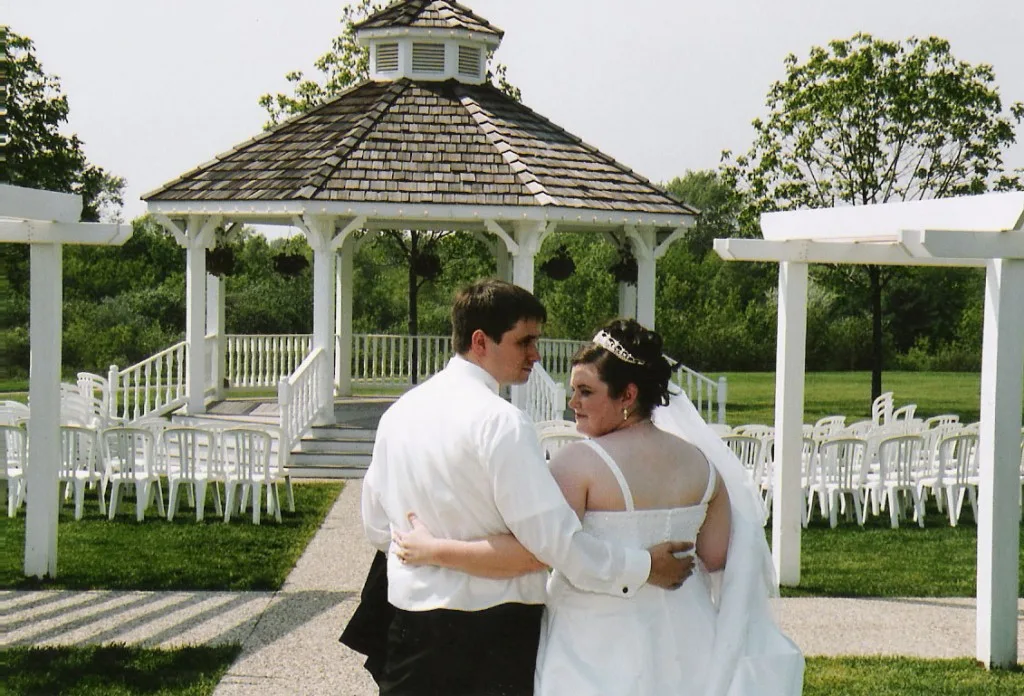 Our photographers had done many weddings at Country Springs so they already knew the best places to line up for shots. After all the group photos at the gazebo, they took Brian and I to a semi-hidden area great for pictures complete with an overturned rowboat.
The reception was beautiful. Everyone had a great time and complimented the food. One of my favorite parts about booking our wedding at Country Springs was attending an event to taste test food and meet with a few vendors such as DJs and wedding cake bakers. I had no doubt in my mind that dinner would be delicious, but it was great to hear from our guests that they enjoyed it as much as we did.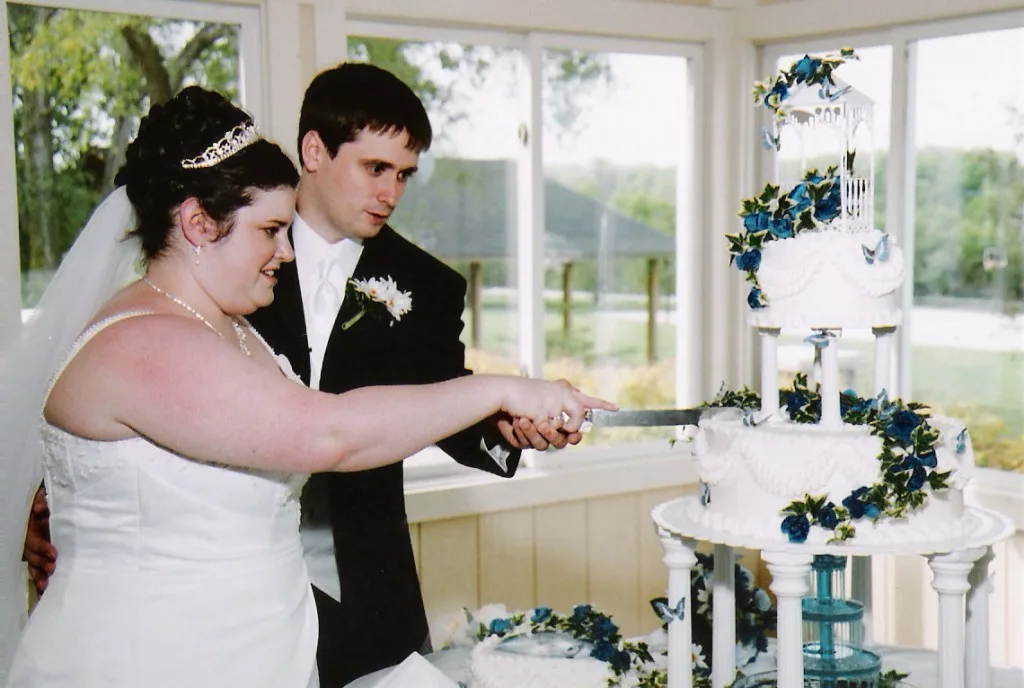 At some receptions I found it a shame that I never really saw what the cake looked like before it was cut up and served. Mine was set up in a lovely room full of windows so guests could take a peek before anything happened to it. With the sun streaming in, it looked even more beautiful than I imagined. It was almost a shame to eat it…. almost. (And yes, Brian was a good boy and did not smash the cake into my face!)
The rest of the night is definitely a blur of dancing, laughing, and needing 3 people to help me lift my dress so I could go to the bathroom. Guests slowly started to leave and we called it a night once most everyone had headed out. I was hungry again though from all that dancing so we stopped in one of the hotel restaurants and ordered a pizza. Then just like that, morning came and it was all over… well, that part was over. Then it was time to pack up and leave for our honeymoon cruise. We didn't get to enjoy the Country Springs water park that weekend, which was brand new at that time. Heck, I remember seeing the hole in the ground where it was being built while we toured the venue before booking it for our wedding! Some of our guests got to enjoy the water slides. Better late than never… we did check it out this summer.
If I had to do it all over again… I don't think I'd change a thing. Well, maybe I'd put on sunscreen and order a few more butterflies…. but otherwise it was perfect.
What do you remember most about your wedding day?