All activities require adult supervision. This post contains affiliate links. As an Amazon Associate and a participant in other affiliate programs, we earn a commission on qualifying purchases.
You get a ton of pictures like these…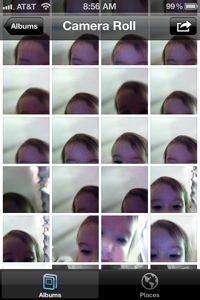 Sunday 14th of October 2012
this is hilarious, seems like something my boys would do! Thanks for sharing! <3
Friday 19th of October 2012
Sunday 2nd of September 2012
Ha! Yes! YES YES! and, I never know that they take pics until I sync my phone and my computer and my computer asks, "sync all photos?" and there's like 50 of the top of my kids head. It is sooo funny. I secretly love it tho. I know one day soon, they won't make such silly mistakes and they'll have their own phone! They also take all the pics with the apps they play on...so in addition to their heads, I also get pics of balloons or elmo or some other character! so funny!
Wednesday 29th of August 2012
I cannot remember which child it was but they insisted on a camera when they were younger than I thought they could be responsible for one. And I was pleasantly surprised to find they took really good care of it.
I think it's awesome to give children a "lens" through which to see the world.
Wednesday 29th of August 2012
Yup that is exactly how my kids are with my phone too!
Wednesday 29th of August 2012
I love seeing what a little one will take pictures of. Have a great day!